Jenny in Wonderland: Jenny Boyd's Journey Out of the Swinging 60s and Cocaine 70s with The Beatles, Fleetwood Mac and Champagne
by John Diliberto 3/24/2020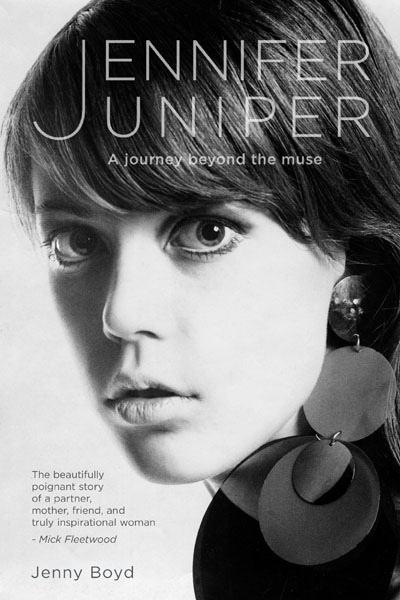 Rock music books by people who weren't musicians, but were on the fringes of a music scene, generally don't interest me. But Jenny Boyd's memoir, Jennifer Juniper: A Journey Beyond the Muse, caught my attention. Part of it was because she wrote a really good book back in 1992, Musicians in Tune: 75 Contemporary Musicians Discuss the Creative Process, in which she interviewed dozens of musicians about their art.
But Jenny Boyd never set out to be an author, let alone a doctor of psychology. She was a model during the swinging 60s in London, but not as big a model as her older sister, Pattie Boyd, who would marry George Harrison and give Jenny instant entrée into the elite of 60s pop culture. She hung out with George, Pattie and the rest of the Beatles, including making the pilgrimage to India and the Ashram of Maharishi Mahesh Yogi.
She had a reputedly platonic fling with Donovan, who wrote his hit (and one of his sappier songs) "Jennifer Juniper" for her, traveled to San Francisco at the height of the Summer of Love, was romanced by Paul Kantner of Jefferson Airplane, and had her first of many LSD experiences. She took George Harrison on a walk through the Haight-Asbury. Jenny Boyd would go on to marry Mick Fleetwood of Fleetwood Mac, twice, and have two daughters with him. She also married drummer Ian Wallace of King Crimson, Bob Dylan's band, and other backing roles.
Jennifer Juniper isn't a tell-all book like Pamela des Barres' infamous, I'm with the Band. Boyd doesn't seek to tantalize nor titillate. Her writing is discreet to a fault regarding her many romantic relationships. You might never know she and Mick Fleetwood had sex, except for the fact that that they had two children. Instead, it's a book about Boyd gaining control of her life after being kept and controlled by men for much of her life.
Boyd's childhood was tragic, with her parents divorcing, each of them foisting the children back and forth on the other, depending on who was inconvenienced the most. She spent much of her childhood in Kenya with various nannies and parents who didn't much care. And while I say "nannies," this wasn't a privileged upbringing in the colonies. The Boyds were definitely not in the upper crust. After her father remarried, he disowned all his children, and they didn't see him again until they were approaching middle age.
Once Pattie got her into the rock world, Jenny Boyd found herself ensnared by the larger-than-life personalities around her, and became the "old lady" to rock stars. Yes, she was a muse. She inspired Donovan, gave George Harrison the lyric inspiration for "Within You Without You" from a Hindi text she was reading, and actually had her poems adapted, uncredited, into Fleetwood Mac songs. But she was always on the outside of the boys, and with Fleetwood Mac, the women. in the band, even while she often lived among them in communal homes.
Boyd portrays herself as an innocent, wandering through a maze of hedonism, unaware that men were hitting on her, welcoming their companionship while blithely unaware of their lust until later. A devotee of Transcendental Meditation even before the Beatles, she found her spiritual life swamped in the 70's rock world of cocaine and alcohol, especially with the new edition of Fleetwood Mac that included Lindsey Buckingham and Stevie Nicks. Boyd always seems at a remove from events around her, including Mick Fleetwood having an affair with Nicks, and then his assistant, Sara. Her relationship with Fleetwood stretches out across 18 excruciating years. She seems to blow through the foibles and folly of people around her, like an always wasted Eric Clapton, her sister Pattie's second husband, as if this was the normal way of life.
She drags her two daughters with Mick Fleetwood through it all, taking them on tour, moving them back and forth from England to Southern California, with different boyfriends and a second husband, drummer Ian Wallace. Her children suffered long separations that echo her own childhood. She seems to have lived in a bubbled world where money, except in the early Fleetwood Mac years, is never an issue, possibly due to her divorce settlement with Mick Fleetwood, but she never mentions that small detail. She just seems to go on as if money is simply there for the asking. It's not until 1984, during her marriage with a now underemployed Wallace, that she thinks about getting a job. She was 37.
Eventually Boyd gets herself together. Despite not having finished high school in England, she acquires a Bachelor's Degree in Los Angeles from Ryokan College, followed by a masters degree and finally ending up with a doctorate degree in Human Behavior from UCLA. She returned to England where she worked in addiction treatment. The woman in the last 50 or so pages of the book is totally transformed from the lost girl in the first 233 pages.
Despite the haze of drugs and alcohol she lived through, Jenny Boyd has chronicled her life in sometimes painstaking detail. Her musical memories are a little vaguer. Her two recollections of Bob Dylan, who she saw many times since Wallace was his drummer, is being dismayed at his limp handshake and proud that he read and marked for reference, her first book.
Jennifer Juniper: A Journey Beyond the Muse is less a journey of one woman through the world of rock and roll and high living in every sense of that word, than the tale of someone who wasn't ever ready to ride that dragon, but just held on for dear life until she found herself.
One question I have for Jenny: in the book she relates the story of being at Cream's farewell show at the Royal Albert Hall and meeting someone who asks her, "Did you read The Hobbit?" She then goes off in a name-drop sequence about this man and several others, but never answers the question everyone wants to know. Did she read The Hobbit?
The End