Lana Del Rey's Norman F Rockwell Echoes November CD of the Month
by John Diliberto 11/4/2019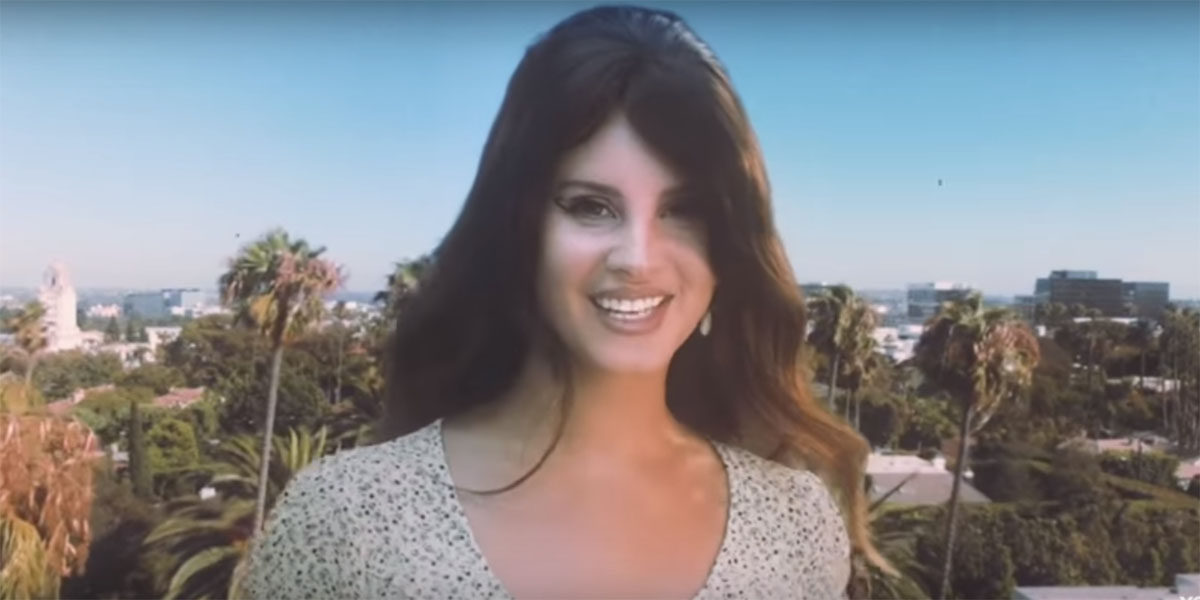 I recognize that our November CD of the Month might be a bit of a controversial pick. It's Lana Del Rey's Norman Fucking Rockwell. But it is a deep and soulful album with Del Rey exploring her themes of love and loss and hope in a sound that is nostalgic while being thoroughly 21st century. Rolling Stone called it her "Pop Classic" but it's pop that's sifted down through electronics, psychedelia, and even ska punk.
You might recall that her album, Ultraviolence was a CD of the Month in 2014. This is her sixth album and it's an epic work that is mostly a collaboration with her producer, Jack Antonoff who's produced Lorde, Banks, Taylor Swift and Pink among many others. He plays most of the instruments including some great psychedelic guitar.
Lana Del Rey's NFR is a mix of raunch and elegance, a veneer of confessional singer-songwriter with an undertone of cynicism, humor and pointed observations. Take "Fuck It I Love You"
She contrasts the pop radio sweetness of lines like
Dream a little dream of me
Make me into something sweet
Turn the radio on, dancing to a pop song
And then makes sure it will never be on the radio with this refrain.
Fuck it, I love you
Fuck it' I love you
Fuck it, I love you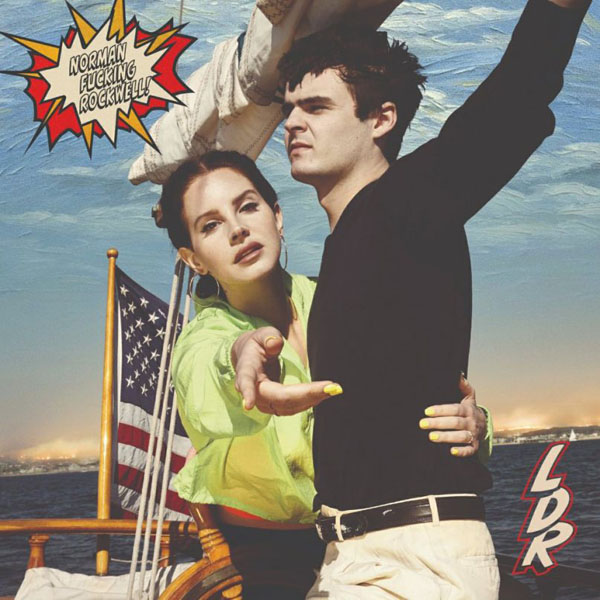 The album opens with the title track in which she skewers a passing love interest with ill-conceived aspirations to be a poet. I'm sure Del Rey gets a lot of those. It's a simple song, mostly piano and swooning strings and that's a frequent motif on the album, but it gives a hint of other directions as it fades out in a phase-shifted fog.
That leads to another song of disconnected relationships, the heartbreaking "Mariner's Apartment Complex." This is one of many songs that Del Rey sets in Southern California locales. It's a slow, languid walk dirge, where she laments a lover who thinks she's sad when in fact, she's having a great Lana Del Rey kind of time. It's a "You don't get me at all" kind of piece that is tinged with both sadness at that fact but also, she's having a great time.
"Venice Bitch" shares a locale with "Mariner's Apartment Complex". It's the epic track of the album, a nine-minute excursion into a relationship, with Venice Bitch as a term of endearment in Del Rey's sometimes acidic world. It's a lovely idyllic portrait that references Tommy James and the Shondell's psychedelic pop hit "Crimson and Clover" in a meditative refrain and brings in Norman Rockwell and American romantic tropes like Hallmark.
Give me Hallmark
One dream, one life, one lover
Paint me happy in blue
Norman Rockwell
No hype under our covers
It's just me and you
"Venice Bitch" starts out as a pastoral Laurel Canyon lilt before Mellotron-like flutes start moving it into darker textures that eventually go full-Fillmore '67 with a reedy Moog synthesizer solo and searing electric guitar, all courtesy of Jack Antonoff. I think she could've stopped here and it would've been a great album.
"Doin' Time" is the surprise gem on the album, released earlier this year as a single, it's a cover of a Sublime ska-rock vamp. She turns this dark rumination masquerading as a get-this-party-started song into something even more introspective and filled with pathos, beginning with the songs original quote of Gershwin's "Summertime."
Irony isn't something that's so prevalent on Echoes, where musicians often wear their hearts and spirits on their sleeves, but Lana Del Rey mainlines irony. And her deep, crooning voice is the perfect vehicle, reminding me often of Julie London. You can hear it on "The Next Best American Record" beginning with the title and a song that references both Led Zeppelin and the Eagles.
We were so obsessed with writing the next best American record
'Cause we were just that good
It was just that good
There are so many music references on NFR here that it could be an entire book. "The Greatest" cites The Beach Boys and Kanye West specifically and the Doors' "Light My Fire" lyrically. "Bartender" name drops Crosby, Stills and Nash, and lyrically drops Joni Mitchell and Cyndi Lauper, all in just two verses.
Lana Del Rey has not so much reinvented herself with Norman Fucking Rockwell, even though it's a long way from Ultraviolence, but she constantly finds new avenues and expressions for her eternal search for romance. Nevertheless, the final track almost seems like a contradiction to the album, "Hope is a Dangerous thing for a Woman Like Me to Have – But I Have It." It's just Del Rey's mournful voice and piano as she laments giving her heart up for naught, being characterized as a white yacht debutante and claiming she's a "24/7 Sylvia Plath," which is not a good thing and seems to contradict the hellbent positivism of so much of this record. But that's been the mix of hope and loss that has suffused all of Lana Del Rey's music.
Lana Del Rey's Norman Fucking Rockwell. is an album you need to live with. She reveals layers of irony and humor and a musical breadth of influences that is daunting. And in case you were wondering, Norman Rockwell's middle name is Percevel.

Read John Diliberto's review of Ultraviolence from 2014.