California Guitar Trio and Montréal Guitar Trio Converge for Echoes April CD of the Month.
by John Diliberto, April 1, 2019
When the California Guitar Trio got together nearly 3 decades ago when they met in Robert Fripp's Guitar Craft course, they must have thought, why limit yourself to six guitar strings when you can have 18. The next logical step was, why limit yourself to 18 when you can have 36? Hence, they're long-running collaboration with the Montréal Guitar Trio. While CGT emerged out of Progressive rock with a good dollop of classical music, MG3, took a more Spanish and Flamenco touch to their music. You can hear that in the opening song of their latest album together, In A Landscape. "New Horizons" by MG3's Glenn Lévesque, opens with flamenco-like muted strings and accelerates as each guitar enters with Spanish grooves and palmas like guitar slaps emerging in this intricate song that finds room for unison melodies and intricate counterpoints.
You'd think 36 strings would be cluttered, but the trios arrange the songs so everything is in its place. That sensibility comes from the title track, one of the most overtly beautiful compositions by avant-garde composer John Cage. It's been performed by a lot of people including an electronic version by William Orbit. It's a delicate song that MG3 guitarist Sébastien DuFour arranges in the hocketing style of Fripp's Guitar Craft. He called it "circulation", where the melody is passed from one guitar to another, one note or phrase at a time.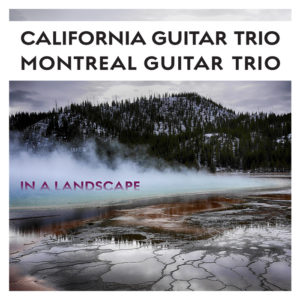 Another cover also reveals the delicate sensibility at play here, "Perpetuum Mobile," composed by Simon Jeffes for his Penguin Café Orchestra in 1987. It's a piece of timelessly antique elegance and the trios make it sound like it was written for them. And this one live track on the album lets you know there is no studio trickery in the trios' complex interplay.
The trios bring their full sonic arsenal here. While CGT's last album, Komorebi was all-acoustic, they plug in the electric side of their acoustic guitars for the searing sustained melody of "Fortune Island", played with an e-bow by CGT's Paul Richards.
But even with acoustic guitars they can power it up as they do on "Magneto," a heavy metal flamenco strum with running arpeggios over the top. "Glass Tango" by CGT's Paul Richards and Bert Lam originally appeared on Komorebi . It's a pristine work turned on a lathe interlocking arpeggios.
There are two vocal covers, sung by MG3's Glenn Lévesque, Radiohead's "Weird Fishes" and David Bowie's "Space Oddity." They don't stand up to the otherwise instrumental tracks on this album, and especially to CGT's great covers in the past like "Bohemian Rhapsody" and "Tubular Bells."
The California Guitar Trio has been favorites on Echoes since their 1991 debut. I was shocked when I realized this was only their first Echoes CD of the Month. But it was worth the wait. Joined by the Montréal Guitar Trio, they up their game yet another time on In A Landscape, turning in an album that exemplifies their virtuosity and their selflessness, their artistry and their humor.