Jeff Beck is a Shooting Star in Stars Align Tour
The Stars Align Tour had all the trappings of a nostalgia show with one artist each from the 60s, the 70s and 80s. Two of those artists lived up to that nostalgic expectation. One of them had other plans.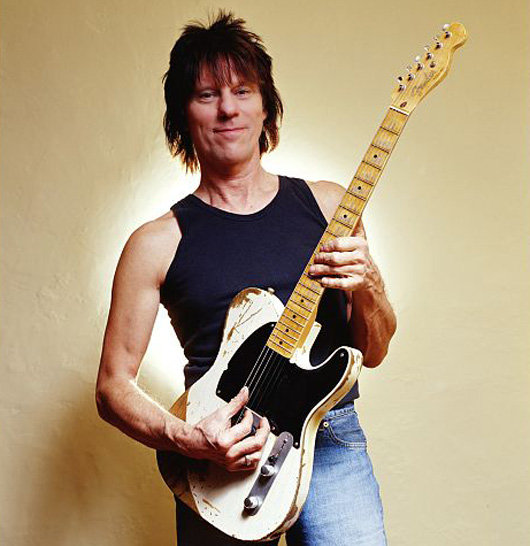 The Stars Align Tour, which landed at the BB&T Pavilion, an open air shed in Camden, featured Ann Wilson of Heart, Paul Rodgers of Bad Company and Free, and Jeff Beck. I missed the first half of Wilson's set where she sang songs from the Heart canon, but caught the second half and she bought into the nostalgia theme hook, line and mullet. Her forthcoming album, Immortal, is all covers and that's what she played with songs from The Eagles, The Who and Leslie Gore, whose "You Don't Own Me" was given a Led Zeppelin "Heartbreaker"like performance. Wilson was in fine voice and her quartet was solid, but this once major MTV star and arena headliner with Heart reduced herself to just a really good covers band.
I had lower expectation for Paul Rodgers, the powerful singer for Free and most notably, Bad Company. They weren't bands I ever followed, but you couldn't miss them on the radio in those days. They always hit me as derivative, workman-like groups, a combination of Rolling Stones rowdiness and Led Zeppelin metal. But as Rodgers unfolded their catalog, I was struck by how many of the songs were hits. They had five Top 10 albums between 1974 and 1979 and 6 Top Forty Hits. They even had radio hits like the song, "Bad Company" that didn't chart. Paul Rodgers trotted them all out except for "Bad Company" and the audience, mostly 50, 60 and 70 somethings sporting their best 1970s festival attire, were taken back to their glory days on the wings of Paul Rodgers' amazingly potent tenor which hasn't lost a single note. You're not supposed to sound that good at 68. Rodgers was playful, fronting his quartet, Free Spirit (actually Deborah Bonham's backing band), twirling the mike stand ironically and coaxing the audience into sing-alongs. There was no new music here, but all the hits including "Fire and Water," "Wishing Well" and "All Right Now" from Free and "Can't Get Enough", "Feel Like Makin' Love", and "Rock 'n' Roll Fantasy" from Bad Company.
Wilson and Rodgers were both trafficking in Nostalgia with a capitol N. Not Jeff Beck, the guitar icon who started out as a member of The Yardbirds before going solo with The Jeff Beck Group. That band included future superstar Rod Stewart on vocals and future Rolling Stones member Ron Wood, on bass. Beck has explored many paths in the intervening years including nostalgic 50s rock, fusion with keyboardist Jan Hammer, power trios with Tim Bogart and Carmine Appice from Vanilla Fudge and edgy electronica. His most recent studio album, Loud Hailer, is a mix of electronica angst, political songs and lacerating guitar solos.
Now at a spry 74, stalking the stage as if he was 24, Beck essayed music from across his catalog including a lot of covers that don't sound like covers, but like songs Beck has made his own.
He had a killer group with drummer Vinnie Colaiuta (Frank Zappa, Sting, Herbie Hancock), bassist Rhonda Smith (Prince, Chaka Khan, Beyoncé, George Clinton) and cellist Vanessa Freebairn-Smith. Jimmy Hall, formerly of the southern rock group Wet Willie, handled the vocals.
Beck took the stage in a white sleeveless shirt topped by a black embroidered vest, aviator shades and his white Jimi Hendrix Stratocaster with the reverse headstock. Opening with his EDM influenced "Pull It" from his most recent studio album, Loud Hailer he musically announced that despite the old tunes and covers, this would not be a nostalgia set.
Becks' sets these days are homages to his influences. He expressed his love of fusion with a cover of Billy Cobham's "Stratus" and The Mahavishnu Orchestra's "You Know, You Know" a slow meditative stop and go vamp that Beck fractured with crosscut bursts.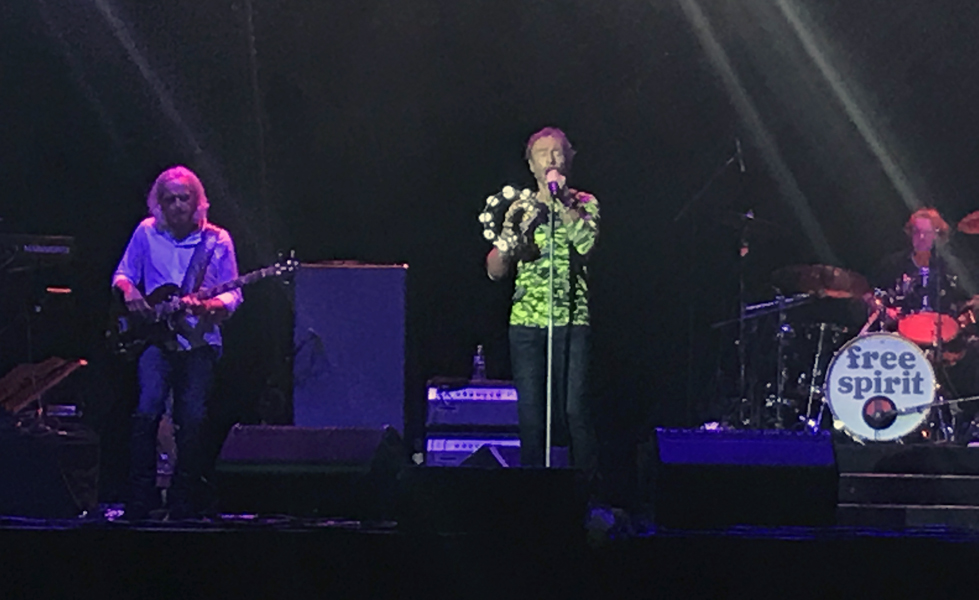 He dipped even further back for Lonnie Mack's 1965 song, "Lonnie on the Move" which Beck put on steroids, and the Irish traditional song, "Women of Ireland (Mná na h-Éireann)" which he assailed with beautiful tenderness in a duet with Freebairn-Smith who was otherwise sadly lost in the mix during the show.
Beck is an unpredictable player. Picking with fingers instead of a plectrum, his solos are marked by squeaks and squawks, frenetic hammer-ons in the upper register and notes that sustain into infinity. Even in his most tender moments, covering Benjamin Britten via Jeff Buckley's "Corpus Christi Carol," or Stevie Wonder's "Cause We've Ended as Lovers" he'll take it into unusual turns
Most of Becks set is instrumental but there were several vocal turns by Jimmy Hall, an overbearing singer with a lot of range, but not a lot of touch. He mangled "Morning Dew" which Rod Stewart originally sang so poignantly with Beck on Truth, and he tormented Hendrix's "Little Wing." Only on the encore of "Going Down" did he seem the right singer for the job. If Beck had only gotten Paul Rodgers to sing these songs, but I would've been happy with Rosie Bones.
But none of that mattered, because while Hall was singing, Beck was destroying it on guitar. The BB&T Pavilion was sweltering in the summer heat, but for about 90 minutes I was not conscious of that at all during Jeff Beck's set.