All India Radio Heads into "Space" with Echoes July CD of the Month
by John Diliberto 7/2/2018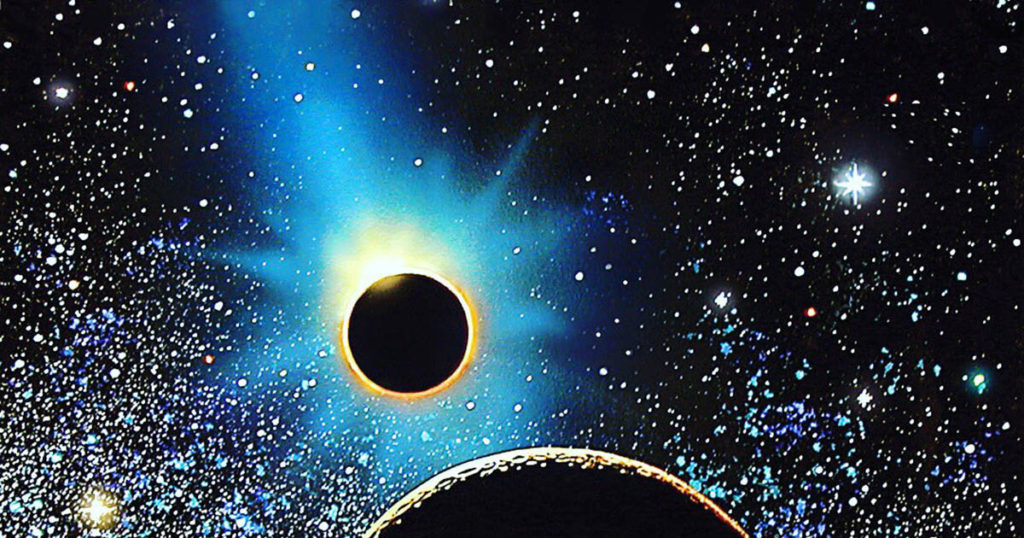 With over forty albums including remixes and collaborations, All India Radio has established one of the most distinctive music oeuvres of the 21st century. Headed up by Australian guitarist and keyboardist Martin Kennedy, All India Radio (AIR) has created a sound ranging from ambient to downtempo, progressive rock to space music, electronica to shoegaze. And those are all influences on his work. He ingested Brian Eno, Harold Budd and The KLF.  From 1987-1997 he played in a post-Joy Division-style band called Pray TV and he collaborates with singer and guitarist Steve Kilbey from the Australian alt-rock band, The Church. Kennedy's sound also has elements of Americana due to the influence of Paris, Texas era Ry Cooder. But even with all these influences, over the course of all his music, AIR has been a resolutely 21st century band. With Space, however, Kennedy looks backwards.
For Space, Kennedy taps his earliest musical roots and if there's any doubt about what they are, just look at the cover of the album, a star splattered spacescape with the Earth in silhouette as the sun goes into eclipse. This was the artwork originally created for Pink Floyd's The Dark Side of the Moon by David A. Hardy at a time when they were calling the work Eclipse. But when The Dark Side of the Moon became the title, they opted for the iconic prism design from George Hardie and Hipgnosis.
You can hear echoes of Pink Floyd all over Space. Drummer David Brush's rhythms are less downtempo than on typical AIR recordings and more in line with Nick Mason's steady state, forward thrusting drumming style with Pink Floyd. The opening track, "Vega," starts out like it might be an homage to Gary Numan with its synth drone, "Down in the Park" drum groove, and doom laden synth chords and bass hits, but it quickly moves into the sound that will dominate the album, early 1970s Pink Floyd, in particular, the albums Meddle and The Dark Side of the Moon. And on this first song, the pedal steel guitar from Graham Lee (formerly of The Triffids) definitely harkens right to David Gilmour's slide, lap and pedal steel guitar work. But there's no denying the original approach of All India Radio.
The centerpiece of Space might be "Heirs of Ineptune". At nearly 14 minutes in length, it's one of All India Radio's longer tracks and, other than the synth sequencer groove that percolates in some sections, vaguely recall's Floyd's "Echoes" in its timbral choices. It's an expansive, slowly moving track over slow trance drums with a whooping synth solo in one section, then the synth sequence takes over with a more Tangerine Dream-like sound as the electronic groove heads into free-floating space. The middle dissolves into an ethereal spacescape where the spirit of Richard Wright emerges with sustained organ chords, again, redolent of "Echoes," before chiming guitar brings back the opening rhythm groove to take it home.
But Space isn't only a Pink Floyd homage. All India Radio often works with vocals and there are two gorgeous songs on the album, sung by Leona Grey, a longtime AIR accomplice. She is the quintessential electronica vocalist, pure, serene and slightly aloof. "Monsters" is another tune that carries the Gary Numan influence with its slow insistent groove and synth string accents. "Holding" is centered on an insistent sequencer pattern and builds to a multi-tracked vocal chorus and mellotron strings.
Steve Kilbey appears on one track, "Eurydice in Scarlet." Built around a staccato delayed guitar riff and driven by a more downtempo groove, Kilbey intones a brief couplet, voice spun through processing, before the track surges to its conclusion.
"Sonda IV," named for a Brazilian rocket, ends the album firmly in 21st century ambient downtempo terrain with a drum machine groove, swirling synths, and a spare but elegant synth melody.
Space is an enveloping recording, an album that sustains listening from beginning to end as Kennedy shifts the sonic palette from Floydian tripiness to the electronica of his own music on tracks like "Theo's Sunlight Dream", which opens with twangy telecaster-type tone and moves into an e-Bow solo, sounds that have been signposts of much of All India Radio's music.
Space uses astral imagery, but like Pink Floyd's "Space Rock" it's really all about inner space, and All India Radio has been creating in that universe for the last 18 years. All India Radio will take you there on Space.
Read a review of All India Radio's April 2016 CD of the Month, The Slow Light
Hear an Interview with All India Radio

SaveSave
SaveSave