We search for Loreena McKennitt's Lost Souls on the Echoes Podcast
Podcast: Play in new window | Download
Subscribe: RSS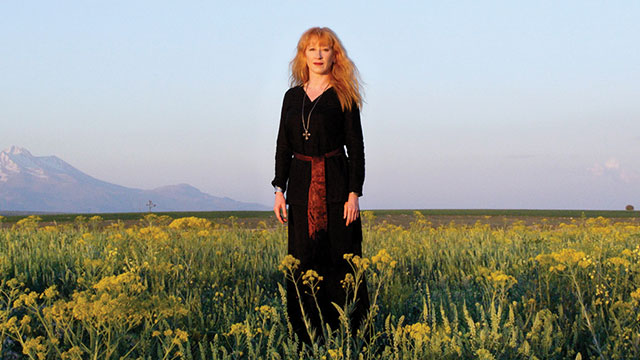 Loreena McKennitt has been an icon of world music since her fourth studio album, The Visit, in 1991. Since then, the Canadian musician has taken her Celtic roots and exploded them into a vibrant world fusion. Never an overly prolific artist, it's been 12 years since her last album of original music. But now she has a recording of new songs – except they aren't quite new. It's called Lost Souls.
Lost Souls gathers songs that go so far back that one of them, the instrumental "Manx Ayre," is from before McKennitt released her debut, Elemental, in 1985. That was an album she sold in Toronto's St. Lawrence Market while she busked. That song, like others that span her 33-year career, had never been recorded, until now.
Lost Souls is a slightly more eclectic collection than usual for McKennitt, given that her music is internally diverse to start with. For instance, "A Hundred Wishes" taps a side you don't often hear from McKennitt: the personal singer-songwriter. It's a song that undoubtedly comes from the time of The Visit in 1991. Draped in rippling Spanish acoustic guitar, arcing cello lines and piano, it's a song of love across distances of both time and place that you don't usually hear from the singer. "Spanish Guitars and Night Plazas" also casts back to The Visit, with rippling bouzouki from Brian Hughes against McKennitt's vividly-painted recollection of Spanish evenings and Moorish moods.
McKennitt has always had a penchant for adapting poetry and words from older sources, most famously on The Visit  with "The Lady of Shalott" by Lord Tennyson. Poets and authors like William Shakespeare, St. John of the Cross, William Blake and Alfred Noyes have had their words cast in McKennitt's music. On Lost Souls William Butler Yeats'  "The Ballad of the Fox Hunter," is caressed by Mckennitt's sound. Compositionally, it dates back to 1988 and it's classic Loreena, bringing drama to a narrative song, letting her powerful soprano voice go into its full range, from whisper to clarion call, low ruminations to siren highs. Even though it was written 30-years ago,  the arrangement comes from McKennitt's current working band with cellist Caroline Lavelle, violinist Hugh Marsh and guitarist Brian Hughes. In fact, one way you can tell these are newer recordings, is there isn't much harp on the album, a McKennitt trend since her The Mask and Mirror album.
Even when she writes her own lyrics, McKennitt can often sound like the poets she loves. "Ages Past, Ages Hence", is a beautifully lilting waltz. The opening sounds like it could have come from The Mask and Mirror or Book of Secrets with its moody introduction of nyckleharpa over a drone. But when she moves into the waltzing body of the song, it evokes that Renaissance mood that McKennitt is known for.
One of the few new songs on the album is "Breaking of the Sword", written in 2016 for a celebration of the anniversary of the Battle of Vimy Ridge, France in World War I. It's a song in the older English ballad style as McKennitt tells the tale of a mother sending her child off to war. It begins sparse and moody and while it never gets raucous, McKennitt does bring in the concert choir of her hometown, Stratford, as well as highland bagpipes and The Canadian Central Forces Band. That's something you can do when you're an Honorary Colonel in the Royal Canadian Air Force.
For most artists, an album like Lost Souls would be a collection of left-overs. But, these are truly lost gems, largely unheard across Loreena McKennitt's career, and now given life with these new recordings. She's packaged the album in a beautiful book-like case with lyrics and the kind of visual presentation that has marked all of McKennitt's releases over the years. Loreena McKennitt's lost souls have been found.
– John Diliberto