Nils Frahms Aerial Pandemonium Keyboard Ballet
by John Diliberto 3-19-2018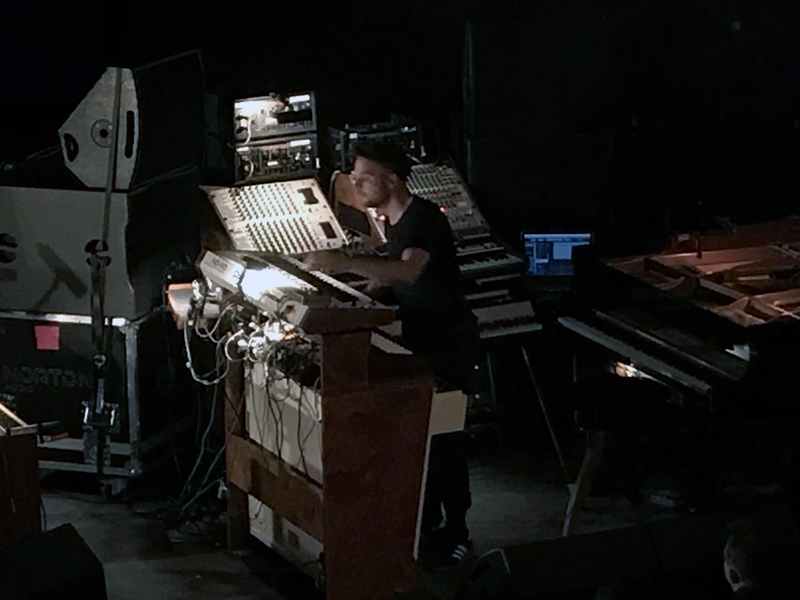 Walking into the slowing filling Union Transfer in Philadelphia, Nils Frahm's stage setup immediately grabs your attention. It's a motley collection of something like a dozen keyboards, acoustic and electronic, from a toy piano to grand piano; pipe organ to synthesizers, plus assorted synthesizer modules and processing units including what looked a couple of old tape delay machines. Some of it looks futuristic. Some looks like he just pulled it out of the attic. He has these set up in two separate cockpits of instruments and in a two-hour performance he danced between them, orchestrating a ballet of movement and sound.
Frahm is a 35-year-old German composer whose works to date have ventured into idiosyncratic solo piano releases, electronic orchestrations and curious experiments. He sits among the new music composers of his generation like Olafur Arnalds, Max Richter and Hauschka. On his latest album, All Melody, he embraces Tangerine Dream-style electronics, ambient chamber music moods, and minimalist momentum. Live, he also brings an exuberance that belies all of those designations.
Union Transfer isn't the most conducive venue for this music. It's a great SRO rock hall, but this was music better heard sitting down, mostly. As his set progressed, the packed house went from the most attentive and quiet audience I've ever seen at the Transfer to one of Bruce Springsteen-appropriate whooping and hollering. That usually happened after one of Frahm's percussive, jazz-like keyboard solos.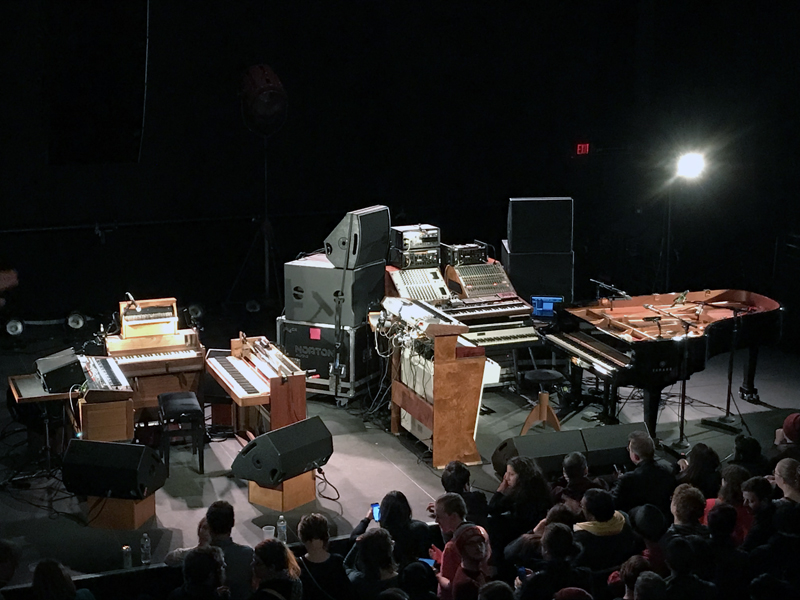 Frahm defied the notion that you couldn't have a live, layered electronic music performance without a lot of backing tracks and computer assist. There was a computer tucked in the back, but the sense was, everything was being triggered live. A piece might begin in one cockpit as Frahm plays a solemn hymn on Harmonium, then drops in some piano ruminations on a spinet piano and a synthesizer drone. Then, with the drone still reverberating he moves to the larger cockpit, a Tangerine Dream like sequencer pattern begins spooling out which Frahm tweaks while also triggering his pan-pipe like pipe organ on one keyboard, vocal sample stabs on a mellotron and then moves over to an electronic keyboard to whip out a jazz-fusion keyboard solo.
Frahm is a good natured artist, tall and slim and sporting a paperboy's cap. He talked and joked effusively between compositions, complaining at one point that people kept comparing the sound of his pipe organ to Peruvian pan-pipes and he hates pan-pipes. But, he added, his sound is more mechanical because he's German, so it's the worst of both worlds. While his eccentric keyboard array was eye grabbing, his actual staging was minimal, a few lights and a wisp of smoke that instead of providing atmosphere, made it look like his gear might be on fire.
For all his ebullience, jokes and Rick Wakeman dual keyboard poses, his music was a contemplative, emotionally moving journey that lifted you into worlds of spinning sequencer cycles, articulating a fractal web decorated with keyboard accents and accelerating through virtuoso solos. Songs like "Kaleidoscope" were like a calliope sent into space, while other compositions were just quietly ruminiative works on spinet or harmonium. His keyboard solo toward the end, first on acoustic then both acoustic and electric, was exhilarating.
Although these are meticulously composed works, Nils Frahm made it seem like they were being constructed before your eyes as he did his whirly-gig around the keys. And he made it feel like you were whirling with him.