Yasmine Hamdan's Beauty in Chaos
Podcast: Play in new window | Download
Subscribe: RSS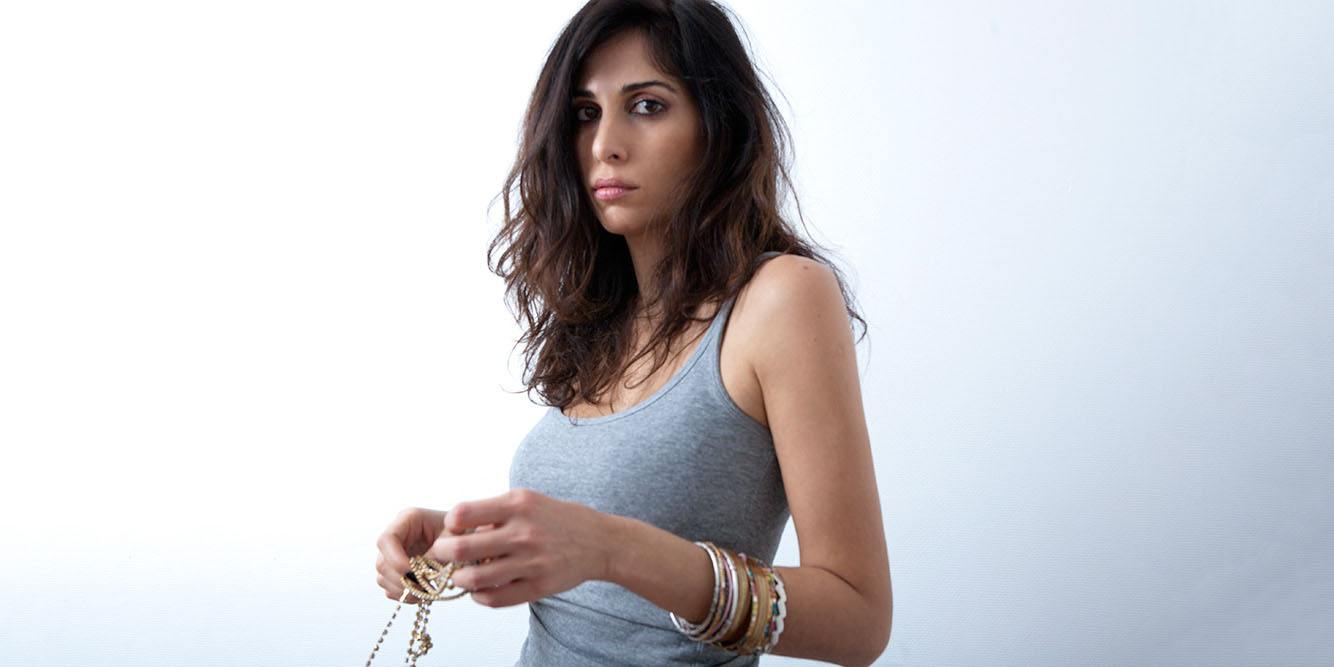 Yasmine Hamdan is a Lebanese born singer and musician but she's really an artist of the world, taking her Arabic culture and infusing it with the influences of everyone from the Cocteau Twins to Prince, from old Arabic pop and new electronic music. She's just released her third solo album, Al Jamilat which shows her expanding her sound and bringing even more attitude to her songs.
Yasmine Hamdan was a child in civil war torn Beirut. She's grown up all over Europe and the Middle East, and she currently lives in Paris, but despite her well-traveled experience, she says she gets a lot of her ideas from Lebanese taxi drivers.
"Many of those songs that you listen to are inspired by conversations I had with Lebanese taxi drivers." Hamdan laughs. "This guy started to lament himself, like really, really, not happy about 'I drink too much.' And I was like yeah, yeah, continue. I was taking notes. And then I came back home and I felt that it could be me. I'm so much like that when I'm PMS'ing, so it ended up becoming a PMS song of me or any kind of woman, drama queen,".
That wound up being the tune "Iza" on her album, Al Jamilat. Yasmine Hamdan is in her Paris home talking to me on Skype. She's dressed down on this day wearing a black tank top. Her long, luxurious brown hair frames a face that holds dark and bottomless eyes. Like many musicians from the Middle East, she is somewhat without country. She just got her French passport, but she seems bound by no land.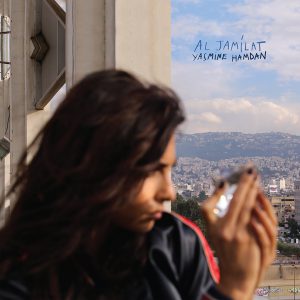 "Yeah, I was born in Beirut," Hamdan explains as she begins a litany of forced moves. "Civil war, my family left back and forth. I lived my first three years in the desert in Lyon, which is in the Emirates. My father was an engineer. Then Beirut and then war, and then Abu Dhabi. And then we went to Greece, but we had to leave. And I went to Kuwait and then Sadam Hussein invaded, and so we had to leave again. So yeah, I had, I had a crazy childhood."
You can hear that unrooted feeling in her music which is based in contemporary electronic sounds that were initially born of necessity.
"When I started doing music after the civil war, you know, we didn't even have venues," she recalls "We didn't have even musicians to work with. I mean there was one drummer and he was not really fun to work with, so that's why we started doing electronics, because we had nobody to work with." She formed a duo called Soap Kills that recorded three albums between 1999 and 2005.
Hamdan has always sung in Arabic and it doesn't bother her that people outside of Arabian countries can't understand the lyrics. She believes the message is carried in the melody and performance. And she even compares herself to Elizabeth Fraser, the glossolalia inclined singer of the Cocteau Twins.
"I've never thought that music should be understood" Hamdan insists. "I always felt that it's an emotion, and something that is quite organic and that is about feeling the thing. I always tell people that yeah, you don't always need to know what I'm talking about. And you know, the singer of Cocteau Twins, Elizabeth Fraser, she has many songs where she invented her own language eventually. And nobody's asking her what she's talking about, and so I would want people to consider the language or the words in an abstract way."
But Hamdan does provide translations to her lyrics and she definitely has some things on her mind when she writes a song like "Douss," which seems to be an angry comment on the Arab spring.
"That song 'Douss' talks about hope," she reveals. "The chorus talks about spring for Arabs. It also underlines the problems that it is denouncing: corruption, the establishment, the leadership; I mean everything that's been on and on… the manipulation of the political establishment in our countries."
"Kind of angry," she finally admits. "but always brings hope."
There are many elements at the core of Yasmine Hamdan's music, among them a feminist zeal that suffuses most of her lyrics. The title of the album Al Jamilat translates as the beautiful ones. It's the only lyric she didn't write but it spoke to her feminist ideals.
"Yeah, Al Jamilat is a poem of Mahmoud Dalwish, a Palestinian poet" says the singer. "This poem was extremely beautiful and inspiring, and also positive. There's something about celebrating woman or femininity, diversity, imperfection, beauty, contradiction, and tenderness. It's very tender, it's full of images, and it made me dream."
So of course, she turned it into a rock song.
"I wanted to have something really, like, sexy!" exudes Hamdan.
Working with producers like Leo Abrahams, a Brian Eno associate, Luke Smith, producer of Depeche Mode, and with side musicians that include sonic youth drummer Steve Shelley, Yasmine Hamden's music straddles worlds. But at the root of it is her love of Arabic music.
"First of all, I'm very much inspired by all Arab music. My thing is the '30s, and the '40s and the '50s, it was an obsession for me for years. So in the record, in all of the songs, you have Arabic or Eastern instruments, influences, etc., but it's, it's out of context," she explains.
An example of that is the last song on the album, "Tala." It has a doomy electronic rhythm, Egyptian strings and a vocal arrangement inspired by Prince.
"I imagined the voice being like a texture and not an all a narrative," Hamdan earnestly explains. "I wanted to do something a little bit like Prince, with a lot of quirky, weird harmonies. I worked on the harmonies and I kind of destroyed the voice by slowing it and then making it faster, etc."
This kind of pan-global, trans-generational and cross technological sound is just another example of how Yasmine Hamdan is both from a very distinct world and part of a greater sphere, and she lives in both simultaneously.
"I'm in this "in between", and I know that a lot of people are like me," she admits. "There's this kind of mixed identity. You have different identities, and you don't want to put borders between them and you don't want to draw those borders. I try to bring everybody together," Hamdan concludes.
Yasmine Hamdan crosses borders and brings a world of music together on her latest album, Al Jamilat on Hamdanistan Records.