Hannah Georgas on Life, Death & Anxiety in Echoes Podcast.
Podcast: Play in new window | Download
Subscribe: RSS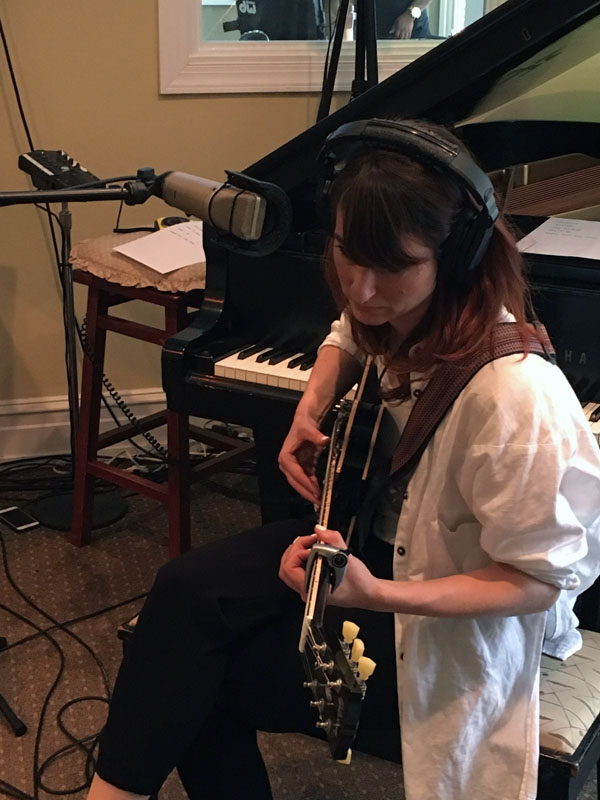 Hannah Georgas is a singer and songwriter from Canada who records songs of deep introspection and dynamic dimensions. Her latest album is called For Evelyn. It's partly an ode to her 98-year old grandmother and partly Hannah Georgas working out her anxieties about life and loss.
Hannah Georgas sees loss all around her. She's not a Goth and she certainly doesn't seem like a gloomy woman, but the thirty-something singer has found herself contemplating life and death. Her father was ill for most of her early adulthood.
"I felt like I-It was like I was preparing for his passing for a really long time because he was sick for a really long time. He was sick for  years.", Georgas mournfully recalls, "I found out that he wasn't doing well when I was 18 and he passed away when I was 27 or 28."
Those feelings come out, five years later on a song called "The Walls".
"The Walls is a heavy song and it's about my, my dad actually", reflects Georgas, " and I kind of trained or made myself to build essentially a wall of protection preparing myself for knowing the fact that my dad's like not doing well and knowing that at- one day he might, yeah, he won't be around. So that song is definitely about my dad."
Hannah's mother is still with us, but now, Hannah fears losing her as well. She comes up in a couple of songs including "Don't Go." (See the haunting video here.)
"It's related to my mom.", Georgas laughs ruefully, "Again, another one about her, but I was thinking a lot, um just about of the fact about losing her, so, um, I lost my dad five years ago and, uh, this is, I don't know, it was an overwhelming thought to think about if what- what I'd do if I lost my mom, so."
Don't think Hannah Georgas walks with a cloud over her head. In fact, she's a vivacious woman with long auburn hair falling into her eyes and across her shoulders. She dresses in a white camisole and white shirt, and she's definitely not wearing a shroud. Hannah has been playing music for a long time. She even had a high school pop punk group.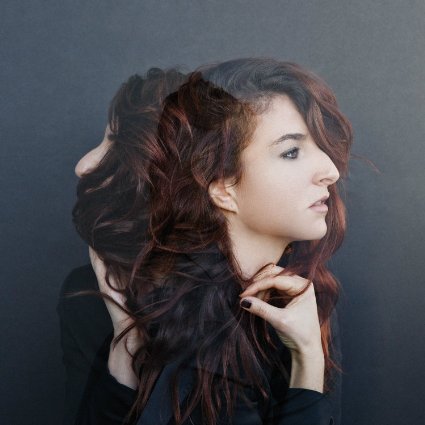 "I think I was 17, and it was a really rock centered group.", Georgas playfully confirms. "It kind of sounded a little bit like No Doubt or something, and all the boys in the band were really into punk. And I at the time was just really wanting to like not do it."
When she stepped out on her own, she retained the pop part of that sound. Hannah Georgas was so perky, She even scored a commercial jingle. I coaxed her into singing a few bars of 'You've Got A Place Called Home' which she reluctantly admits was a commercial for Walmart. I wondered if it was a crisis of conscience to do the ad.
"Uh, no.", Georgas responds after a seconds hesitation. "I made the decision fully, you know, confidently and I felt in my way I was using Walmart."
The money from that commercial allowed her to concentrate on music full time and she's just released her third full length album. It's called, "For Evelyn." and the song "Evelyn" continues the tale of life's passing, but in a much more empowering light.
"Over the last while I've been reflecting on the fact that she's 98 years old and lived on this earth for almost a hundred years.", Georgas relates.  "And it's kind of an overwhelming thought to to realize or to think about how much she's experienced in her life, and the people that have come across her way and have left. And I've been reflecting also a lot on who she's been in my life and the person that she's been to me. And she's inspired me a lot. She's very patient, selfless kind individual. And this song is about getting to a place where I make all of my decisions without any fear."
Hannah Georgas' grandmother Evelyn serves as a prism, refracting aspects and colors of Hannah's own life, emotions and challenges. She studied psychology and you can hear her working things out in her songs like a self-analysis therapy.
"I noticed a lot in my writing process that I would be inspired to write about my anxieties and fears that I have," agrees Georgas, " and so it stemmed from a bit of questions and anxieties that I have in my life."
Her song, "Angel All The Time" seems to pick up that thread. "Yeah, looking for my angel all the time, it's just a lot about, uh", Georga's carefully pauses, "questioning faith and just my place in life, too. And channeling my anxieties into that song."
Sometimes it might seem that Hannah Georgas needs a lifetime supply of Xanax, but instead, her songs sound like affirmations of strength more than fear of life.
"I sound like a really anxious person." Georgas laughs, , "I'm not, but I was inspired a lot by, a lot by it on this record."
The latest album by Hannah Georgas is called For Evelyn on Dine Alone Records.