SHEL Talks about Love, Depression and Metallica in the Echoes Podcast.
Podcast: Play in new window | Download
Subscribe: RSS
Three years ago we fell in love with the music of SHEL, four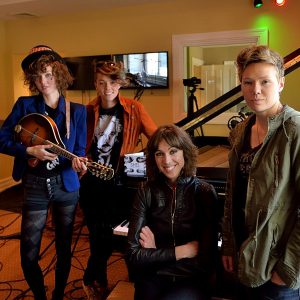 sisters from Colorado who have beautiful harmonies, intricate instrumental arrangements and evocative songs. While their first album was on the whimsical side, their new album takes a darker direction. It's called Just Crazy Enough. SHEL was just crazy enough to talk to me about their music.
We know SHEL as the band of sisters making lyrically introspective, musically delicate, folk based music. So even though they had covered Led Zeppelin's "The Battle of Evermore" on their last album, it was still a surprise to hear them playing Metallica's "Enter Sandman."
"Dad called us, actually, one day from the road," Eva fondly reminisces. "He was in the middle of somewhere in Nebraska and the only thing that was coming in was a metal station. So he called me and said, 'Oh, I've just heard this song about going off to never-never land, but it's a metal song. I think you would really like it, maybe even SHEL would want to do a cover of it."
Eva Holbrook is the "E" in SHEL. She writes the lyrics and plays mandolin and guitar.
"So I went and listened to it and I went, 'Oh, this is Metallica!'," Eva quips. "You know, I'd never heard it before, but when I looked at the lyrics and I was sort of reading them, I thought this would suit, a darker, softer rendition."
"I hadn't paid much attention to the lyrics until Eva brought us the work tape," violinist Sarah Holbrook recalls, "I was like wow, I never focused so much. And it's a beautiful song."
"And creepy!", Eva interjects.  If Metallica's version is menacing, then SHEL's rendition of "Enter Sandman" is haunting.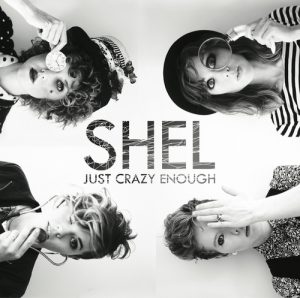 In the Echoes studio, SHEL has just finished a live session. All four women are almost two dimensionally slender. Pianist Hannah Holbrook wears her brown hair long with a tight black leather jacket. Percussionist Liza Holbrook sports a faded black "Taco Tuesday" t-shirt and it was actually Tuesday. Violinist Sarah Holbrook has her formerly long brown hair cut into a fade, shaved on both sides with a long shock falling into her face. Eva, who is the only one still wearing their custom top hats, has a blossom of curly light brown hair, wears a black Rolling Stones tour t-shirt and has a black star painted on her left cheek.
"I have real tattoos on my back to compensate for this not being a real one," Eva explains. "I felt not legit at all any time people would be like, 'Is that real?', and I'd say no, but I wanted to be able to say that I do have real tattoos!"
That's definitely not enough tattoos to be a metal head. SHEL's new album, Just Crazy Enough, sees the four sisters expanding their palette and dynamics. It was produced by Brent Maher, who is a leading Nashville songwriter and producer, working with people like The Judds, Kenny Rogers and Shelby Lynne. Also producing was Dave Stewart, still best known as a member of 80s new wave band, The Eurhythmics. It doesn't seem like a match for the gentle, folk inclined sounds of SHEL.
"The thing about Brent is he's just a legend in his own right, and I think his ear for quality and creating something that is really, you know, meaningful," Eva pauses and gathers her thoughts. "That aspect of working with him is thrilling because I know that when I'm working with Brent, he really makes me want to try to create the best thing I possibly can because I want to impress him, you know.  Aside from that, he's a really good mentor and friend, so it's not intimidating, but it is challenging."
Dave Stewart brought his programming acumen to the band, giving them a more contemporary, atmospheric sound.
"We recorded everything with Brent and our engineer, Charles," Eva explains as she remembers the entire process, "This time though we sent all those tracks over to L.A. and Dave and his engineer, Ned, downloaded them and then they did some programming underneath and then sent all of those tracks back to us until by the end of it, some of these songs had like 80 tracks. And then Brent and Charles would pull them up on the desk there at the studio, and they would mix all of this like chaos together and turn it into a song."
"It was like Christmas every time we'd get something back from Dave," Sarah remarks, "because you just never knew what he was going to put on there, him and Ned.  It was pretty cool."
The music on SHEL's Just Crazy Enough was composed over a three-year span and there seems to be a dividing line between when times were pretty good and then, perhaps not so good. A song called "Is The Doctor in Today" explores identity and depression. Eva still gets emotional talking about it.
"I think it is so common to lose yourself, and it can happen in so many different ways," Eva explains knowingly, "I think everybody understands that feeling when it does, like maybe it's when you look back on a picture of yourself or you have a memory of who you used to be, and it's almost like your subconscious is telling you about it, like the things that you've lost are still sort of there in a shadow or an echo, and they're speaking to you. Inside, something is saying you know, I want to be restored and it's in the quiet moments that you hear that voice. This song came out, and I would start to write parts of it and I would cry and I didn't know why, so even as I was writing it, it was like a form of therapy because I was beginning to interpret it a little bit and I would be like, 'Man, I really feel like I've lost myself.'"
Homeschooled by hippy, Christian parents, religious imagery populates many of their songs like one called "I'm Just A Shadow." It has the rhythm and cadence of an old folk song filtered through Fleetwood Mac harmonies.
"There's a traditional folk song called "God's Gonna Cut You Down," she .  And it's been covered by all kinds of artists, but Johnny Cash did a cover of it and I remember hearing that and just being like, 'Man, that is just the coolest song.' I think I went into my room and I was like if I ever write something that amazing, I could die happy.  And I don't feel like it's near as amazing as that one, but it was my best attempt. I didn't write it alone. "I started it and then I brought it to the girls and they really like it, so they helped me finish it."
Not all of their songs are introspective or biographical. They get into early 20th century nostalgia on "You Could Be My Baby" and pure pop on "Let Me Do." SHEL's "Just Crazy Enough" ends with something that has been absent in the group, a pure love song called "Stronger Than My Fears."
"Everybody was just crossing their fingers though that somehow a love song would come out," recalls Eva. "and sure enough it did just like at the last minute. Everybody was rejoicing, oh there's finally a love song on the album."
"Eva met a boy and wrote a love song," Liza teases.
"So the next album will be a breakup album?"I suggest.
"Oh no, no," Eva smiles. "I really love this boy."
"It'll probably have more love songs on it," Hannah adds..
SHEL'S latest album is called "Just Crazy Enough" on Moraine Records.