The Album Leaf Creates Music in Motion With Echoes September CD of the Month: "Between Waves"
The ambient rock and post-rock landscape has been populated over this century by bands like Sigur Rós, Tycho and Explosions in the Sky. But one of the unsung groups in this broadly defined zone is The Album Leaf. To bring a little perspective, The Album Leaf's debut, An Orchestrated Rise to Fall, was released in 1999, the same year as Sigur Rós' seminal second album, Ágætis Byrjun, which was effectively their first album because hardly anyone outside of a thousand or so Icelanders had heard their 1997 debut, Von. Explosions in the Sky didn't launch until 2000, and Tycho, whose song, "A Walk", is ubiquitous on ads, trailers, and public radio, didn't arise until 2004. But widespread fame and acclaim has eluded The Album Leaf despite releasing five brilliant and disarmingly idiosyncratic albums in a decade, three of them on Sub Pop, Their sixth full-length album, Between Waves, is yet another great reason why they should be near the top of everyone's post-rock, alt-rock, instrumental rock list.
After emerging from the hardcore punk group, The Locust, TAL founder Jimmy LaValle was already immersed in this post-rock instrumental sound in 1997, first with the guitar centric band Tristeza, and then The Album Leaf. TAL started as a solo project and then evolved into a full band. From the start, LaValle's take on this broadly defined post-rock sound was just as evocative and more melodic and kinetic than the music being made by most of his contemporaries. He created an ambient rock sound based on rhythm loops, ambient textures and keyboard melodies, that carves out expansive soundscapes.
The Album Leaf has always had a penchant for the cinematic, and that's evident on the opening track of Between Waves. "False Dawn" is a theme that could be the theme for a James Bond-style thriller, its propulsive, motoric groove, vaulting melodies and a touch of drifting trumpet phasing through like a panning overview shot. Almost every song on Between Waves has the feel of scenery streaming past a train window, a non-stop, shifting panorama of sound. Tracks like "Glimmering Lights" seem to pile one driving theme atop another in a breathless display.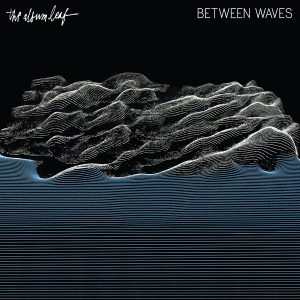 Although his compositions are mostly instrumental, LaValle always drops a few vocal tracks in. His own voice is thin and flat, but TAL is a personal project, so putting vocals in someone else's hands would be like giving away his baby. And his voice can work, as it does on the haunting title track, a yearning love song over minimalist 8-bit electronic loops and string and trumpet pads. But these haunting songs would benefit from another vocalist singing them.
There has always been a dark undertow to TAL's music. "Wandering Still" sits atop an ominous looped electronic grunt that cycles alongside another chiming loop, gradually morphing into a syncopated live drum track. Brad Lee's trumpet calls out a triumphal melody, like we've just summited a mountain peak.
The Album Leaf's strengths have always been the elliptically spinning, interlocking melodies and rhythms of songs like "Back to the Start." It's a song of motion, a gathering of resources to launch once again. And that's what Between Waves is: a relaunch after the six year gap since their last full length album, A Chorus of Storytellers. The Album Leaf creates a music in motion. They may be Between Waves, but surf's up.
~ John Diliberto