Review : Al Di Meola Live at the Keswick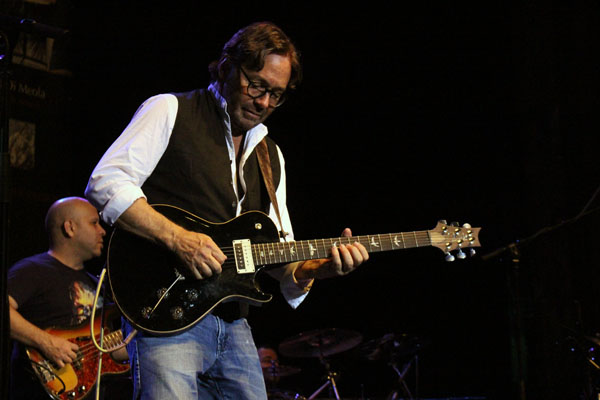 When Al Di Meola walked onto the Keswick Theater stage with his vintage black '71 Gibson Les Paul electric guitar, there was little doubt about where this concert was going. Of course, the name of the tour helped: Elegant Gypsy Meets Romantic Warrior Electric Tour.
There wasn't going to be much in the way of World Sinfonia global treks, Astor Piazzolla tangos or quiet nylon string meditations. Although all those explorations were a subtext, this was Al Di Meola playing blistering leads, switch-back compositions and rhythmically complex grooves. With a backdrop of 23 of his album covers behind him, including Return to Forever and The Guitar Trio with John McLaughlin and the late Paco de Lucia, Di Meola played music from across his catalog. (Interesting to note that there were two versions of the Elysium cover on his backdrop, the original cheesecake shot of DiMeola shirtless and brooding, the other with with a different kind of female cheesecake shot.)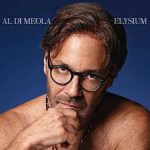 Whether playing "Flight Over Rio" from Elegant Gypsy, "Medieval Overture" from RTF's Romantic Warrior or "Babylon" from his latest album, Elysium , DiMeola poured out high speed runs and careening bends that sent this music into a higher plateau.
Di Meola's band was extremely serviceable, if somewhat generic. Philippe Saisse's touch on the electric keyboards is light and jazzy and often seemed to noodle pointlessly against Di Meola's more incisive playing. He certainly doesn't have the verve of earlier Di Meola keyboardists like Barry Miles or Rachel Z. The rhythm section of bassist Elias Tona and drummer Luis Alicea kept things percolating and Alicea, though hidden in the back, certainly made his presence felt. Longtime Di Meola accomplice Gumbi Ortiz served the dual role of rhythmic colorist and comic foil for Di Meola as they engaged in mock stop-start routines and a riff where Ortiz starts playing the percussion groove to Santana's "Oye Como Va" only to be interrupted by Di Meola with "Wrong band!"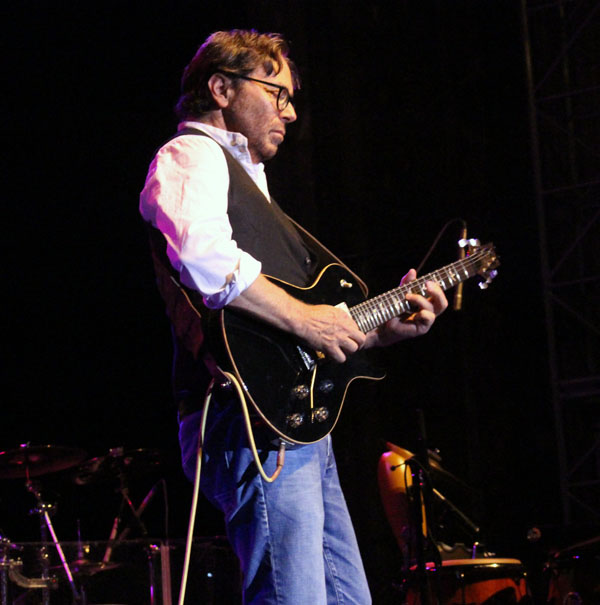 There was a respite from the electric storm with an acoustic set, mostly Al Di Meola solo with some occasional faint MIDI accompaniment that he didn't seem really committed to. His acoustic playing was flawless and pulled the audience in to its subtler hues which also included a cover of The Beatles' "And I Loved Her" with Di Meola fracturing the melody in riffing asides.
Electricity stormed back in with a cover of Led Zeppelin's "Black Dog" featuring  Evan Garr wailing the Robert Plant vocal line on electric violin. Garr introduced himself to Di Meola as a walk-on during a concert in Toronto. He played Di Meola's music for him backstage and Di Meola immediately made him part of the band.
Despite all his guitar flash, it's as a composer that Di Meola really hones his craft. His compositions are epic works, with subtlety, playfulness and depth that sometimes get obscured by his eviscerating solos.
While Di Meola didn't venture much into his more esoteric terrain, the new pieces from his blistering Elysium album like "Adour" and "Babylon" sat well next to his older pieces. He sent the audience home with a crushing rendition of "Race with the Devil on A Spanish Highway."
What I want to know is, where was the 62-year old musician who was supposed to be on stage? Di Meola has been blessed with the John McLaughlin ageless gene in appearance and performance.