Jeff Pearce Carves Notes out of Air with Seamless Guitar Looping in an Echoes Bonus August CD of the Month: "Follow the River Home"
It's hard to believe that Jeff Pearce was a complete unknown when we began playing his first album, Tenderness and Fatality, back in 1993. He's now released 13 solo albums and is the ambient guitarist of choice for producer Will Ackerman and musicians like Kevin Keller, Paul Avgerinos and Jeff Oster.
I recently saw Pearce play live at a late night show for the Zone Music Reporter Awards in New Orleans. In a hotel bar filled with ZMR attendees, Pearce held them in rapt attention for well over an hour with a long, purely ambient work of slowly shifting textures, elusive melodies and mysterious sounds as if he was carving notes out of the air. It was all coming from his electric guitar in a live, seamless improvisation.
You can hear that aspect of Pearce's sound on several tracks from his latest album, Follow the River Home, including, "Downstream I and II" and the 20-minute-long "Gathering Stars." The latter is a merging of two live performances: one from The Gatherings Concert Series in Philadelphia, the other from a live radio show on Star's End on WXPN-FM later that same night.
If you didn't know, you'd think it was a synthesizer track. There are no conventional guitar sounds to be found, but guitar is where it all starts as Pearce sends his strings through delays, loops, harmonizers and all kinds of electronic processing. It's an exercise in deep textural listening, a Rothko painting in sound.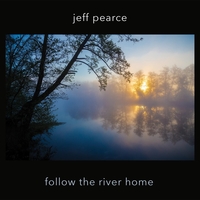 Other tracks, like the wistful "Under Summer Stars" and desolate "Outpost" explore known Pearce territory of looping, melancholic guitar melodies, unfolding like a fractal web. One track, "Snowfall," breaks the mold, featuring Pearce's first shredding guitar solo ever on record. "Snowfall" was debuted in 2014 on Echoes' Sonic Seasonings show and Pearce finally unleashes it here. Chiming electric chords are spun into loops that pave the way for Pearce's acid-singed excursion. You can see a video of his live Echoes performance below.
Follow the River Home traverses many tributaries before landing on familiar turf with the title track. It's a trip worth taking.