The Sci-Fi Civilization of AeTopus
Podcast: Play in new window | Download
Subscribe: RSS
Bryan Tewell Hughes is the man behind AeTopus, an unusually monikered one man band who has been creating ethno-electronic soundscapes for the better part of this century. He won a Zone Music Award in 2012 for his album, Between Empires and he was nominated in  the 2016 awards for his latest album, When. AeTopus' music lives in space, but I caught him in a New Orleans hotel room where the Zone Music Awards were being held.
You could almost condense the influences on the music of AeTopus with just a few phrases.
"Video games, sci-fi and fantasy movies, and heavy metal and Kitaro," he enumerates. "I mean if if you squish it all together, it almost makes sense."
Bryan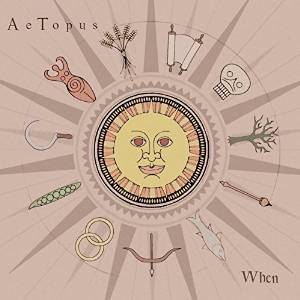 Hughes is AeTopus, a name that he invented.
"The 'Ae' in AeTopus, the Ae kind of suggests time, 'Topus', place, I capitalize the T," Hughes explains. "It's a word I made up, you know, it kind of suggests the abstraction of you know, what I'm doing. You know, it's kind of got an ethnic feel, but you can't really nail down a particular country or style or anything."
Bryan Tewell Hughes is a musician who spent a lot of time in his head. He was born in Quantico, Virginia in 1966 and that location tells you a bit about his background.
"You could call it a military brat kind of growing up experience," discloses Hughes. "I was bounced around between Yuma, Arizona, Quantico, Rhode Island, Charlottesville, VA and Camp Lejeune, NC."
Bryan didn't follow in his fathers boot steps. Tall and gangly with a long neck and thinning hair, the 50-year-old musician doesn't look like he has a boo-yah anywhere in him. He took his fine arts degree and became a tattoo artist and then a social worker. At the same time, he was also playing in rock bands.
"I was in a power pop band," Hughes admits. "Embarrassingly, I listened to a lot of heavy metal, a little speed metal. I think it gives the current stuff that I do kind of a sense of drama. I can almost hear the influence in there somewhere."
He eventually decided that the band thing wasn't for him either.
"I think it was about 1998 or something like that, where I just decided to go it you know, by myself," Hughes recounts. "And you know, got some early version of CakeWalk, and started messing around with that and loved it."
He started making his own electronic music and his initial sound owed a lot to heavy metal and punk. He released an album as Anthropile.
"That was kind of my one-man industrial band," laughs Hughes. "It's pretty obvious the influences of that were things like Skinny Puppy and Ministry, Frontline Assembly. Political, fast, heavy stuff."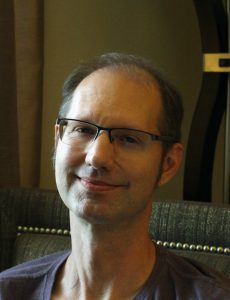 But there were other musical influences going on with Bryan and they were much gentler. It was music he heard his grandparents play.
"My grandparents were liberal conservationists, they were the new agers of the '70s and early '80s, and they were into meditation, Kitaro, and Ray Lynch, that early electronic stuff", he recalls, "So in the midst of all my punk rocking around and being a young crazy person, I did have this collection of probably twenty cassette tapes that they had dubbed off for me back before you could just burn things. So I took those to college with me."
That's the sound that influenced AeTopus.
The music of AeTopus is exotic and electronic. There are hints of world music in his instrumental samples and a tendency toward Asia pentatonic scales. Almost everything he composes is centered on a groove that will run straight through a given composition.
"You know, sometimes I'll lay down 30, 40 tracks 10 minutes long and it'll be this cacophony of sounds and ideas," Hughes reveals, describing his process. "I'll then start peeling away all those layers and try and get it down to its essential elements.  And so I will end up with 4, 5, 6, 7 minutes of the same riff.  What do they call it? Vamping."
You can tell from most of his album titles that AeTopus is influenced by science fiction and fantasy. Between Empires, Tempula, Memories of the Elder, Angels and Machines; they sound like titles in search of a film.
"I'm also heavily influenced by the the science fiction fantasy film feel of the late '70s and early to mid '80s," he enumerates. "Everything from The Dark Crystal to Blade Runner, John Williams soundtracks, all the stuff that was big in that little era worked its way into my style, I guess you could say".
Bryan Tewell Hughes spent his youth between headphones, immersed in his own music world. Now he creates music for a his own fantasy world, and that's how he likes it.
"I do like the idea of a kind of a future civilization that is very gritty and earthy and human, you know, with three moons in the sky", he imagines.
The latest album from AeTopus has a very simple title. It's called When and it's out on 12 Ton Productions.