Written by John Diliberto with additional writing by Steve Farrell on July 14th, 2016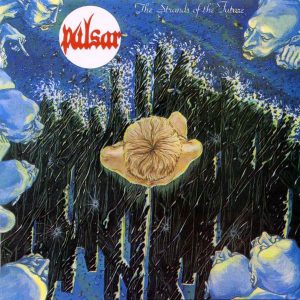 A Pulsar is a highly magnetized, rotating neutron star that emits strobing beams of electromagnetic radiation. French band Pulsar plugs into that imagery as they create their post-Pink Floyd brand of space music. We used to play their albums to death on WXPN in Philadelphia back in the daze of Diaspar. I lost track of them after their 3rd album, Halloween, in 1977, but apparently they've released three albums since then, their most recent, Memory Ashes in 2007. (Apparently, there is another, more recent band called Pulsar from Russia releasing a lot of electronic space albums over the last few years.)  Alerted by a posting on the Progressive Ears forum, I was thrilled to find a live performance of their song "Strands of the Future" from their album of the same name. Taken from a TV performance, the audio is a little muddy and the visuals fuzzy. The song starts of with a menacing rhythm propelled by the drummer Victor Bosch and bass player Michael Masson that made me think Rush may have been listening to them for "YYZ." . The guitar kicks in and the organ follows shortly there after. Just as it builds into this mountainous force of noise the flute dives in and out, through the dense instrumentation.
Shortly after that the song shifts gears, putting the balance on the guitar and the arsenal of organs and keyboards at player Jacques Roman's disposal. He does not let them go to waste as he switches from an icy artificial, synth tone to the Mellotron with it's classic choir tapes. All the while the rhythm section keeps driving, powering you their spacescapes.
Watch the video below.