THe debut of OnDeadWaves is the Echoes July CD of the Month.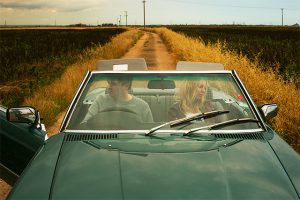 If I had listened to OnDeadWaves without knowing their background, I would have thought they were an American group. I hear a meeting of Lanterna, driving across the desert in a 57 'Chevy, with Leonard Cohen and Lucinda Williams in the backseat.
But OnDeadWaves is an English duo formed by singer Polly Scattergood, who has two albums of her own, and James Chapman, who records as Maps. As OnDeadWaves, they create a western noir music that would be a perfect score for HBO's True Detective or David Lynch's Wild at Heart.
Scattergood and Chapman are taking shoegaze west, following a deep strain of ambient Americana song form. They sing in husky, whispered voices right into your ear, like they've just smoked four packs of cigarettes, downed a bottle of whiskey each, and have an arm draped around you while they whisper in your ear. But this isn't barroom music, unless your bar serves lysergic gin cocktails. It's the perfect voice to tell tales of lost souls and painful addictions.
The opening track, "Blackbird" sets the scene, like Lee Hazelwood scoring a spaghetti western with Ennio Morricone, Chapman drops reverb-saturated guitar chords over a chugging rhythm, while Scattergood lays down a theme that runs throughout the album: finding yourself in a world where dreams are deferred, if not outright shattered.
"Alice" and "Hollow" work as a pair. They are each luxuriously desolate songs of lost faith on all levels, personal and spiritual. "Alice" is a soul in search of herself while "Hollow" talks of life on the bottom dive-bar rung of music where there's no place to go and no direction home. "Hollow are my angels," they sing in close throaty harmony in this paean to empty promises.
When Scattergood and Chapman use images of addiction, it doesn't always seem like a metaphor. On "Dead Balloons" they sing "vessels from my body, puncture veins until they bruise" and "burnt reflections on a spoon," references that would be familiar to heroin addicts.
Even their more upbeat songs have an undercurrent of dread to them. The chiming, Byrds-like guitar of "California" includes the line, "Cherry said, Come to bed. We're all dead in California." (Check out the Boogie Nights inspired video for it below.)
But as forlorn and melancholy as this might sound, it is a beautiful sorrow, a slow drip of heart-rending melodies and paisley-dappled textures that swirl among chiming guitars and open-road riffs. OnDeadWaves (and that's the way they say it's meant to be spelled) will have you floating on oceans of fragile tenderness, with music that will conjure many a dark cinematic journey.
~John Diliberto