Podcast: Play in new window | Download
Subscribe: RSS
Written by John Diliberto on June 23nd, 2016
Moby has been an icon of electronic music since his 1999 album became a worldwide hit and every single track on it was licensed for movie, TV or commercial soundtracks. Now the musician has released a new book called Porcelain: A Memoir. That chronicles the 10 years leading up to play. It talks about his life as a sober vegan christian and an inebriated vegan hedonist, but most importantly, it chronicles the electronic dance music scene of the '90s which Moby partly created and wholly transcended. I sat with Moby in the bowels of the Philadelphia Free Library just before he gave a talk about his book.
In Moby's new memoir, Porcelain, he describes a scene in the mid '90s where he was at a plateau of fame. He was DJing at NASA, a rave club in New York and found himself completely out of touch with what people there wanted to hear. Two years out and he was old. He felt the same way just before he released his album, Play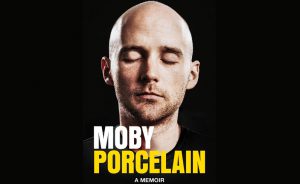 in 1999. He thought it was all over.
"I pretty much did, I didn't want it to be, but before the album Play was released, I had lost my record deal with Elektra and I had a record deal with Mute, but only because Daniel Miller, who runs Mute, has never dropped an artist, so I couldn't feel terribly special about being on Mute because he had never gotten rid of anyone", Moby reveals, "And you know, my career by the late '90s really largely disappeared, you know".
Looking back, he doesn't even think the album was very well received.
"And so when the album Play came out, it didn't sell very well", Moby admits, " Lots of people didn't review it, it just sort of took on a life of its own over time".
Moby's memory may be a little hazy here, since play received a rave 4-star review in Rolling Stone and was number one in the Village Voice's critics poll that year. But sales did start off slowly until play did have a life of it's own and went on to sell over 12 million copies worldwide. Play is where the story of Moby's Porcelain ends. The book takes its title from the best known song off his best known album, but Moby stops his book just short of that. Instead, he delves into the 10 years before Play, beginning with his arrival on the New York club scene in 1989. There he started spinning R&B and house tracks like the ones on disc two of his Music from Porcelain CD, a companion to the memoir.
Disco evolved into House and Moby became a low level DJ on the scene playing at clubs like Mars. But his career took off when he started making his own music. Unlike a lot of DJs, Moby was actually a musician who had studied music and played in punk bands. In the living room of his label owner, he created his first hit, 'Go'.  
"As I recorded 'Go' originally, it was this very minimal electronic piece of music and I was a big fan of Twin Peaks, so I tried to put Laura Palmer's theme from Twin Peaks on to the song 'Go'". And I tried to sample it, but it was way too slow", says Moby, "So I then I had to replay it with a synthesizer and a piano and I got really lucky, because I wanted to sample it, but I couldn't sample it, so as a result I didn't get sued".
All the while Moby was pumping up the volume in clubs and raves, he was also making ambient music. He discovered it as a teenager.
"I first discovered ambient music that was called 'ambient music' when I heard the b-side to Heroes by David Bowie, and then there was a record store in Connecticut near where I grew up and one of the guys who worked in the record store was obsessed with EG records that had everything from Harold Budd to Brian Eno, and that was my introduction to ambient music", Moby's introduction would later become an evolution, "Then as the '80s progressed, there Rave scene started.  And an entire genre called ambient house happened, where almost every single that came out for a few years had an ambient mix because when you would go to these raves, and even like club nights in New York, there would be the main area with the dance music and then a sub area with quiet ambient music where people would lie on beanbag chairs and massage each other's hands on Ecstasy. So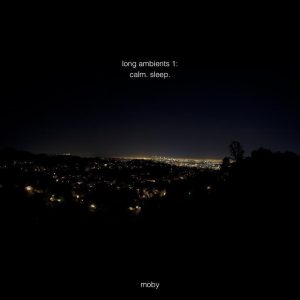 ambient music was a very big part of the early dance scene".
Moby continues to work in ambient music. He recently recorded  four hours of extreme drone called Long Ambients 1: Calm. Sleep. and released it as a free download.
"It's four hours of very quiet ambient music that I had written for myself.  I was basically making these long 20-30 minute ambient pieces to listen to when I was meditating, or doing yoga, or trying to sleep, so I created all this music just for myself. There's nothing distinctive about it", Moby explains, "The goal is for it to be as unobtrusive as possible, so there are no drums. There's really no high end even, it's just these quiet tones and chords designed to help people sleep or rest".
Just into his fifties, Moby finds himself caught in a transition between worlds. He's from the last generation to actually start out playing hands on synthesizers instead of computer simulations.
"When it switched over to plugins, soft-synths and the laptop, it created a disconnect between generations", he concedes, "I do think there are a lot of musicians now who have never put their hands on a VCO".
For non-techies, that's Voltage Control Oscillator.
"They've never actually touched analog circuitry, which is fine, I love both. I love analog circuitry and I like soft synths, but I remember seeing an interview with Bob Moog and he was talking about analog circuitry, and he wasn't being critical of digital circuitry, but he was saying with analog circuitry, it's there, like there actually is quantum stuff going on. You're talking about an electric signal path that's being altered with filters and circuits, and the way he described it, you could tell there was a physical entity there", he reminisces, "And I find that I love having access to that, you know, whether it's turning on old surge or playing around with these modular synths or whatever, and knowing they're actually like a physical sound source there"
Moby's last 3 albums, Wait for Me, Destroyed, and Innocents were all down-tempo, introspective and lyric albums. But he says for his next project he may up the intensity inspired by a '70s band called Magazine from his old punk rock days.
"It's very, very fast new wave, like sort of influenced by bands like Magazine, if you remember Magazine".
Coincidentally enough, Magazine brings Moby back full circle to his album, Play.
"My album Play, the title to an extent comes from a Magazine record because they did a show at the Sydney Opera House and they released it, and they called it Play.  And I was thinking of a title for my album Play, and I saw that and I was like 'oh, okay, maybe I'll borrow that'".
And maybe Moby's next album with a magazine connection have the astronomical success of play. Moby's book is Porcelain: A Memoir published by Penguin Press. The album that accompanies it is the music of porcelain released by Mute Records. And you can go to Moby.com to download for free his four hour release, Long Ambients 1: Calm. Sleep.