John Heart Jackie Take Americana Ambient in the Echoes Podcast.
Podcast: Play in new window | Download
Subscribe: RSS
Listen to the John Heart Jackie interview above, or download it from iTunes.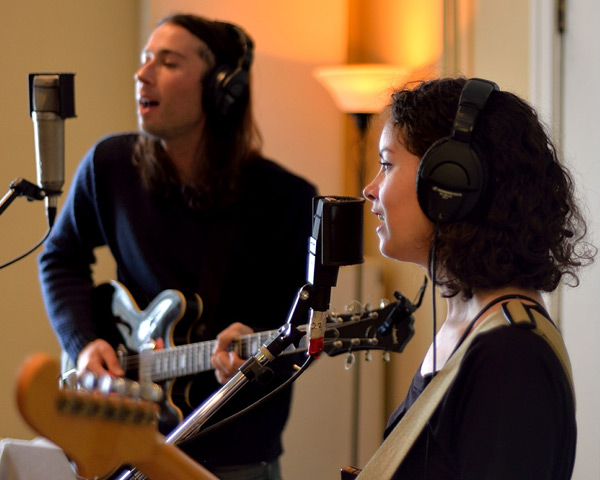 John Heart Jackie is the duo of Jennie Wayne & Peter M. Murray. There is no one named John or Jackie in the group. They make a trippy psychedelic folk with country harmonies, ambient textures and electronica loops. Earlier this year they released the album Episodes.
Peter and Jennie are not a romantic couple and they live on opposite coasts, but they finish each others sentences as if they were married, like when they explain why they use the word, "heart," and not the icon ♥ in printed iterations of their name.
"I mean putting heart in your band name, it's already cheesy," laughs Murray.
"That would be a little much," adds Wayne, picking up where Peter left off.
Although they aren't married, Peter and Jennie have traveled a lot of roads together and it seems like they had a good time judging by songs like Jennie Wayne's "Nevada City".
"I was thinking about this series of days that we spent driving through the Sierras and around Nevada City, and Fosterville, CA," Wayne reminisces, "And there was just something really magical about being up there. It was summertime and we were on tour and we were listening to really great records in the car. I can't remember what they were, but the conditions were perfect to have a really incredible time, so I was just sort of thinking about all those little pieces."
"Nevada City" is full of sunshine, but other songs are darker. "Forsaker" is foreboding and atmospheric, but the inspiration finds Jennie Wayne taking a simple everyday task and using it for a broader metaphor.
Wayne continues, "There's a a part of the song that feels kind of like the crux of the song, which is when I say…"
"I swept you out," Murray interjects.
"Oh," Wayne recalls, "I swept you out but the wind blows you back in. I was housesitting for a friend, I was sweeping the floor, and it just, that kept happening. And I was just so frustrated and I thought like oh, this is kind of what it's like, this exact thing you do, put all this effort towards moving forward and cleaning up your life, and then it's, somehow this all just comes blowing back in and ruins everything again."
"We were talking about this song the other day," Murray adds. "We were having breakfast, and for some reason it came up in conversation, and I liked that you said it's a breakup song, but like a year or two after you breakup with someone. And it's all the haunting parts of a breakup."
John Heart Jackie have been playing together for six years. Just into his thirties, Peter Murray is tall and lanky with shoulder length brown hair, a comfortable blue sweater and jeans. He's holding a classic style hollow body electric guitar. Jennie Wayne is the same age, petite, with curly black hair, a simple knee length black dress and sporting a Micro-Frets electric guitar. They first got together singing Sam Cooke songs. They cast back six years for one of them. The duo hesitantly, and maybe a little reluctantly launch into a partly remembered version of Cooke's "Bring It On Home to Me."
They fall apart in laughter. "So basically we recorded a version of this Sam Cooke song, but we just sound like a bunch of white kids, which we are," he says ruefully.
Wayne concedes, "We're not quite as soulful as I think we feel."
"That was my hesitation in singing it," Murray agrees.
While their Sam Cooke rendition was charmingly shaky, there's nothing wobbly about harmonies Jennie and Peter sing as John Heart Jackie. They're inspired by a lot of earlier male-female duos.
"I guess in the very beginning there was Emmylou Harris, and Graham Parsons and…" lists Wayne as Murray picks it up "Like Gillian Welch and David Rollins more country sort of things, but then I, like when you, this record is like Stevie Nicks and Lindsey Buckingham was like it kind of evolved into this like what is the duet in pop music in that sense. But Johnny Cash and June Carter, still those sort of like male/female two voices together, it's definitely an influence," continues Murray.
Jennie Wayne in particular brings a country feel to her singing.
"I grew up listening to a lot of American Roots music and a lot of old time music," Wayne reveals. "There was a lot of Emmylou Harris and Dolly Parton in my house. Thanks, Dad, for your influence."
John Heart Jackie feel like they're expanding the role of the duet with some influences you don't ordinarily find in most country music.
"I was listening to all of those ambient Brian Eno records," Murray exclaims enthusiastically. "There's a lot of things people don't consciously hear, but they feel in music."
That might account for the bowed guitar, à la Jimmy Page and Sigur Rós's Jónsi, that Peter brings into the music. You can hear that sound on the song, "Nevada City".
"That was an attempt to try to get it to sound bigger," laughs Murray. "I actually just bought a new pedal, like three days ago, and on the record, that's actually three tracks of guitar and bowed bass.  This whole live thing for you was 'how can I emulate that live.' A couple of delay pedals in your pedal board will really do it."
John Heart Jackie have beautiful harmonies, often multi-tracking their voices, especially Jennie Wayne's, but while Americana and country are deep in their roots, they make an effort to avoid the obvious clichés, possibly to their own commercial peril. That's why they often use used enhanced guitar work and keyboards to play parts instead of singing them like on the song "We Will Be Wild."
"With 'We Will Be Wild' in particular, I just was really trying to make sure it didn't turn into a cheesy kind of Americana sing-a-long," Murray carefully treads. "I can't say names, but that Mumford & Sons kind of thing. I was just like worried about going into that territory, so the idea with the production was to like let me augment these sounds pretty drastically. It was just an effort to try to not make it too Americana-ey sounding, at least tonally."
"Heaven forbid you should sell like a million or so records like Mumford & Sons," I wryly note.
You can hear John Heart Jackie being wild and wonderful on their album, Episodes on Pour le Sport records.