Haroula Rose Crosses Turbulent Waters on Here the Blue River
Here the Blue River is an album of poetic beauty, both in the lyrics and the music. Haroula Rose has been recording since 2009, but she has found her voice on her second full-length album, even if that length is slightly over 33 minutes. Its title is from a Ralph Waldo Emerson poem, and it leads to the water imagery that dominates the metaphorical language of the album. In fact, "Moon and Waves" sounds like a song about using water as a metaphor. The waves of life's changes are couched work-song rhythms and a slightly funky bassline that evolves into double-dutch handclaps.
Much of Here the Blue River is about broken love affairs and trapped relationships. That's the concern of "Songbird," about a friend or lover who was just too broken to hold together. It's a country-flecked tune with pedal steel guitar matched to a mallet-driven groove.
Song after song, Haroula paints new pictures. On "The River (Drifting)" she employs clarinets she remembers from the Greek music her parents played. "Margo," based on the novel, "Once Upon a River" by Mary Jo Campbell, uses a train rhythm and reverb Telecaster to tell a tale of a woman looking for answers, learning how to kill.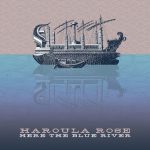 Producer Zac Rae has found the perfect frame for Rose's songs, organic, yet atmospheric, an album whose genesis is on acoustic guitar but which is taken to the edge of space with liquid electric guitar tremolos on "Sirens" and pedal steel guitar sirens all over the place. Across it all is Haroula Rose's dusk shrouded voice, intimate, knowing and seductive.
Here the Blue River is an intoxicating album by an artist who makes dark ruminations heartbreaking.
~John Diliberto