Percussion Wizard Nana Vasconcelos' Last Rhythm.
Podcast: Play in new window | Download
Subscribe: RSS
Listen to the Naná  Vasconcelos interview above, or download it from iTunes.
Nana Vasconcelos
August 2, 1944 – March 9, 2016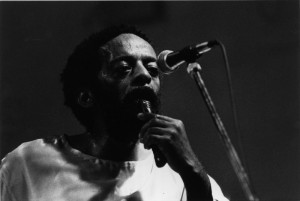 I first heard Naná Vasconcelos around 1972 when PBS broadcast segments from the 1971 Montreux Jazz Festival. Among them was a performance by saxophonist Gato Barbieri. Next to him on stage was a tall, skinny, wizened black musician cradled around an instrument that looked like a long bow stuck into a gourd. That was the berimbau, the percussion instrument of which Naná was a master. I immediately went out and got Barbieri's El Pampero from that live performance. Naná would turn up many times over the years. He was a member of the seminal world-fusion jazz group, Codona with trumpeter Don Cherry and multi-instrumentalist Collin Walcott. Both of those musicians left the planet long ago, but not before recording some great albums on ECM, which were re-released as a boxed set,  The Codona Trilogy, in 2009. Naná played on albums with Paul Simon, Laurie Anderson, Milton Nascimento, Jon Hassell and Talking Heads. He also recorded an ambient jazz epic with Pat Metheny and Lyle Mays, As Falls Wichita, So Falls Wichita Falls. Nana played all manner of percussion instruments and when we interviewed him in 1989, he was putting out an electronic world fusion album called Rain Dance. Naná plucked his last berimbau string on March 8th, 2016, after a struggle with lung cancer. We go back to that 1989 interview in the Echoes Interview Podcast. Listen here or download from iTunes.