Dreamy Alt-Rockers Innocence Mission Return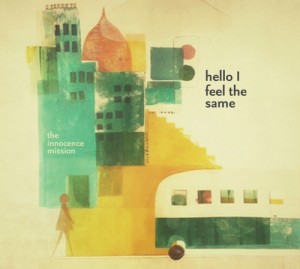 The Innocence Mission, a band that helped define dream-pop has a new album coming, Hello I Feel The Same.  It's.their first in five years.  There aren't a ton of bands coming out of Lancaster, PA, which is Amish central, but The Innocence Mission have been crafting moody introspective songs from there for a long time. Fronted by the fragile voice of Karen Peris and the guitar of her husband Don, The Innocence Mission appears to be continuing the sound they first forged in the late 1980s. The new album, Hello I Feel The Same, is slated for release on October 16.
Lifting from their press release, here's a quote from Sufjan Stevens.
"…what I always come back to, after the din and drum roll, is the small song that makes careful observations about everyday life. This is what makes the music by The Innocence Mission so moving and profound."
88