Podcast: Play in new window | Download
Subscribe: RSS
Hear Olafur Arnalds' interview above or download the podcast from iTunes.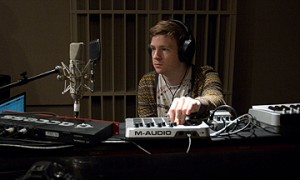 When we first started playing Ólafur Arnalds five or so years ago, he was a little-known secret. But in the last couple of years, he has exploded as a leading avatar of a new neo-classical sound, ambient chamber music. He's been especially prolific in the last year, releasing three albums in three different genres: The Chopin Project, with pianist Alice Sara Ott, the all-electronic Kiasmos, and the soundtrack to Broadchurch. I caught up with Ólafur Arnalds in the midst of transglobal tours with all these projects.
What links the ambient chamber music of Broadchurch, the classical interpretations of The Chopin Project , and the electronic music of Kiasmos? According to Icelandic composer Ólafur Arnalds, nothing at all.
"I don't think there's a common thread in that," Arnalds insists. "Like with The Chopin Project, I'm more working with ideas, like Chopin's motifs, and trying to make something out of them. Or with Kiasmos, sitting here, the two of us just having fun, and doing some beats and playing on top of them, so there's not really a common thread of emotion through them for me".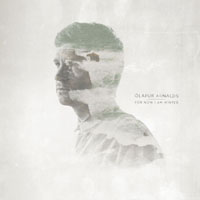 Although there is punk rock and heavy metal in his background, the core of Ólafur Arnalds' reputation is built around the ambient chamber music he's created on albums like "They Have Escaped the Weight of Darkness" and For Now I Am Winter. It's that sound that is closest to his adaptation of music by Frederic Chopin, recorded with pianist Alice Sara Ott. The history of rock and contemporary musicians tackling classical works is not a glorious one, and according to Arnalds, classical pianist Alice Sara Ott agreed.
"When I first asked Alice to come on board with this," Arnalds recalls, "I sent her an email and told her, 'hey, I'm thinking about you know, redoing Chopin'. And she told me later that she was gonna say no, . . . because of this tradition. Usually when this has been done, it's remixing classical works and or it's not always showing a lot of respect to the composers. But then after we talked on Skype for an hour and the first time we actually met, she changed her mind, thankfully".
Arnalds' approach to Chopin's compositions wasn't to contemporize them. He has some straight readings of Chopin with Ott playing piano.
"My idea was more to make something new based on his ideas," Arnalds clarifies, "rather than take his works and change them. And this is why we have the original works on there as well. And we don't really touch them because we didn't really want to be remixing Chopin".
But then there are the original compositions based on motifs by Chopin.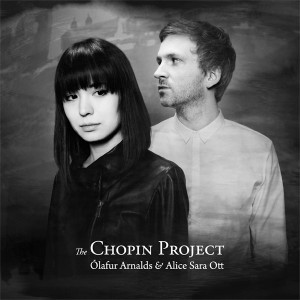 "For example, like on 'Letter of a Traveler,'" Arnalds explains, "I'm only taking the first bar of that piece and the left hand, and just making a completely new piece out of it which has very little to do with the original, except that one motif".
Coincidentally, Arnalds' Chopin project came out on the heals of a very similar recording by American pianist, Chad Lawson. In 2014 Lawson released the album, Chopin Variations.
"Yeah. That was funny," Arnalds laughs, "We'd been in touch a few times. I've never met him, but we talk sometimes online. And when I first announced The Chopin Project, he actually emailed me like 'are you serious?' I'm working on exactly the same thing. So we ended up coordinating our releases so that they wouldn't be released in the same week and stuff".
Although he is an unassuming musician, Arnalds has become a ubiquitous figure in modern music to the point that he is often used as a reference in comparison to other artists. There was even a recent article on the website, A Closer Listen, called "How To Be Like Ólafur Arnalds."
Ólafur Arnalds has definitely reached the tipping point. Over the past couple years, we've received dozens of press releases from artists and labels mentioning his name. Here's a sampling of quotes (with names removed so as not to embarrass anyone).
"If you've ever enjoyed Ólafur Arnalds …"

"… prefigured the likes of Ólafur Arnalds …"

"… inspired by the likes of Ólafur Arnalds …"

"… sounds like Ólafur Arnalds …"

"… a similar vein to Ólafur Arnalds …"

"… recommended if you like Ólafur Arnalds …"
A similar trend is happening in film. Directors often use "temp tracks," placing previously-recorded music in as a temporary soundtrack to get the feel of a scene, before it gets replaced with the film's final music. That's why so many film scores sound like Philip Glass or Thomas Newman, even if they didn't compose them: their music had been used a placeholder, and the director had asked the composer to create something similar . Now, when Arnalds hears a temp track from a movie project, it's often his music that's already on there.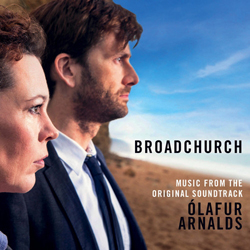 "Usually when I'm asked to do a score, they've first temped my music in there," admits Arnalds, "For example, Broadchurch, 90% of that was temped from For Now I Am Winter and my album before that".
Broadchurch is an acclaimed British TV series that can be seen on BBC America. This project brought Arnalds into some new musical terrain.
"Definitely, especially in the second season," says Arnalds, "it just calls for ominous things, and drone-y things, and long drawn parts that I usually wouldn't really write".
Running concurrently with all these projects is something truly different, a duo called Kiasmos with Icelandic electronic composer Janus Rasmusson. Electronics have always been part of Arnalds' music, but Kiasmos is completely wired.
"Well, he comes purely from an electronic producer background while I'm kind of the opposite," Arnalds points out, "I also produce electronic music, but I come from a totally different background with it, so he's bringing the rhythms and that whole approach to the table, while I'm maybe more bringing the melodic approach and the acoustic sound approach".
In this electronic terrain, Arnalds writes differently.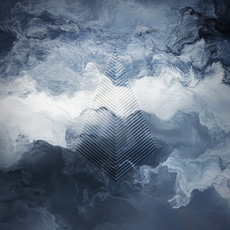 "When you have a four-on-the-floor kick under everything, you write something to fit to that," he details, "And those are different things than what you write when you don't have, you know, a kick drum under it".
The audience at a typical Ólafur Arnalds performance is similar to one you'd find at a classical concert: seated, quiet and attentive. But the audience for a Kiasmos concert has a different posture.
"Standing and dancing, actually," Arnalds chuckles, "Jumping."
Standing and dancing, or sitting and listening, Ólafur Arnalds has all the bases covered. His latest albums are the soundtrack to Broadchurch and The Chopin Project with Alice Sara Ott, both on Mercury Classics, and Kiasmos on Erased Tape Records.