Tubular Bells for Two Duo Recreate Mike Oldfield's Masterpiece in Echoes Podcast.
Podcast: Play in new window | Download
Subscribe: RSS
I am very impressed by these guys. You should have them on your show. –Mike Oldfield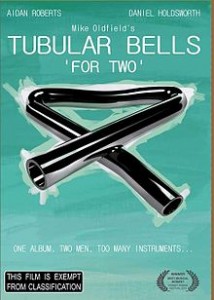 Two musicians from Australia mount the stage with over 20 instruments and recreate Mike Oldfield's 1973 classic Tubular Bells. It's a performance that has impressed even Oldfield himself. It's not a tribute but a live performance living on the knife's edge of danger as every note from opening sequence to last acoustic guitar chord is performed live on the stage with no computers or backing tracks. They call themselves Tubular Bells for Two and they try to replicate the album as fully as possible from Farfisa organ to glockenspiel. You can hear Tubular Bells for Two's Aiden Roberts and Danny Holdsworth talking about their challenging effort in the Echoes Podcast.  Download it from iTunes.