Sherry Finzer's Sanctuary III: Beyond the Dream Echoes January CD of the Month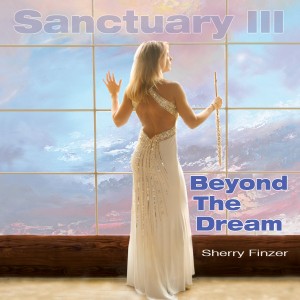 Hear Sherry Finzer talk about her music tonight, February 23, on Echoes.
Sherry Finzer is a classically trained flute player who has performed in ensembles from orchestras to flute choirs. But on her solo albums and in duets with her music partner, guitarist Darin Mahoney, she blows across dance, Latin, new age and classical music. Her albums Radiant Sky, Masquerade and Someone Like Me are willfully eclectic affairs that show off her classical chops even in non-classical settings. But her Sanctuary series is something else, exploring a deeper modality hovering between new age meditations and ambient chamber music.
Finzer's Sanctuary excursions explore facets of a sound more involved with immersion than melody, although that's there as well. The initial Sanctuary album was much more tribal, almost heading into Steve Roach terrain with trance percussion and long sustained flute lines acting like drones. Sanctuary II: Earth is more pastoral, tending toward the new age side with gentle acoustic guitar from her Mahoney and nature sounds from babbling brooks to chirping birds.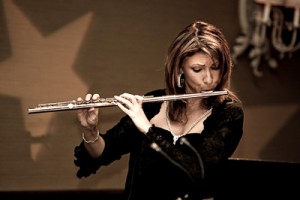 Her latest album, Sanctuary III: Beyond the Dream, Finzer reaches new heights by diving even deeper inside. It's an album of enveloping chamber music textures that shares a world with artists like A Winged Victory for the Sullen and Ólafur Arnalds. The opening track, "The Way" leads the way with a single piano chord marking time against an ominous one-note sequencer pattern as phased voices intone a Gregorian like fragment. Against this back-drop Finzer rises like angel with heavy wings, her alto flute melody arriving in a solemn threnody.

Her melodies move in pensive slow motion, often hanging at that balance between anticipation and action. She applies this approach to her own compositions like the sparse piano underpinnings of the title track, as well as to several covers. Sanctuary III contains one of the more haunting versions of Leonard Cohen's oft-covered classic, "Hallelujah." Her take is so radical in its elongation of the melody that you might not catch it at first as Cohen's melancholy refrain emerges out of a pad of strings like ship emerging from the fog. Likewise, she takes the traditional folk song "Wayfaring Stranger" on a harrowing journey through a gorge of thunder and rain with wind swept block and tackle clanging in the background like a tall ship adrift in a storm. "Amazing Grace," is cast in Aurora Borealis curtains of sound, drawing out the melody across an abstract synth pad's swirling overtones with Darin Mahoney's deeply reverbed acoustic guitar mixed into the background like a ghost echo of Finzer's main melody.
This might all sound kind of solemn, it's far from A Winged Victory's music for the end of the world.  There is a light in almost everything Finzer plays. It's most evident in her treatment of pianist Fiona Joy Hawkins' "Grace". Finzer has played in Hawkins' touring band and she adapts this gentle piece into her own moody terrain.
Finzer has said that she thinks of the album as a vehicle for meditation, massage and yoga, but the music has more gravitas and weight than that. Sanctuary III: Beyond the Dream, is a place of refuge.
John Diliberto