Muriel Anderson's fingerstyle lullabies.
Podcast: Play in new window | Download
Subscribe: RSS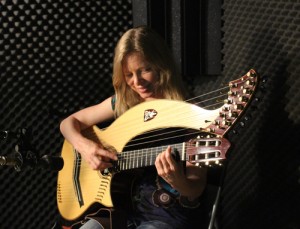 Muriel Anderson was a fingerstyle guitar champion and a mentee of Chet Atkins and Les Paul. She creates a pastoral music drawing from folk, jazz and classical music, playing acoustic six-string and harp guitar. She talks about learning from Christopher Parkening and Chet Atkins and about her star-studded double CD, Nightlight Daylight with its illuminated cover.  Hear it in the Echoes Podcast.