Record review: Carl Weingarten's Life Under Stars.
An Echoes Favorite Evokes Windham Hill, Miles Davis and Ry Cooder in a Pastoral Americana Journey
Hear it tonight on Echoes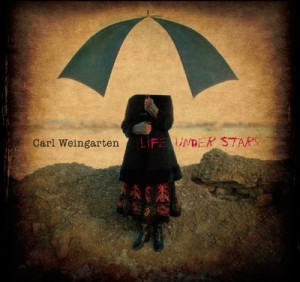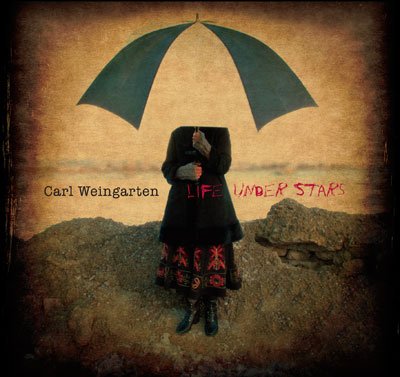 I don't know why I'm surprised that Carl Weingarten has made an album of such sweet simplicity and pastoral bliss. I shouldn't be. Over the course of more than three decades this musician has taken so many twists and turns in his music that the only surprise would be if he repeated himself. I first heard of him in the early 1980s with the St. Louis progressive rock group Delay Tactics. That was followed by his ambient period reflecting the influence of Robert Fripp and Brian Eno. His move to San Francisco brought more acoustic elements into his music as he became a devotee of the dobro, a resonator guitar that he deployed on Redwood Melodies: A Traveler's Companion.  The Bay Area's vibrant world music scene also had an impact on albums like Blue Faith.
He brings many of these elements together on Life Under Stars, creating an album that's like a ride through the countryside, with landscapes changing around every corner. You can smell the fresh air on the opening track, "I Remember Summer," a wistful trek down a backwoods lane with Robert M. Powell's yearning pedal steel guitar buoyed by the liquid flow of Michael Manring's electric bass and some high plains piano from Kit Walker.
The album shifts between these Windham Hill-like reveries to more spacey night sky excursions like "A Different Rain" and "Sundial." The former track harkens back to his 1980s music, built around delays and loops of Weingarten's electric guitar. Playing mostly solo, he creates a guitar chamber ensemble articulating a perfect, circular balance, like a Zen garden, but without using any Asian modes or instruments. "Sundial" is a free-float of dew-glistened sustained electric guitar suspended over a cycling acoustic guitar motif.
Ever since he picked up the dobro, Americana has been an important part of Weingarten's sound, and it suffuses Life Under Stars, especially on tracks like "Western Overnight." Once again Powell's pedal steel calls down from a prairie heaven, casting a chrome glow over Weingarten's rustic guitar and dobro.
Michael Manring, Weingarten's longtime associate, is all over the album, lending his deep rubbery bass lines to Weingarten's compositions. He's like a wise soul both anchoring and propelling Weingarten's airy flights. Both musicians have been playing in a trio with trumpeter Jeff Oster over the last few years and you can hear a hint of that in the electric-Miles Davis inflections on "Nightwalk. " It echoes In A Silent Way, with Celso Alberti's brush stroked train groove and Troy Arnett's piano-in-space mood laying the starfield for Oster's muted trumpet melodies and Weingarten's electric slide guitar.
Only "Code Blue," with its funky groove and Weingarten's distorted blues guitar licks, sounds out of place. I guess it's the roadside bar on Weingarten's travelogue.
Weingarten's compositions are so beautifully arranged it's easy to forget that his guitar is the center of the album, sometimes a gentle, acoustic ramble; other times a celestial siren or a wild electric slide. A lot of musicians make albums inspired by nature, cross-country journeys and celestial reflections. Most of them are insipid. Carl Weingarten's  Life Under Stars is sublime. It's a defining album for this underrated musician.
John Diliberto (((echoes)))