Tori Amos is an icon among singer-songwriters.  Her 1992 solo debut, Little Earthquakes still resonates more than 22 years later and now that she's hit 50, Amos is showing no signs of mellowing in a music that is as politically and socially charged and as musically adventurous as ever.  Tomorrow, May 13, she'll release Unrepentant Geraldines, an album that modulates concepts of aging, sexism, religion and love, although that might sometimes be hate.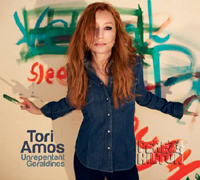 Two weeks ago,  I sat down with Amos in the bowls of Manhattan, literally.  We were in Subculture, a new performance space in the basement of a 117 year old building.  The venue is settled in industrial art decor, with massive exposed support pillars with bolts the size of my calves and the rumble of New York's subway seemingly a few inches under my feet.  Listen close and you can hear their growl.
Sitting at a Steinway grand piano, Tori played three songs for us including one she says she hasn't performed live yet, "Wild Ways' and talked extensively about her new music.
We also had a longer conversation and that will run on Echoes in forthcoming weeks so watch for that.  Meanwhile, enjoy our exclusive live performance with Tori Amos tonight on Echoes.