Akara's The World Beyond
Echoes October CD of the Month
Hear it tonight on Echoes.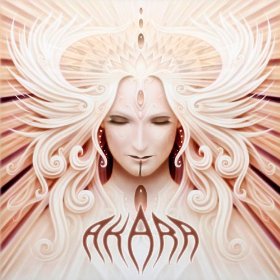 With the sound of Chinese cymbals, Akara opens their second album with appropriately-titled "Unlocking the Portal" taking us to The World Beyond.  It's their second album of music inspired by "the luminous beings," and it's not long before those beings make their presence heard in the voice of Femke Weidema, singing in her imaginary language.
As they did on their previous recording, Extradimensional Ethnography, (CD of the Month in November 2011) Akara creates a fantasy ripe for progressive rock fans, Tolkien acolytes and New Age savants.  But those glib descriptions undersell the beautifully orchestrated and arranged sound that Joshua Penman deploys.  There are elements of Philip Glass-style minimalism, Afro Celt Sound System's electro-globalism and Dead Can Dance's spiritualism, but Penman's sound is as distinctive as any of them.
Like the best progressive rock, Penman's compositions shift  gears and moods, moving from gentle pastoral moments into darker, driving, dystopian atmospheres.  That happens all in one track: "Adoration of Light."  But unlike a lot of progressive rock, this is 21st century music, full of dubstep beats and world music flourishes.  He seamlessly merges electronic and orchestral sounds, Indian mandolin and concert harp. Penman plunges Mark Kroll's harpsichord into space echoes before launching it into orbit on "The Royal Antechamber," as the harpsichord riff morphs into a sequencer groove. Flautist Karmen Suter is featured on most of the album, creating flute choirs on "Resonance" and staccato choreography on "The Sky Dancer" across a deep electronic bass groove.
Femke Weidema is the heavensent voice that carries the story of Akara.  She's like a high priestess proclaiming to the congregation one moment, then singing gently, like a like an archetypal agrarian woman spinning yarn in another.  "Evensong" is a baroque aria replete with harpsichord and strings that provides a respite from the driving rhythms to follow.
The World Beyond is an ambitious album that succeeds far beyond its means. I don't know whether there are worlds beyond, but this recording is a non-stop, out-of-this-world journey.
John Diliberto (((echoes)))