Hear Pat Metheny talk about Tap: John Zorn's Book of Angels in the Echoes Podcast.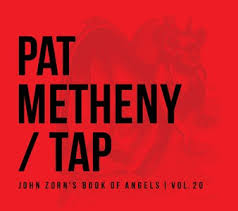 You never know quite where guitarist Pat Metheny is going to land.  In just the last three years he's recorded a album with his mechanical orchestra called The Orchestrion, released a solo guitar album of 60 pop cover tunes and now, like an elastic band stretched to one extreme, he's snapped back to another.  In this case it's a recording of music by iconoclastic avant-garde composer John Zorn, a denizen of New York's downtown scene for more than three decades.  It's called The Book of Angels.  John Zorn doesn't do interviews, but Pat Metheny does and we talked to him about this surprisingly beautiful CD.
Here's some of the highlights:
Pat Metheny on John Zorn: He's also just a really good kind of you know, for lack of a better word, modern classical composer.  You know, he writes great notes.
Pat Metheny on Book of Angels: I mean it is I think a burst of inspiration that he wrote 300 pieces of music in a very short period of time.  And he's gotten various musicians of different types to play those pieces.  And he calls it the book of angels.
Pat Metheny on the Orchestrion: I mean the Orchestrion for me is now a viable part of everything that I'll do from now on.  And to me it's a significant development in the set of possibilities that I think exist.  You can hear that there's tons of Orchestion on the record. It was floor to ceiling of those kinds of instruments and deafening.
Hear more about Pat Metheny's Tap: John Zorn's Book of Angels Volume 20 in the Echoes Podcast.
For further reading, see a review of Tap: John Zorn's Book of Angels Volume 20
Further Listening: Pat Metheny's Mechanical Orchestra
                                   Pat Metheny on What's It All About
~John Diliberto (((echoes)))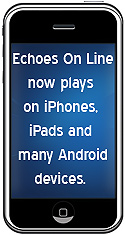 Sign up for Echoes CD of the Month Club. With the Echoes CD of the Month Club, you get great CDs like Rhian Sheehan's Stories from Elsewhere Follow the link to the Echoes CD of the Month Club and see what you've been missing.
Now you can go Mobile with Echoes On-Line. Find out how you can listen to Echoes 24/7 wherever you are on your iPhone, iPad or Droid.
Join us on Facebook where you'll get all the Echoes news so you won't be left behind when Dead Can Dance appear on the show, Tangerine Dream tours or Brian Eno drops a new iPad album.
https://itunes.apple.com/us/podcast/echoes-feature-pat-metheny/id77320816?i=96031973&mt=2