Mike Oldfield & Brian Eno both share birthdays today.  Oldfield turns 60 and Eno turns 65.  Each artist has shaped the music we hear today.  Brian Eno has been the more prolific and expansive, working across genres and attaining massive popular success in each of the last 5 decades through his work with other artists like Devo, Talking Heads, David Bowie, U2, and Coldplay not to mention Roxy Music.  Along the way he created or mid-wifed genres like ambient, techno-tribal and generative music.
Mike Oldfield's reputation still rests on his 1973 epic, Tubular Bells, but he's recorded many brilliant albums since then, Hergest Ridge, Ommadawn, Incantations, Songs of Distant Earth & Voyager.  His remake of Tubular Bells in 2003 was one of the few times a musician succeeded at updating his own work.
We'll be featuring Mike Oldfield on May 20 when we celebrate the 40th anniversary of Tubular Bells.  We'll have interviews with Oldfield, Tom Newman, Brian Eno, The Orb and more, talking about this signature work and the artist behind it.  Sometimes I'm amazed at the young musicians we have on Echoes now, but Mike Oldfield was only 20 when the album was released and he'd started it when he was 17 while playing in Kevin Ayers Whole World.
Hear the story behind Tubular Bells on Monday, May 20 on Echoes.
Here's a very nice video from the BBC of Mike Oldfield performing Tubular Bells live in 1973.  Pretty amazing what you can do without a single computer in sight.
Here's Eno with Leo Abrahams and Jon Hopkins from their sessions for Small Craft on A Milk Sea.
~John Diliberto (((echoes)))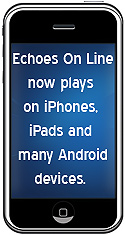 Sign up for Echoes CD of the Month Club. With the Echoes CD of the Month Club, you get great CDs like Rhian Sheehan's Stories from Elsewhere Follow the link to the Echoes CD of the Month Club and see what you've been missing.
Now you can go Mobile with Echoes On-Line. Find out how you can listen to Echoes 24/7 wherever you are on your iPhone, iPad or Droid.
Join us on Facebook where you'll get all the Echoes news so you won't be left behind when Dead Can Dance appear on the show, Tangerine Dream tours or Brian Eno drops a new iPad album.