A Review of Pat Metheny's Tap: John Zorn's Book of Angels Volume 20
Hear Pat Metheny talk about John Zorn's Book of Angels Volume 20 on the Echoes Podcast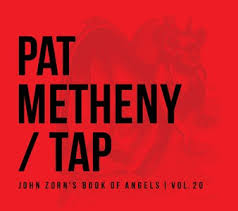 Pat Metheny and John Zorn were born within a year of each other and share many of the same musical influences.  But in their professional lives, they've traveled in different, barely over-lapping circles.  In fact, though they both live in New York, they've only recently met.
Guitarist Pat Metheny is still best known for his fusion records and his long running Pat Metheny Group, but you only have to listen to albums like Song X with Ornette Coleman, Zero Tolerance for Silence or The Orchestrion to get the full measure of his musical dimensions. He doesn't get credit for being as completely far out as he really is.
Likewise, there is a consensus perception of avant-garde iconoclast John Zorn.  This view would assert that Zorn is completely far out as a downtown renegade bouncing from the Ornette-Coleman meets 50s rock sound of Naked City, the elliptical chaos of his game theory pieces and the Coltrane meets klezmer improvisations of Masada.  But those elements don't take into account the sublimely beautiful melodies and deep sense of introspection that turn up on Zorn's Filmworks series, The Masada String Trio or The Book of Angels.
The Book of Angels is a project that Zorn has been working on for about eight years now.  He wrote over 300 compositions, each one named for an angel. Artists like Uri Caine, Marc Ribot, Erik Friedlander, Medeski, Martin and Wood, and Joe Lovano, have already recorded some of these works. The latest to take on this task is Pat Metheny on Tap: John Zorn's Book of Angels Volume 20.
Released on both the Nonesuch label and Zorn's Tzadik label, I think Metheny fans would spot him right away in this work, drawing influences from across his career.  Zorn fans, however, might have a harder time picking out the saxophonists impact, especially since he doesn't play on the album.  But it's there with the Hebraic modes and melodic flourishes that have dominated his music for the last two decades or so.
The opening "Mastema" could almost be a Pat Metheny Group track with the electric sitar and insistent rhythm, but then you notice the rhythm is a little mechanized because it's coming from Metheny's Orchestrion, his mechanical orchestra, and the guitar is running through glitched out distortions
"Sariel" starts out like Klezmer ballad with Metheny overdubbed on several stringed instruments, like some exotic Middle Eastern oud orchestra.  Metheny solos over a percussion and oud-like groove that sounds like it could've wandered in off the kibbutz.  But no oud orchestra would ever whip out the snarling acid blues that Metheny brings in as the percussion drives him into solo of ecstatic arabesques of intertwined feedback.  It concludes in a sprawl of distortion, riff fragments and Antonio Sanchez's free drumming, like a meeting of Hendrix's "1983" and Coltrane's Interstellar Space.
That leads into "Phanuel" the most Zorn like track, if you follow the conventional conception of Zorn, a free form work of acoustic guitar and industrial electronics with radio signals bleeding through like Stockhausen's "Hymnen." But as a Zorn track it morphs into something else, in this case a beautiful ballad for two acoustic guitars, bass and percussion.
"Albim" will sound familiar to Metheny fans opening with an acoustic guitar solo that could've been off his One Quiet Night album before segueing into a jazz suffused track that could be his recent trio, except all the backing is Orchestrion.
You can hear elements of Metheny's Orchestrion Project, the expansive writing of The Way Up, the lyricism of One Quiet Night and the flow of the Pat Metheny Group.  There's even some Zero Tolerance for Silence ear-bleeding guitar distortion, something you might expect from Zorn, but which you may have forgotten was part of Metheny's sonic stash as well. Metheny brings it all to bear on compositions are sometimes just sketches, a head or a chord sequence.  But instead of just jamming on these themes, Metheny has orchestrated them into expansive, electro-symphonic works.  The fact that it features some of Metheny's most unbridled and psychedelic guitar playing in years is just a bonus.
Tap: John Zorn's Book of Angels Volume 20 is an exhilarating ride. After hearing it the only real surprise is why hadn't this happened before?
~John Diliberto (((echoes)))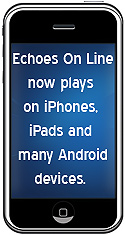 Sign up for Echoes CD of the Month Club. With the Echoes CD of the Month Club, you get great CDs like Rhian Sheehan's Stories from Elsewhere Follow the link to the Echoes CD of the Month Club and see what you've been missing.
Now you can go Mobile with Echoes On-Line. Find out how you can listen to Echoes 24/7 wherever you are on your iPhone, iPad or Droid.
Join us on Facebook where you'll get all the Echoes news so you won't be left behind when Dead Can Dance appear on the show, Tangerine Dream tours or Brian Eno drops a new iPad album.