Tonight on Echoes (5/9/2013) it's dream pop from England with Still Corners' new album "Strange Pleasure", global electronica from Gaudi's new "In Between Times." And speaking of global, I've got a band called Syriana on Peter Gabriel's  Real World Label.    They have members from Ireland, Algeria and Palestine and they sound like Dick Dale in the Middle East.  Have a listen to a preview of Syriana's "The Road to Damascus":


I've also got some guitar icons.  We'll hear something from Steve Tibbetts, the idiosyncratic guitarist from Minneapolis, and Michael Brook, going back to his second album.  It's coming up today, on Echoes.
~John Diliberto (((echoes)))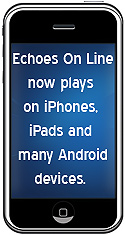 Sign up for Echoes CD of the Month Club. With the Echoes CD of the Month Club, you get great CDs like Rhian Sheehan's Stories from Elsewhere Follow the link to the Echoes CD of the Month Club and see what you've been missing.
Now you can go Mobile with Echoes On-Line. Find out how you can listen to Echoes 24/7 wherever you are on your iPhone, iPad or Droid.
Join us on Facebook where you'll get all the Echoes news so you won't be left behind when Dead Can Dance appear on the show, Tangerine Dream tours or Brian Eno drops a new iPad album.