Tonight on Echoes, (5/8/2013) new electronic music from Europe.  We'll hear Germany's Uwe Gronau with Visions and France's Aes Dana with Pollen.
We'll also hear from a duo called Koan.  They're from Moscow and their sound is a mixture of downtempo techno but with a rich melodicism.  Their album, Argonautica will take you on a journey that transports Jason and his Golden Fleece into space.
~John Diliberto (((echoes)))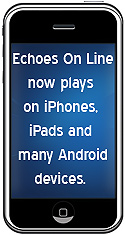 Sign up for Echoes CD of the Month Club. With the Echoes CD of the Month Club, you get great CDs like Rhian Sheehan's Stories from Elsewhere Follow the link to the Echoes CD of the Month Club and see what you've been missing.
Now you can go Mobile with Echoes On-Line. Find out how you can listen to Echoes 24/7 wherever you are on your iPhone, iPad or Droid.
Join us on Facebook where you'll get all the Echoes news so you won't be left behind when Dead Can Dance appear on the show, Tangerine Dream tours or Brian Eno