Reg Presley, lead singer and composer for The Troggs, dies at 71.
I just played both sides of Wild Thing, the American debut album by The Troggs, named for their #1 hit song.  I bought it in 1966  at Woolworth's in Tewksbury, Massachussetts.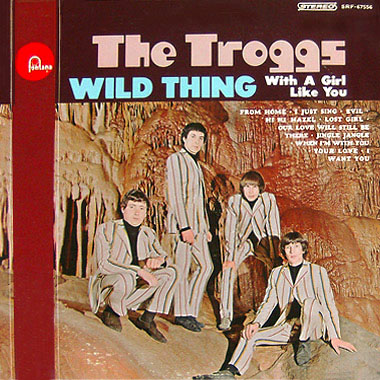 Not even thirty-minutes in total length, it has only one bad song on it, the inexplicable vaudevillian "Hi Hi Hazel" in the style of "Winchester Cathedral." The rest of it is pure teenage pop and raging proto-garage punk rock that charged my junior high school years.  Their tribal tom-tom grooves, Pete Staples' thudding bass lines and songs of adolescent love were the soundtrack for young yearnings and screaming bedroom sing-a-longs. There's almost nothing on their American Fontana records debut that wouldn't sit comfortably on the Nuggets anthology, right between The 13th Floor Elevators and Count Five.  And they would've also sat well around 1978 between Richard Hell and The Buzzcocks.

The lead singer of The Troggs,  Reg Presley, born Reginald Maurice Ball, died on February 4th from lung cancer.  He was 71.
Reg Presley had an adenoidal snarl, occasionally lapsing into a lascivious Peter Lorre with a Transylvanian leer on lines like lines like "I need your lovin' I can't wait long" off of "From Home," a Bo Diddley-beatdriven rocker with a great, albeit brief, Chris Britton rave-up solo.
For being a straight up four-piece rock band, The Troggs engaged in some interesting musical invention.  There's the ocarina bridge on "Wild Thing" and the harpsichord on "Jingle Jangle".  The jungle groove of "Lost Girl," with the bass doubling on the tom-tom was a powerful arrangement that culminated in Chris Britton's psychedelic guitar solo.
Reg Presley probably never got enough credit as a writer.  Their biggest hit, "Wild Thing," was composed by Chip Taylor, but Presley wrote songs better than that like "Lost Girl" "I Just Sing" and "I Can't Control Myself."  That last one is the most unadulterated expression of pure lust to ever hit the Top 40.  (Although their rendition of manager Larry Page's "I Want You," which didn't chart, probably tops it for pure sexual desire.)  They eventually topped themselves for infantile sex with "Strange Movie." Banned in England, it climaxed with Reg Presley's "uh-uh-uh-uh" orgasm.

To say Reg Presley's lyrics were juvenile is to give them too much credit for maturity.  It wasn't about deep insight, it was about pure sexual urges, love lost and in "Love Is All Around," their last hit from 1967, pure puppy happiness.
The Troggs' glory got a bit tarnished when the infamous "Trogg Tapes" began circulating.   This recording catches the band in a shambolic recording session full of arguments and more "fucks" and "fucking" than Al Swearengen on a bad day.  It became an inspiration for Spinal Tap.  And speaking of Tap, The Thamesman, an early incarnation of  Spinal Tap, were clearly modeled on The Troggs.

Even after they faded in the 1970s, the Troggs remained an important influence.  David Bowie had them on a TV special in the early 1970s.  Calling it the combined US and English national anthem  Jimi Hendrix immortalized them with his  cover of "Wild Thing" at the Monterey Pop Festival.  The MC5 recorded "I Want You" on their debut and later on, REM and Wet Wet Wet covered Troggs tunes.

Only Pete Staples and Chris Britton remain from the classic Troggs line-up.Reg Presley joins Troggs drummer Ronnie Bond on the other side.  He died in 1992.  Hopefully they're not still arguing about the drum beat.
There's a very nice obituary in The Guardian.
~John Diliberto ((( echoes )))