M.I.A from The Rolling Stone 100 Greatest Guitarists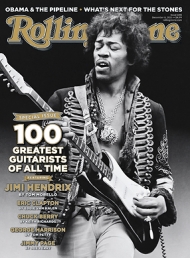 100 Best Whatever-lists are designed to engender debate and outrage and 100 Greatest Guitarists is likely to create even more of a firestorm than usual.   Of the millions who followed the Byrds' dictum to "get an electric guitar and learn how to play," many are bound to be left off a list of 100.  Rolling Stone got it right picking Jimi Hendrix number one and most of the others are worthy entries.  The problem isn't so much who is on the list, but who isn't.
When it comes from Rolling Stone, you might expect the voting to tilt a certain way.  Isn't it notable that in the top ten, there's only one artist who isn't from the 60s or before?  And how else to explain a relative footnote like Mick Taylor being on the list.  He was hot stuff in the 60s when he played with John Mayall's Bluesbreakers and then leaped into the vacancy left by Brian Jones' death in the Rolling Stones, but since then, what has he done?  Not much, but nostalgia-infected voters still remember his mercurial solos during a creative period for the Stones from 1969-1974.
The other slant comes from their tendency towards accepted garage-rock wisdom which would favor guitar primitives like Ron Asheton, Kurt Cobain and Johnny Ramone.   They're all important musicians in their way, but being important and influential doesn't necessarily make you the greatest on your instrument.  Take John Lennon and Paul Simon, both of whom appear on the list.  They  are two of the most revered writers and singers of the last half century, but does their serviceable guitar playing have to be acclaimed as iconic as well? Let's not confuse great artistry with great guitar playing.
If you play acoustic guitar, well, that's barely a guitar at all to judge by this list.   Only a couple make the vaunted 100, Willie Nelson, John Fahey and Robert Johnson.  I don't know that I've ever heard anyone acclaim Nelson's guitar playing over his songwriting and singing.  But John Fahey is acclaimed.  So much so I'm wondering what he's doing at only #78?  The iconoclastic, idiosyncratic musician single-handedly launched the finger-style guitar renaissance and American Primitive guitar.
But even more ignored than acoustic guitar is jazz guitar.  Only John McLaughlin makes the cut.   How Pat Metheny could be left off any list like this is appalling.  He's a jazz-fusion god, an avant-garde explorer, and author of one of the most singular instrumental voices of the last 40 years.  He's stood toe-to-toe with Ornette Coleman and a mechanical orchestra.   But what should you expect when the only person who might be called a jazz guitarist among the voters is Living Color's Vernon Reid.  (Sorry Andy Summers, you'll always be the guitarist in Police no matter how many sophisticated jazz records you make.)
Here's some of the guitarists Rolling Stone missed.
Pat Metheny From Bright Size Life to Orchestrion, American Garage to Song X , pure acoustic guitar to guitar synthesizer, few have stretched the boundaries of his instrument as much as Pat Metheny while at the same time creating symphonically memorable compositions
Bill Frisell: Another jazz guitarist left in the cold despite the fact his unique brand of Americana electric guitar seems so effortless that casual listeners might miss the fact that he's shredding their heads apart.
Michael Hedges & Leo Kottke: There are three iconic acoustic guitarists, musicians who, like Hendrix change the tilt of the earth for everyone who followed: John Fahey, Leo Kottke and Michael Hedges.  Leo Kottke's finger-style playing on 6 and 12 string is Transcendental Americana.  Just like Hendrix didn't invent feedback guitar, Michael Hedges didn't invent two-handed tapping, but like Hendrix, he defined it for generations to follow.
Those are the most obvious artists who were overlooked.  These others may be a less obvious, but for me they marked heights of guitar artistry.
Terje Rypdal: I've seen Hendrix.  I've seen Robert Fripp, John McLaughlin and Jeff Beck.  But the best electric guitar show I've ever witnessed was Terje Rypdal at Stars in Philadelphia in 1980. In Rypdal's hands a guitar was a fluid instrument with notes morphing infinitely.  Just listen to "Over Birkenroot" from Odyssey or the air sculpture of "Innseiling" from Descendre to find guitar nirvana.
Steve Hackett: The former guitarist for Genesis is a sultan of sustain and the best reason for listening to post-Peter Gabriel Genesis.  His own solo career has had artistic heights like Voyage of the Acolyte and Spectral Morning.
Ed Wynne & Steve Hillage: Fom Ozric Tentacles and Gong respectively, they are two purveyors of psychedelic guitar, . Every solo they take from Hillage's wailing sustain and floating glissando guitar  to Wynne's wah-wah bends is a journey to the center of the mind.
Sonny Sharrock: This is the guy who originated slash and burn guitar with massive chords and sprawling feedback.  He reached his apex shortly before his death with Ask the Ages.  He played so furiously that he'd constantly lose picks but would always pull one from a stash tucked into his cheek.
Steve Tibbetts: One of the most individualistic and dynamic guitarists I've ever heard.  He took the sound of Hendrix and made something truly new out of it whether it was the global psychedelic journey of YR, the ambient spaces of Northern Song, the roiling attack of Exploded View or the abstract meditative spaces of Chö .  Playing acoustic or electric, Steve Tibbetts challenges and exhilarates.
I know there are probably dozens of other guitarists who could be on this list.  Derek Bailey; Pat Martino; David Torn, Steve Howe……
John Diliberto ((( echoes ))