Podcast: Play in new window | Download
Subscribe: RSS
A Definitive Album of Looping Cello from Matthew Schoening
We get inundated by looping cellists at Echoes.  For some reason, players of the most soulful of orchestral instruments have a predilection for hearing their own sound refracted in looping mirrors and digital delays. For Matthew Schoening's Elements, it's a mirror worth gazing into.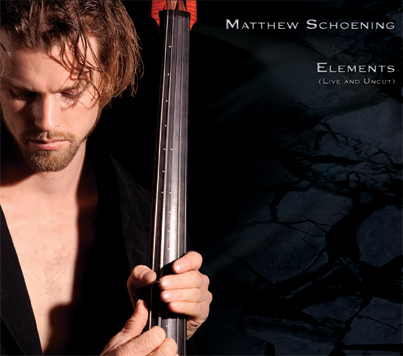 Recorded live, Matthew Schoening shows right from the start that Elements isn't going to be some elegiac cello recital. He uses the percussive aspects of his instrument, plucking a pizzicato line then looping in an elliptical rhythmic smack as he slaps the strings.  Against a chordal legato bed, he roars into a searing melody, his cello sound edged by slight phasing to give it that other-worldly, though not ethereal effect.
While a lot of looping musicians simply set up a cycle and jam over it for 10 minutes, Schoening's loops evolve as part of a compositional process.  Loops are faded in and out, shifting tempos and key changes, interlocking in new patterns.   Although every piece has momentum, it's not a train rushing to the end of the track. "Air" shifts on its rails and takes turns that you don't expect.  It's a ride in which you won't recognize the beginning from  the end.
Elements is completely live, every note originating on Schoening's fingers in concert, playing non-stop from beginning to end as the cellist moves from one composition to the next in a single, 45 minute performance.  And thanks to the audience for knowing how to STFU until the very end.  I've sat in front of Schoening as he played live in the Echoes Living Room, so I know their experience was awe-inspiring, but their presence doesn't interfere with your intimate relationship with this music as it forms before you.
For all his technical skill and technological assistance, it's the music that keeps drawing you back into Matthew Schoening's looping soundscapes.  He crafts melodies like an architect of air and he gets deep into the groove, using electronics to pitch his instrument down into low bass range.  It's a new kind of classical music, a modern iteration of Bach and Mozart filtered through Jimi Hendrix and Steve Reich.
Elements is the Echoes CD of the Month for August.
To hear Matthew Schoening talking about his cello and living in a truck listen to this interview.
Watch Matthew Schoening work his cyclical magic in this YouTube video.
John Diliberto ((( echoes )))