Podcast: Play in new window | Download
Subscribe: RSS
#15 of 20 Icons of Echoes: Afro Celt Sound System
Afro Celt Sound System are one of the defining exponents of world fusion and their sound magic is as potent now as it was nearly 15 years ago when they released their debut album.    It's not hard picking the five best Afro Celt albums since to date, there are only five proper CDs not including a remix disc and the forthcoming collection, Capture.  But these discs would fit on any length best of list.  Two of them were Echoes CDs of the Month and all of them could've been.  With a roll of the djembe, here's
The Five Best Afro Celt Sound System CDs.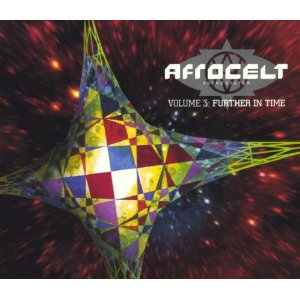 1  Volume 3: Further in Time
Afro Celt Sound System's third CD continued to fulfill the prophecy of their name. The Afro Celt "sound," as it were, was firmly in place, a synchro-mesh of Irish, African and electronica rhythms locked into dervish grooves that could go on forever.  On top is a weave of ecstatic soloing from uilleann pipes, Irish whistles and fiddles, and African koras. "Colossus" is the groove masterwork of the album, while the two-part composition, "North" reaches cinematic expanses.  But some of Afro Celt's most yearning music exists here as well, including N'Faly Kouyate's album closing "Onward" and Iarla O'Lionard's keening "Lagan."
Afro Celt took a few chances on Further in Time.   Led Zeppelin singer Robert Plant turns in a classic performance.  "Life Begin Again" could've fit right on Zep's fourth album if Jon Bonham had an African drum section behind him.  On the other hand, Peter Gabriel's lead vocal on "When You're Falling," an Afro-pop style piece, would've been light on a Gabriel CD, let alone an Afro Celt disc.   But it doesn't hold back an album that otherwise refines Afro Celt Sound System's euphoric, often hallucinatory whirl that sends you pummeling in a roller-coaster of delirious rhythm and instrumental cross-cutting that leaves you spinning.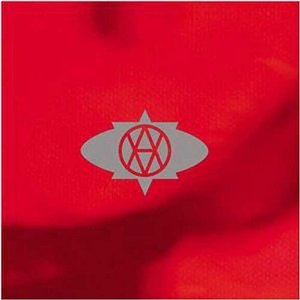 2 Volume Two: Release
Afro Celt's second CD, Volume Two: Release, makes their celebratory trance-tribal debut, Sound Magic, appear anemic by comparison. The tribal rhythms, already linked to the rave movement, became even more propulsive, with deadly grooves that would sit well on a Prodigy disc.  African, Celtic and electronica elements no longer sat next to each other, but merged and swirled, with Irish bodhran rhythms morphing into African percussion then techno grooves. Irish sean nos singer Iarla O'Lionard and Guinean vocalist and kora player N'Faly Kouyate make Gaelic and Guinean melodies sound like they come from the same country.
Yet, despite the relentless grooves, ACSS is unremittingly melodic whether it's the  dervish uilleann pipe solos of "Lovers of Light" or the soaring voices of O'Lionaird and Kouyate.  On "Release" they're joined by Sinead O'Connor for a song that's both a lament for their late keyboardist, Jo Bruce, and a joyful celebration.  Release presents an ecstatic matrix where this kind of paradox thrives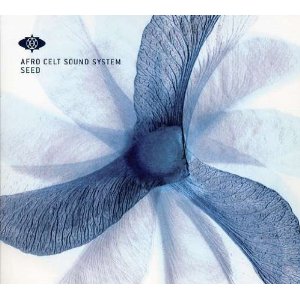 3 Seed
They tried to rebrand themselves as AfroCelts on their fourth album.  It didn't take, but Seed sprouted anyway;  a more organic recording, but hardly acoustic as electronic sequences, pads and grooves still informed much of their music.  They continued to stretch their sound, bringing in dub-punk pioneer Jah Wobble, Irish fiddler Eileen Ivers and on the monster track, "Cyberia," Canadian Nouveau Flamenco guitarist Jesse Cook. They interweave with the kora of the Afro Celt's  N'Faly Kouyate, Irish sean nos singer Iarla O'Lionard, uilleann piper Emer Mayock and the Irish whistles and frame drums of James McNally.  Seed is a bit more melodically oriented than previous albums, but the groove remains the unifying force between Simon Emmerson's electronica beats,  Johnny Kalsi's riveting eastern  drums and McNally's bodhran.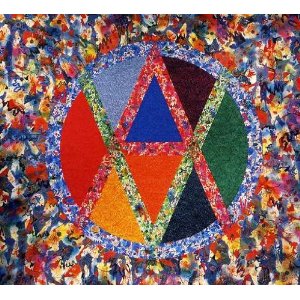 4 Volume One Sound Magic: Afro Celt Sound System
This is where it all began and Volume One: Sound Magic remains an auspicious debut.  Afro Celt Sound System dipped  a global-Celtic potion into a hallucinogenic cauldron mixing technology and mysticism, trance and dance.   Initiated at Peter Gabriel's Realworld Recording Week Volume One: Sound Magic took jam sessions that were then sampled and reprocessed by guitarist Simon Emmerson.  Raging African drums and storming bodhrans are topped by pipes and whistles. Harps and koras spin out transmuted reels on "Whirl-Y-Reel" and prayer-like dirges on "Nil Cead Againn Dul Abhaile" with African and Irish singers creating cosmic call and responses.
Emmerson's virtuoso players include Irish uilleann piper Davy Spillane, Kenyan nyatiti (lyre) player Ayub Ogada and  Armenian doudouk player Levon Minassian.  Minassian  lends his haunting double reed instrument to "Inion" an African prayer sung by Irish vocalist Iarla O Lionaird, a meeting of voices born in lament.
At the time, Sound Magic had the aroma of an exciting, but calculated fusion, but Afro Celt Sound System proved to be much deeper.
5 Anatomic
For a while it looked like Anatomic might be the last Afro Celt Sound System album, even though they brought back the full name after a brief experiment with AfroCelts.  Anatomic is a more song oriented album, beginning with the opening "When I Still Needed You" featuring Rwandan singer Dorothee Munyaneza. Her quietly celebratory vocal builds slowly to an ecstatic wail stacked in a multi-tracked chorus. All the ACSS elements are here, especially on epic tracks like "Mojave."  There you can hear the sean nos tradition in Iarla O'Lionaird's heart rending intro to this 10-minute epic.  It executes a slow build before screaming across the desert in a maelstrom of African rhythms and electronic beats.  James McNally's Irish whistles echo O'Lionaird's refrain and set up the sequencer cycles that filter in for another Afro Celt electro-groove.  There's a sweetness to some of the songs,  like "Sene" with N'Faly Kouyate's soulful voice, multi-tracked in this African hymn.  Simon Emmerson gets his twangy Rock-a-Billy meets African guitar thing going on the title track.   "Dhol Dogs," referencing the dhol drums of Johnny Kalsi, is a screamer that even tosses some soul horn charts into the mix  dueling with McNally's whistles and Eileen Ivers' fiddle.
Afro Celt Sound System has orchestrated a perfect global music.  If you're confused about what CDs to get, they'll be releasing a double CD best of collection called Capture for which I wrote the liner notes.
Tonight on Echoes, we'll hear an interview with the five Afro Celt Sound System principles talking about their evolution.  You can hear it here in an Echoes Podcast.
(Portions of these reviews have appeared in Billboard Magazine, Pulse, and Echoes.)
John Diliberto  ((( echoes )))