Three Friends, Iona, Forgas Band Phenomena and Astra Supercharge Saturday's NEARfest.
It was a day of nostalgic memories, faithful recreations, and technical ferocity on the second day of NEARfest 2010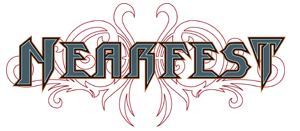 Three Friends is essentially a reconstituted Gentle Giant, the  venerable 70s progressive rock band who played some of the most complex music of the era.   Three Friends originated with a trio of members from the glory years in the group, which broke up in 1980.   With the departure of Kerry Minnear, it's down to two, guitarist Gary Green and Malcolm Mortimer, drums, joined by a skilled quartet filling out the other rolls.   In an ironic twist, Pierre Bordeleau was called in at the last minute to replace Mark Wilson who had been singing with the group, but has Visa issues.   So Bordeleau  was essentially a replacement for the replacement of original GG singer, Derek Shulman, who now works on the corporate side of the record industry.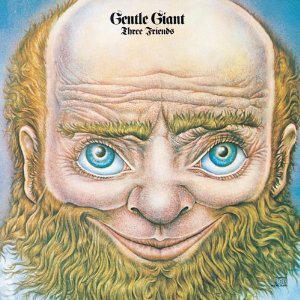 Let's hear it for Bordeleau. I don't know his background, but the diminutive and dapper white-haired singer has some courage to pick up lyrics and melodies that have all the predictability of a Kong, making illogical leaps and bounds. These aren't folk or pop tunes.  These are art songs ground through the crazed calliope of Gentle Giant's delerious compositions.  He pulled it off, although his thin, high-pitched voice couldn't replace the power of Shulman's kamikaze operatic tenor.
The band blazed through the greatest hits of the Gentle Giant catalog, bouncing nimbly across tunes from the eponymous in reverse Three Friends album and torching songs like "Free Hand." Gary Green was a blaze of intensity on electric guitar, deftly executing the twists and turns of GG melodies before unleashing his overdrive guitar solos.  Ever diffident on stage, keyboardist John Donaldson was probably the busiest musician up there, manning his multiple keyboards and computer. He not only held down the original keyboard parts in the band but also took on the tuned percussion lines that John Weathers used to play. During his brief and tasteful drum solo, Malcolm Mortimer gave a shout out, literally, to Weathers, his replacement in the band.  I'm not sure if there wasn't a bit of drum-stick in the cheek there.
Producer Martin Rushent was a tape-op for Gentle Giant sessions in the 1970s and he told me they would create these ridiculously complex compositions that were pieced together in the studio. Then they had to figure out how to actually play them live. They're still succeeding at doing that, although I wonder if this isn't really a glorified cover band at times.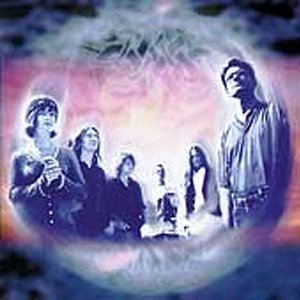 The members of Iona grew up on bands like Gentle Giant, especially guitarist and principal co-composer, Dave Bainbridge.  But they brought the most melodic and culturally invested sound of the year to the festival with their Celtic-Prog. On stage Iona is bookended  by Bainbridge on one side and Irish uilleann piper and whistle player, Martin Nolan on the other. They were linked sonically and melodically as they would trace each others lines, Bainbridge adapting the pipe's phrasing to his guitar and Nolan showing that the uilleann pipes are one of the most expressive instruments around, without any processing.
The roots of Iona are in Celtic music, progressive rock and Christianity and that imagery suffused their lyrics. They say that they're spiritual more than religious but there's no mistaking the Christian message of "Be Thou My Vision," the traditional hymn they used to open the show. Words of God and  salvation dominated their lyrical themes and a few audience members were put off by them.  But I wonder how they would have felt if Hogg was singing about wizards, faeries and hobbit heroes instead of God, angels and St. Patrick.
Iona surrounded these themes with arrangements that were sometimes folkloric, but more often epic.  Dave Bainbridge had the most varied timbral pallette of anyone at the festival, peeling off screaming leads one minute and bouzouki-like plucks the next. He'd frail the strings like a banjo and then do a bit of two-handed tapping.
Martin Nolan is a new member in the band, only recently having replaced longtime member, Troy Donockley. That provided a few light moments. On one song he started playing the tin whistle opening only to realize he'd selected a pipe that was pitched wrong. He switched, started up again and then accidentally stomped on Hogg's vocal entrance. He walked to the back of the stage in frustration, but he had nothing to be ashamed of. He gave a great performance even with an early uilleann pipe entrance on another song (Oops!)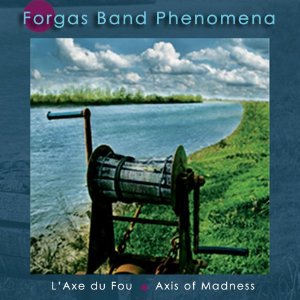 Forgas Band Phenomena is a French ensemble headed up by drummer/composer Patrick Forgas who recorded his first album in 1977.   They had  echoes of Soft Machine's brand of composed and improvised fusion.  Since Forgas is a drummer, you might expect his music to have complicated time signatures and lightning fast rhythm shifts and they didn't disappoint. Speed burning unison runs would break out into pyrotechnic solos from violinist Karolina Mlodecka and guitarist and frontman, Benjamin Violet.  Horn  players on trumpet and saxophones added a welcome instrumental color to a festival dominated by guitar/keyboards/violin configurations, but they were underutilized in Forgas's compositions which centered on his polyrhythmic assault and and extended solos from Mlodecka and Violet.  But the band was exhilarating.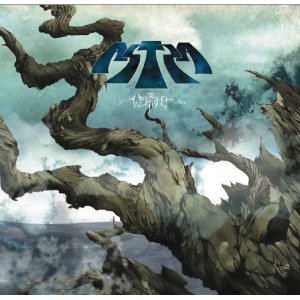 Astra opened and I missed most of their set while I interviewed Dave Bainbridge and Joanne Hogg from Iona. But they seemed to have enough energy to earn an encore. A dual keyboards with guitar band that recalls Ozric Tentacles, they settled in to propulsive modal grooves while Brian Ellis laid out sustain drenched solos on his double-necked guitar.
So Day Two was another good one at NEARfest, but day three would provide the festival capper.   And it isn't Eddie Jobson.
Look for interview with Dave Bainbridge in July on Echoes.
John Diliberto ((( echoes )))