Podcast: Play in new window | Download
Subscribe: RSS
The Mediaeval Baebes put the Goth into International Women's Day on Echoes.
You can hear a podcast of the Mediaeval Baebes interview with their music.
Mediaeval Baebes have come a long way since the 16th century.  And the band called The Mediaeval Baebes have come even further  since singer Katherine Blake formed the group in 1997.
Kathryn Blake: Well,  I think we've calmed down a bit as a band. The Mediaeval Baebes used to be incredibly "rock n roll". It was, you know, really extreme the amount of partying that goes on. So for myself, in particular, because I've become a mother, I've had to, calm down quite a bit. (laughs).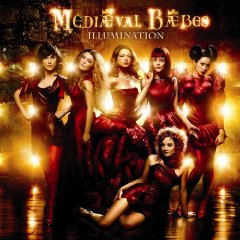 The Mediaeval Baebes brought rock attitude to the original gothic music.  But beyond the image, which has included diaphanous white gowns, dominatrix leather and vixen vamp attire, the Mediaeval Baebes sing enchanting songs from the Middle Ages with heavenly voices drenched in sensuality that can be bawdy or serene.
On their debut album, Salva Nos, they sang traditional music, but on their latest CD, Illumination, there are no songs from the Middle Ages at all.  It's all music composed by the band.  But the Baebes never sell out their mediaeval roots, even with songs co-composed by Katherine Blake's husband, Nick Marsh, who used to play in the group, Flesh for Lulu.
Kathryn Blake: Yeah, he's very much from a rock and roll background, you know, so he brings, a lot of the songs are sort of song-y songs, versey-chorusy, than what I'm used to doing.
Emily Ovendon says they aren't trying to make contemporary pop music.
Emily Ovendon:  Anything really modern would stand out. In "Sunrises" there are lyrics  "We will not be parted, Never brokenhearted." And when I was writing it I wrote, "We will not be parted, get this party started."  And I immediately took it out because it's completely wrong, but it's quite funny.
Kathryn Blake: It would break the spell if you used something too colloquial or modern.  We're trying to put the listener in some kind of  spell instead of bringing them to reality a bit.  Which is not why people listen to the Mediaeval Baebes. They want to go somewhere else.
Emily Ovendon:  Totally.  You have to keep that enchanted realm going the whole time.
You can experience the enchanted realm of The Mediaeval Baebes when they sing live on Echoes for International Women's Day this Monday March 8, 2010.  Their latest album is Illumination.  This has been an Echo Location, Soundings for New Music.
John Diliberto ((( echoes )))