Podcast: Play in new window | Download
Subscribe: RSS
Ludovico Einaudi's Tales from the Nightbook
You can hear a podcast of this review with Ludovico Einaudi's music.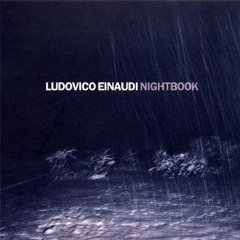 Pianist Ludovico Einaudi is a different kind of classical composer.  He's a student of the avant-garde and the rich classical tradition of his native Italy.  But the 54 year-old pianist is also a child of rock 'n' roll and minimalism.  All of that comes together in an ambient chamber music that is precise in its emotions, serene in its repose and exuberant in its realization.
On his latest album, Nightbook, Ludovico Einaudi brings avant-garde edges to rhapsodic piano works.  Think George Winston remixed by The Orb, with a bit of 50's exotica, and 60's sci-fi electronics.  On tracks like "In Principio" he nods to Harold Budd and Brian Eno, expanding the concept of solo piano with haunting glitched echoes and fractured reverb.  It's like unearthing a digital artifact and seeing its image through a cracked lens.
In the 1970s, he might have been called a minimalist, in the '80s a New Age artist and in the 90s an ambient musician.  But Ludovico Einaudi is all of that and more.  He brings an emotional precision and a cerebral play to his music that probably comes from his studies with Italian avant-garde icon, Luciano Berio.  Listen to the calibrated emotions of "Reverie," a wistful track for piano, vibes and cello that seems like the last wave goodbye.
Ludovico Einaudi has an electro-ambient trio called Whitetree that includes electronic musician Robert Lippok.  He's all over Nightbook, playing electronic sounds that don't glisten and groove like chromium clockwork.  Instead, they wheeze and whisper like busted steam pipes and dream voices. "Bye Bye Mon Amour" is an ecstatic interplay between Einaudi's piano and Lippok's electronics.  "The Planets" is his miniaturized, ambient take on the Gustav Holst theme.  But Einaudi's planets sound more like lost transmissions and doppler echoes from the solar system.
Nightbook isn't all reverie and melancholy.  Percussion drives "Lady Labyrinth" as Einaudi pounds out left hand chords against a subtly syncopated beat that sounds like the score for the last charge into the breach.
Ludovico Einaudi has some 20 albums out in Europe where he sells out venues like the Royal Albert Hall and the Barbican Centre in London.  But Nightbook may be the best introduction to the range of this artist. It's thoroughly modern music but with a texture and depth as if written on old frayed and singed paper.  It's the Echoes CD of the Month for March.
John Diliberto ((( echoes )))