Podcast: Play in new window | Download
Subscribe: RSS
Kronos Quartet Began plugged in and they're still attuned to the wired world.
You can hear an Audio Version of thius Blog with music from Kronos.
In 1980 the Kronos Quartet did something string quartets don't do.  They played Jimi Hendrix's "Purple Haze."  Some 30 years later, they're still doing things that string quartets don't do, like playing the music of Iceland's Sigur Ros.
You might think that playing Sigur Ros has a connection to Hendrix, but actually, the connection goes back to the origins of the group in 1973.  That's when kronos founder David Harrington heard George Crumb's composition, "Black Angels for Electric String Quartet."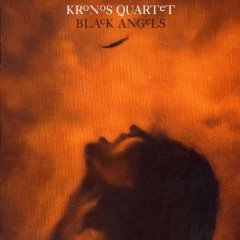 David Harrington: someone was asking me whether the string quartet was dead before 1973.  And, that's when I started Kronos.  And I said, "No, it was not dead."  It had been reborn in 1970 when George Crumb wrote "Black Angels."  It was dying before that.  But all of a sudden, there was this visionary piece that felt right to play, for an American musician to play, in the context of the Vietnam War.  In the context of growing up in our society.  And, it's a piece that brought so many sounds into the realm of string quartet music.
Kronos Quartet's search for the new hasn't changed. On their 2009 album, Floodplain, Harrington discovered artists like the Ramallah Underground who you won't find in the classical musicians directory.
David Harrington: Ramallah Underground from Palestine.  I heard them on MySpace and I just thought, "This is amazing.  and I found out they live in three different places.  And they compose their music on the Internet.
The world is a musical cornucopia for a group that doesn't see fences and who embrace everything from Bela Bartok and Steve Reich to Hamza El Din and Nine Inch Nails.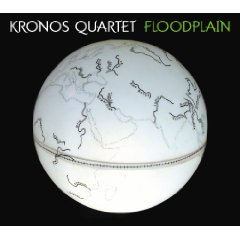 David Harrington:  After a point you get, you do get used to people saying, "Well, a string quartet can't do that,"  or, "You shouldn't sound like this," or "It's not really part of X or Y tradition." I just encounter that all the time and so I, you know, either you get a callous or you just forget about it.  [laughs]
Kronos Quartet's latest album is Floodplain on Nonesuch Records. They'll be touring the US extensively in 2010 including a four night stand in March at Carnegie Hall where they will premiere a new work by Terry Riley.  We'll have a more extensive interview with David Harrington on Monday's Echoes 01/11/10.  This has been an Echo Location, Soundings for New Music.
John Diliberto ((( echoes )))