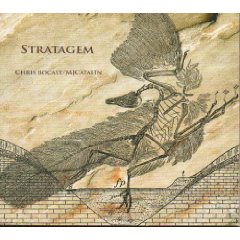 Chris Bocast and MJCatalin's Stratagem Tops Echoes Top 25 for August.
August was a bit of a strange month.  Deep Echoes listeners will have noted a lot of repeat shows as we took time to gear up for the fall and our 20th Anniversary.
But great music did get played.
Chris Bocast and MJCatalin's Stratagem was our August CD of the Month and this entrancing album of guitar-centric electronica is still revealing new dimensions.
It was nice to see The Mandrake Project's A Miraculous Container rise up to number 2, one of the real finds of the year.
You'll see a lot of artists on this list appearing in Echoes interviews and performances in the next two months.  Among them, Harold Budd & Clive Wright whose Candylion CD comes in at #19.  We'll have an interview with them together, but separate live performances.
We'll also finally interview cellist Rena Jones, whose album, Indra's Web is one of the most sophisticated and underrated electronica albums of the year.
Urban Nature, two San Francisco musicians who grew up listening to Echoes in Philadelphia, will be playing their east-west fusion.  Think Shakti on loops.
Inbar Bakal in at #21, is going to sooth your soul and steal your heart with a breathtaking live performance.  That's all coming up.
In the meantime, you can see the Echoes Top 25 for August here with lots of links to the albums, reviews, Echo Location audio and more.
John Diliberto ((( echoes )))