Podcast: Play in new window | Download
Subscribe: RSS
Echoes finds a  lapsed classical cellist who is looped.
You can hear an audio version of this blog with Matthew Schoening's music here.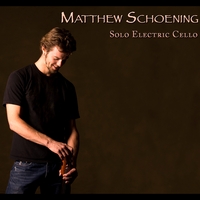 Just like Nathaniel Ayres, the homeless cellist at the center of the film, The Soloist,  Matthew Schoening was a cellist, in Los Angeles, without a home.
Matthew Schoening:  Well, I lived in L.A. for a while and recorded my first solo cello album there and ran out of money [laughs], so I had to break my lease and not live there anymore, and not pay rent. So I ended up being in my truck most of the time, so I actually built a little bed that went in the back, and had drawer space, so I could sleep back there if I needed to. but.. yeah, I didn't have my own space for about a year and a half.
That album is called, Solo Electric Cello and although it sounds like there's a guitarist, rhythm section and string orchestra, it's all Matthew Schoening, overdubbing himself in real time with a looping device.  Don't feel too bad for Matthew Schoening's homeless plight.  He's not schizophrenic like Ayres and he had a pretty good safety net.  He comes from a musical family in San Francisco.
Matthew Schoening: My father is in the San Francisco symphony and my mother is a professional flautist in San Francisco.  I grew up with my dad practicing and my mom teaching flute lessons, listening to Stravinsky and Mozart, Beethoven and I used to sneak backstage at Davis Hall and listen to music. So, I grew up around it.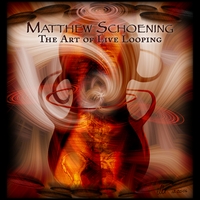 He played cello as a teenager, abandoned it for ten years, then picked it up again.  He performed with various singer-songwriters before discovering a looping pedal at the music store where he worked.
Matthew Schoening: Well, right about the time that I essentially got fired from all the bands I was playing with, I was still working at the store, so I took home this looping pedal just to try it out, and the first thing I did was write 'desert dreams', which is from my first cello album. And then I was hooked.

Nouveau Flamenco guitarist Ottmar Liebert was hooked as well when he heard Schoening playing.
Ottmar Liebert: Basically imagine that Mtt can start playing a riff, then lock it in, then put a second thing over that.  So he can get percussive on the cello, do basslines on the cello and then play more high register melodies.  So it's pretty impressive when you see it all come together.
Matthew and Ottmar wound up playing on each other's most recent albums and Matthew recently got to combine his looping orchestra with the Northwest Symphony Orchestra. His  latest album is called The Art of Live Looping.  I'll have a longer interview with Matthew tonight 06-24-09 on Echoes.  This has been an Echo Location.
You can hear an audio version of this blog with Matthew Schoening's music here.
John Diliberto ((( echoes )))