Podcast: Play in new window | Download
Subscribe: RSS
Cellist David Darling, the avatar of ambient chamber music returns with Prayer for Compassion, Echoes March CD of the Month.
You can hear an audio version of this blog with music.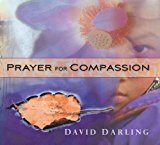 David Darling is the Lord of Largo, the Maestro of Melancholy. Classically trained and jazz converted, he played cello with the Paul Winter Consort in the 1970s including the landmark Icarus album. Since then, He's released several albums on the ECM, Narada, and the Hearts of Space labels and in the process, has become a leading exponent of ambient chamber music. His new album, Prayer for Compassion, continues his mastery of melancholy.
It's a soulful, heartrending sound that Darling gets from his cello and it has attracted people like film director Wim Wenders to his music. ECM svengali Manfred Eicher fell in love with his sound and invited Darling to record his debut CD on the label, Journal October.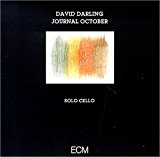 David Darling: So I get to Stuttgart, Germany and he says okay, do anything you want and so I started playing goon-goon-bat-che-goon-gon, set the gon-gon-bah, and he walked out of the studio and said well, "I'm not so interested in that, scheise, you know," but he said this mantra which has been with me all my life, he said, "I want you to go as deep as you can go."
Darling has been diving deep for years, although if you see him in concert, he'll still whip out his improvised blues howls. But it's in the zone of pensive mood pieces, playing electric and acoustic cello that he has made his mark. His new CD, Prayer for Compassion, is born from Darling's spiritual faith, his battle with drug and alcohol addiction and his world view. You might think David Darling is a morose, brooding musician, but that's not the case at all.
David Darling: When it comes right down to playing the cello, my fingers seemingly will not go to major, I like some other modality. But you know I feel extremely exalted and happy in that minor place, to me it's not sad.
David Darling's Prayer for Compassion is a bath of textures and deep moods, with Darling's cello arrangements accompanied by some key guests and environmental recordings from Mickey Houlihan. It's the Echoes CD of the Month for March and I'll be featuring it on next Monday's show.   Watch for a full review in the Echoes Picks page.
If you want to taste some of Prayer for Compassion, you can liten to an audio version of this blog.
John Diliberto ((( echoes )))