We often have musicians playing new music on Echoes, but when a legend like Al Di Meola drops some new compositions on us, that's something of note.  If you don't know about Al Di Meola, he came to renown with Chick Corea's Return to Forever fusion group in the 1970s.  Over the next two decades he released a string of his own popular electric albums and then took an acoustic turn, first with the Guitar Trio featuring John McLaughlin and Paco De Lucia and then with his own World Sinfonia group.  World Sinfonia mixed Di Meola's passion for Argentinian tangos, along with Mediterranean music and improvisation.  His latest album with that band is La Melodia, with a quartet.  But now that group has expanded to a sextet including  musicians from Cuba, Italy, and Hungary.  And the music has gotten richer.
I saw a great set by Di Meola's World Sinfonia at a sold-out show at Sellersville Theater that was one of the best Di Meola shows I've witnessed.  Di Meola is a font of melody and he tries to cram as much as he can into his multi-movement songs, which even with just a six piece band of two guitars, two percussionists, accordion and bass, plays out like symphonies, albeit symphonies with rapid fire percussion.   Di Meola could be milking the 70s fusion nostalgia crowd, ala the Return to Forever Reunion Tour this past summer, but he's always pushed forward with new music and concepts.  Fortunately, it's been good music and concepts.
But I was even more delighted when Di Meola and crew descended on Echoes in the midst of a January snow storm.  With an entourage that included an engineer, road manager and Di Meola's wife Leyla and youngest daughter, Valentina, they occupied every room of the Echoes complex, jumping on our WiFi network to chat with friends and family around the world.
When they finally entered the Echoes living room, they unfolded three long compositions that were fueled by both passion and playfulness.  It's astounding to be in a 14×12 foot room with six virtuoso players going at it full tilt.  When a sound proofing tile dropped on percussionist Pèter Kaszàs, he didn't drop a beat.  When a light fixture suddenly disconnected from the ceiling and swung into bassist Victor Miranda Rodgriguez, he just lifted it off his instrument and kept going. The vicissitudes of an Echoes Living Room Concert.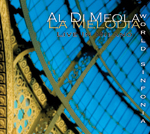 I thought they'd play music from his latest album, La Melodia, but Al wanted to hear his new music.  They played three new tunes, "Siberiana," "Paramour's Lullaby" and "Michaelangelo's 7th Child."  All of them were meticulous works with Di Meola's rapid fire, Spanish inflected picking, spread out across a bed of percussion and the layered harmonies of accordionist Fausto Beccalossi.  Al even plays his new Paul Reed Signature Prism electric guitar on "Paramour's Lullaby."  The electric is something of a rarity in the World Sinfonia context.
After the performance the entire band listened to the playback, something that is actually unusual for living room concert recordings, and Al kept nodding his head in approval, smiling as he heard his new works recorded for the first time.
You can hear why when we run Al Di Meola's World Sinfonia live on Echoes, Tuesday, January 27, with many Echoes stations running it on the following weekend.  Echoes On-Line subscribers will be able to listen to it from Tuesday on as well.  Or you can catch him live yourself.  He's touring the states until the middle of February.  Tour dates are here.
John Diliberto ((( echoes )))