Podcast: Play in new window | Download
Subscribe: RSS
The program director of an Echoes affiliate asked, "Are those guys still around?"  But Ozric Tentacles are still taking trips to the center of your mind.
(You can hear an audio version of this Echo Location, with music.)
Guitarist Ed Wynne was only born in 1961, but he has a unique perspective on the 1960s. Growing up in London, he lived in a duplex home next door to psychedelic folkie, Donovan.
Ed Wynne: Yeah, yeah, he rented half the house we lived in when I was growing up, it was very normal to have Donovan around the place and…
Brandi Wynne: And normal to have the Beatles around the place.
Ed Wynne: Yeah, yeah, they were popping in as well, and um stuff, yeah.
Brandi Wynne: Jimi Hendrix.
Ed Wynne: Yeah, it was funny in school when Donovan use to pick me up from school sometimes he was, you know we if my mom was busy or something and he'd come and pick me up from school, funny.
It was all just another magical mystery day for Ed Wynne. He was too young to actually participate in the 1960s revolution, but he made up for it when he formed a band called Ozric Tentacles at the Stonehenge Free Festival in 1984. Ozric Tentacles created a bridge from 60s acid rock to 80s rave culture.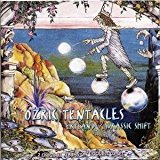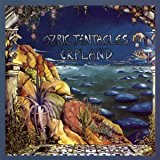 Ed Wynne is the only original member left in Ozric Tentacles. He's a goofily affable presence on stage with shaggy brown hair curling down to his shoulders. He's managed to keep this band going through shifting trends, releasing over 30 albums and becoming the Grateful Dead of space music. Ozric layers syncopated grooves, synthesizer swirls, deep throb bass lines and serrated guitar solos from Wynne. He was heavily influenced by the band Gong and their guitarist, Steve Hillage.  (Hear Hillage Echo Location here)
Ed Wynne: First off the guitar did not necessarily sound like a guitar to me, and I thought well okay, there you go, that opens up a whole little door way there.
Like Hillage, Ed Wynne can turn a single strummed chord into an epic tone poem, morphing it through effects and torquing a whammy bar the way Picasso wielded a brush.
A lot of musicians have passed through Ozric Tentacles including some that have gone on to play in Eat Static, Transglobal Underground and Jamiroquai. Currently Ed Wynne and his wife, bassist Brandi Wynne, continue waving the Ozric freak flag high. With Ozric Tentacles, you strap yourself in and hold tight for the ride.
The latest album from Ozric Tentacles is a live set and DVD called Sunrise Festival. This has been an Echo Location, Soundings for New Music.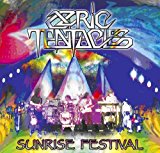 (You can hear an audio version of this Echo Location, with music.)
John Diliberto ((( echoes )))