Thierry David's Electronic Hypnosis
Podcast: Play in new window | Download
Subscribe: RSS
Hear Thierry David's Hypnosis Tonight on Echoes.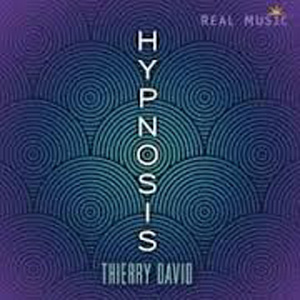 I first heard about French synthesist Thierry David around 1993 when another electronic musician, Robert Rich, played some of David's music for me. It turned out, David had been recording electronic music for several years already, but he was about to make a musical shift from the earlier music he'd released on his own own K-Vox label in Europe.
He used to be a "chops" player, more inspired by Jan Hammer than Tangerine Dream, and he jumped on world music grooves early on. But he had an epiphany in the 1990s upon hearing Robert Rich and Steve Roach, artists who were forging the early sound of Techno-Tribal music. That transition brought David to his album called Stellar Connection, a spacious electronic landscape that was an Echoes CD of the Month in 2012. Now he returns with Hypnosis, an journey that picks up where Stellar Connection kept flying.
Hypnosis is a darker, more sensually probing album than Stellar Connection, with a heavier groove, although the dancing is still strictly in your head.
David ventures into Jah Wobble-style dub terrain on "Mesmerizing Spirals" with a throbbing reggae-soaked bass line underpinning layers of Hawaiian guitars along with Middle Eastern percussion from the masterful Steve Sheehan. David trawls through a dark Blade Runner terrain here, echoing a bit of Robert Rich's work with lap steel guitar, as glissando wails arc towards a neon-lit horizon. In fact there's a lot of lap steel sounding guitar sliding on other Hypnosis tracks, such as "Labyrinth of Unconscious," which puts a slightly jazzy edge in its ominous piano chord and trap-set style percussion.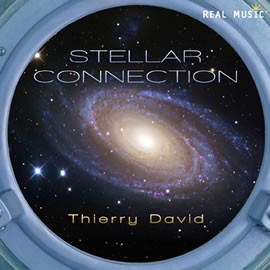 Percussionist Steve Sheehan plays a large role on
Hypnosis
, as you can hear on "Exploring Boundaries." It's another dub injected track with Sheehan's percussion grooves even more present, with hard stereo left & right shakers, udu drums and scrapers creating an alley through which David pours electronic cascades. But Sheehan really gets it on with the last two tracks: "Beyond Attraction," with rolling tribal drums and marimba recalling
Les Baxter
or
Martin Denny
in a fever dream; and "Nothing to Forgive," a full-on tribal percussion dance.
But excepting those tracks, the rhythms are more of a slow pulsation on Hypnosis. "Into the Shimmering Mantra" is a trance dance dream walk, orchestrated by David and Sheehan, laced by some more of that Hawaiian-style guitar. "Code Magnétique" recalls some of Steve Roach's Techno-Tribal dervishes, but with a dramatic arc and melodic contour you never hear in Roach's music.
Hypnosis isn't music for turning off your mind or opening it to auto-suggestion. Instead, it spins you into a world both primal and ethereal, a trip of roiling imagery and shimmering dreams Thierry David is an artist late in his career, making music that sounds like it still has the bloom of new exploration and adventure.
John Diliberto