Victoria Place is AVAILABLE NOW at our Echoes Store for an introductory price of $11.98.
Welcome to Victoria Place.  The building was erected in 1890.  I guess turrets were big then. The music is pure 21st century, albeit with elements of 60s psychedelia, 70s progressive rock, and 80s New Age and New Wave.  Everything on this CD was recorded within the walls of Victoria Place.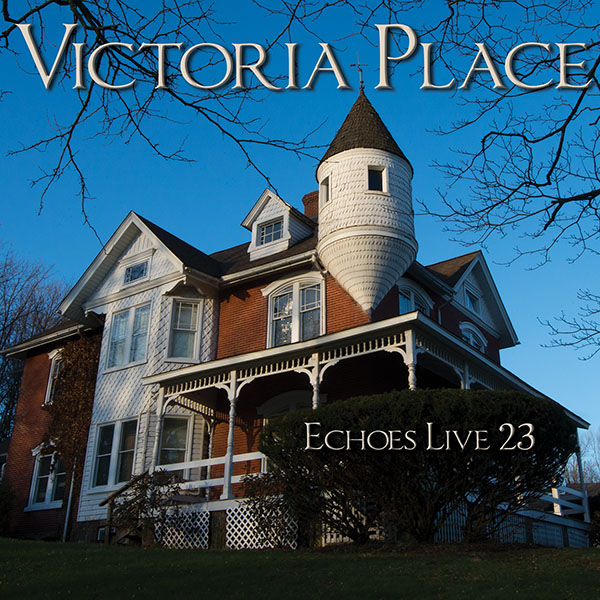 Victoria Place: Echoes Live 23, like the Echoes radio show, flows through different moods and styles. When I sequenced the album, I did it with segues just as we do on the show, moving from the electronic pinned ambient chamber music of Balmorhea to the smoke shrouded, psychedelic lounge of Cigarettes After Sex to the ambient guitar of Jeff Pearce to the sultry electro dream pop of Cold Specks.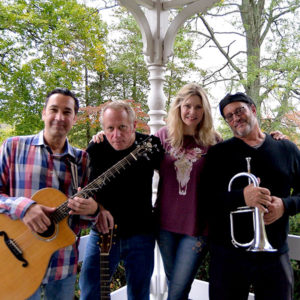 FLOW is something of a New Age supergroup, with Australian pianist Fiona Joy, guitarist Lawrence Blatt, trumpeter and flugelhorn player Jeff Oster, and Windham Hill Records founder and guitarist, Will Ackerman. They played on Echoes the day after their debut at Carnegie Hall. Joined also by bassist Tom Eaton and percussionist Jeff Haines, they create a subtle, intuitive and introspective sound on "Arrival."
The kind of ambient chamber sound that FLOW aspires to is a place that Balmorhea has been for years. This is their third Echoes Live CD appearance having been on Vapor Trails: Volume 14, and Echo Location: Volume 17. Their sound, heard on the track "Sky Could Undress," is a chamber music steeped in the expanses of the west, with touches of modernity like the electronic rhythm track and spare synthesizer solo.
Cigarettes After Sex was one of our great discoveries over the last year or so. Fronted by singer and guitarist Greg Gonzales who hails from El Paso, Texas, their sound is best characterized as dreampop noir. It's slow, sultry, and seductive. Listening to CAS, you'll want to get a bottle of wine, dim the lights, and, I guess if you've got 'em, smoke 'em.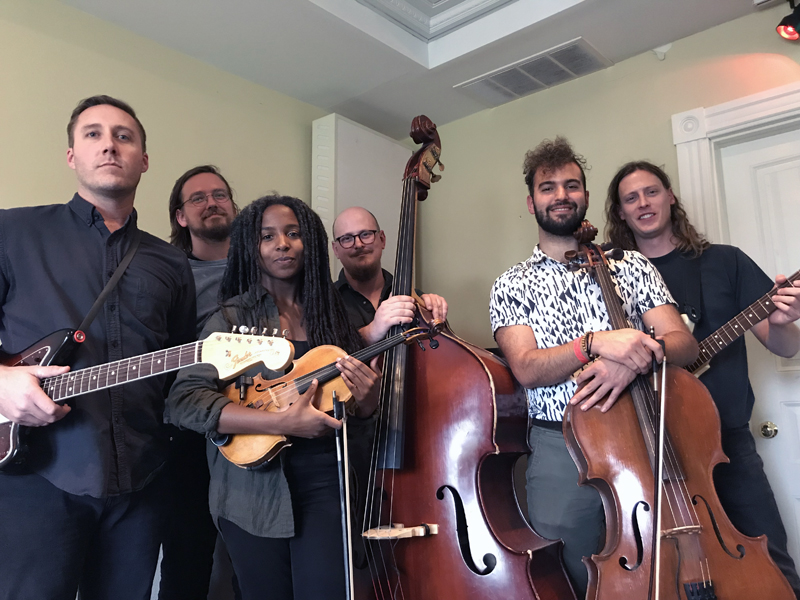 RY X explores a similar downtempo mood. The Australian musician makes an even more electronic pop with his group Howling, but as RY X, Ryland Cummings works a restrained interior monologue zone similar to Bon Iver, but with a more ambient approach.  You can hear that on the song, "Howling." 
Cold Specks was a major treat on Echoes this year. Cold Specks is the performance name of singer and guitarist Ladan Hussein. I first heard her singing with Moby, but she's also sung with Massive Attack and has three albums of her own. Her latest, Fool's Paradise, is electronic, spare, and lo-fi, with smoldering vocals.  
Another great discovery this past year was Gracie and Rachel. They are a postmodern duo, influenced as much by composers like Philip Glass and Max Richter as by singer-songwriter archetypes like Joni Mitchell and Nick Drake. Their self-titled debut album was one of the most impressive and personal releases of 2017, and was an Echoes CD of the Month. The first song that made me fall in love with them is the yearning ballad, "(Un)comfortable," and that's the song I picked for Victoria Place.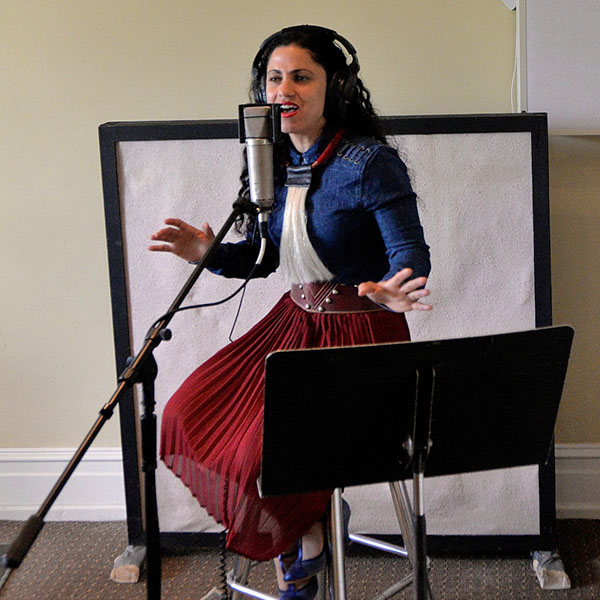 Emel Mathlouthi is a Tunisian singer who drapes her ecstatic singing around electronic grooves, middle eastern percussion, and gimbri bass. "Layem" is an electronic-laced hymn to the spirit, and Emel has a lot of spirit. I usually try to alternate vocals and instrumental tracks on these albums, but the singer Gordi provided the only track powerful enough to follow Emel Mathlouthi: the break-up song, "Bitter End." Gordi is Sophie Peyton, who comes from the wilds of the Australian outback. She makes a music with roots in folk, but those roots take flight on her full-length debut,  Reservoir.
There are three guitar tracks on Victoria Place, and they couldn't be more different. There's Jeff Pearce, making his fourth Echoes Live appearance, having been on Echoes Living Room Concerts Volumes 2, 6, and Echoes Live 21. He brings us another track of mournful delay and reverb-drenched melody, "Sun on Frost."   Michael Hewett has been on two previous albums, Bridges: Echoes Living Room Concerts Volume 8 and Refractions: Echoes Living Room Concerts Volume 12. He combines two-handed tapping and looping for the lattice work of string interplay on "Gold." And then there's the California Guitar Trio, disciples of Robert Fripp, from his League of Crafty Guitarists. They employ their elegant guitar filigree on a track written by the band's Hideo Moriya, called "Komorebi."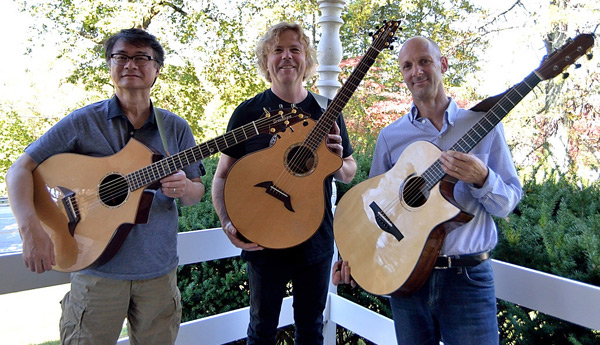 It's been tough getting electronic acts on the show lately. Many do not tour. Those that do often have too complicated a set-up for studio recordings, and then there are those that are just Plug-and-Play, staring into a computer while the music goes on unattended. But this past year, Dutch synthesist Ron Boots came in with multiple keyboards and whipped out his Berlin and Vangelis influenced music live. We took "Detachment of Worldly Affairs" from that session.
There are two previously unrecorded, unreleased gems on Victoria Place. One is from a group called Departure. Never heard of them? Well, they haven't recorded yet. In fact, they'd only played one gig before performing live on Echoes, but you wouldn't know it from their intuitive and beautifully spacey performance. The trio consists of horn player Jeff Oster, the "O" in FLOW; guitarist Vin Downes, who was Will Ackerman's guitar tech for the FLOW concert; and keyboardist and bassist Tom Eaton, who is a sideman/producer with FLOW. Their songs were largely improvised, and didn't even have names when they played them, but I like the title they gave to this one: "Unexpected Guest". 
The other unreleased track concludes the album. Suzanne Ciani appeared on an earlier Echoes CD, Volume 8, way back in 2002, but the track that appears on Victoria Place is quite different from that one. Sixteen years ago, Ciani was playing New Age piano music. Today, she's going back to her roots and improvising freeform electronic excursions on a Buchla Modular Synthesizer. Her 11-minute composition here has never been released anywhere else. In fact, it's the first time her solo 21st century Buchla music has been released on a CD. It's just called "Buchla Improvisation," and it is a journey that will keep you going even after you depart Victoria Place.
Victoria Place is AVAILABLE NOW at our Echoes Store for an introductory price of $11.98.
SaveSave