Podcast: Play in new window | Download
Subscribe: RSS
In our 25th year, the 20th Echoes Living Room Concert CD.
Epic voices from the 1990s, children of progressive rock, global music explorers and a new sound of ambient pop form part of the roadmap to Ricochets, our 20th volume of live Echoes performances. Here's some track-by-track insight into what happened when these live performances occurred.
Tom Griesgraber & Bert Lams "Prairie Suite"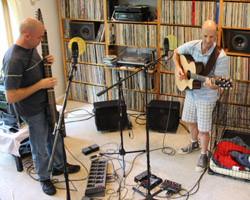 I love this as the opening track to the album. It's almost an overture even though there's no direct relationship to the other tracks on the album, but it has a sweep and stylistic variety that suggests what's to come. Tom Griesgraber isn't well-known, but he's a monster on the Chapman Stick, playing it conventionally as well as through tons of processing. He has a couple of previous albums out including A Whisper in the Thunder and Sketchbook. Bert Lams is better known as one third of the California Guitar Trio. He used his electrified acoustic guitar here as they played music from Unnamed Lands, their concept album based on America's move west. It's a different kind of Americana. It may sound like there are 8 guitarists on this track, but it's just Tom Griesgraber and Bert Lams, playing everything live in the original Echoes Living Room.
"Prairie Suite"

Mary Fahl "Exile (The Wolves of Midwinter)"
The original singer with October Project, Mary Fahl has one of the most powerful voices of modern music. We had her on the show two years ago playing music from her album covering all of Pink Floyd's Dark Side of the Moon.  She did that with just an acoustic guitar, but for her latest session Fahl brought her full band for an expansive take her recent album, Love and Gravity. Written with John Lissauer, this song is inspired by the Anne Rice novel The Wolves of Midwinter and appears in the audio book. With Mark Doyle playing that shimmering shoegaze guitar, Fahl dives into this song with hellstorm abandon, finding the play of dramatic rock power that's needed to frame her clarion voice.
"Exiles (The Wolves of Midwinter)"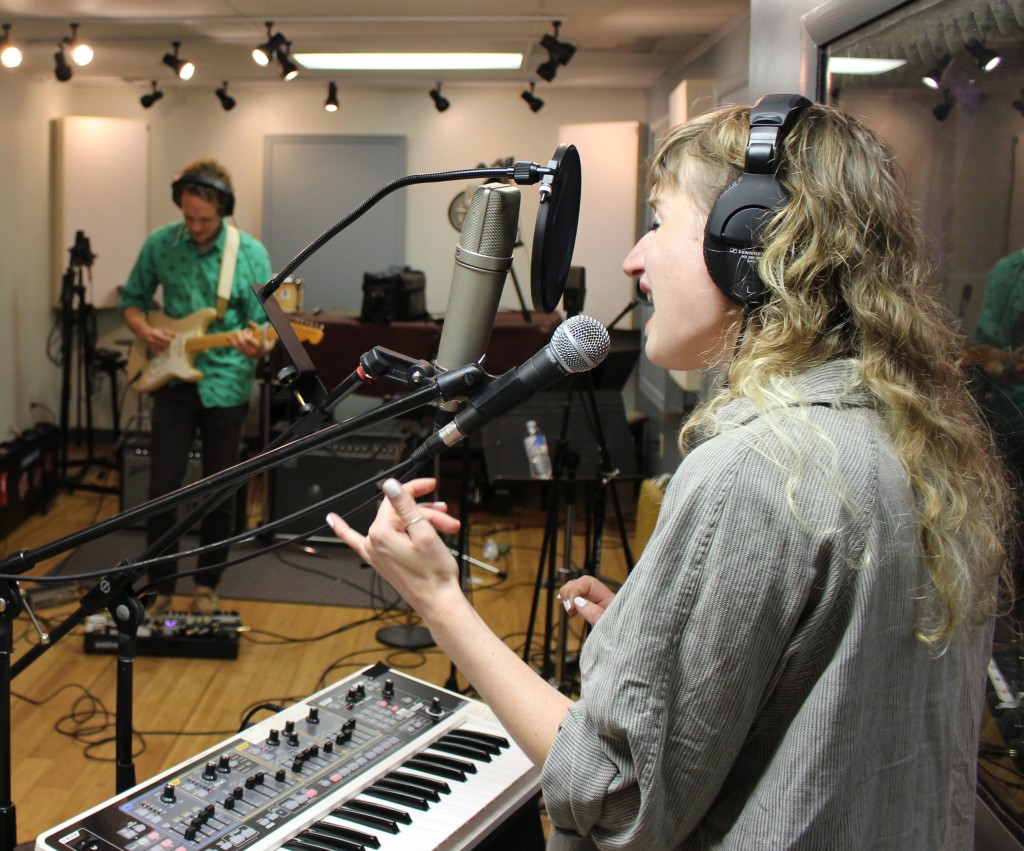 Pure Bathing Culture "Pendulum"
We hear so many whispering singers, the ethereal girls (who we love) but it's nice to encounter someone who can belt it out like Mary Fahl. Sarah Vesprille does that with Pure Bathing Culture. They're a band out of Portland, Oregon who started out in a group called Vetiver before pairing up to create an electronic, groove-driven dream pop. You can hear echoes of The Cocteau Twins and The Durutti Column, and Sarah also claims The Supremes as an influence on her vocal approach. This song originally appeared on their 2014 album, Moon Tides. Their album is full of vocal layers, but live, they eschew backing tracks in favor of live processing of Vesprille's voice.
"Pendulum"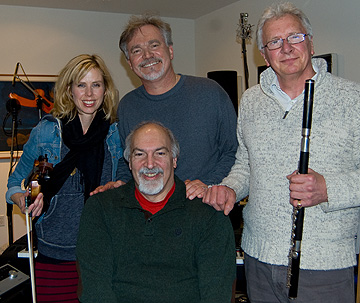 Jeff Johnson, Brian Dunning & Wendy Goodwin "Strolling Through Star Streets"
Jeff Johnson and Brian Dunning have been longtime favorites on Echoes, and have appeared on previous living room concert CDs. In 2013 they put out a wonderful seasonal album, Winterfold. In early December we flew out to Jeff Johnson's home on an island in Washington State, where Johnson and Dunning were joined by violinist Wendy Goodwin. They tucked themselves into Jeff Johnson's home studio overlooking Possession Sound, and as the winter evening closed in, they unfolded their beautiful music for our 2013 edition of Sonic Seasonings. Then we had an amazing dinner from Jeff's wife, Sue.
"Strolling Through Star Streets"

S.Carey "Alpenglow"
Sean Carey is a journeyman musician from Wisconsin who has played drums with Bon Iver. But on his own, he's a wonderful singer-songwriter and pianist who has released a couple of beautiful, understated albums. His latest is Range of Light and it takes much of its inspiration from the writings of naturalist John Muir. With a full band, Carey merged singer-songwriter sensibilities with ambient atmospherics. This gentle, heartwarming song of love has a surprisingly impassioned instrumental crescendo.
"Alpenglow"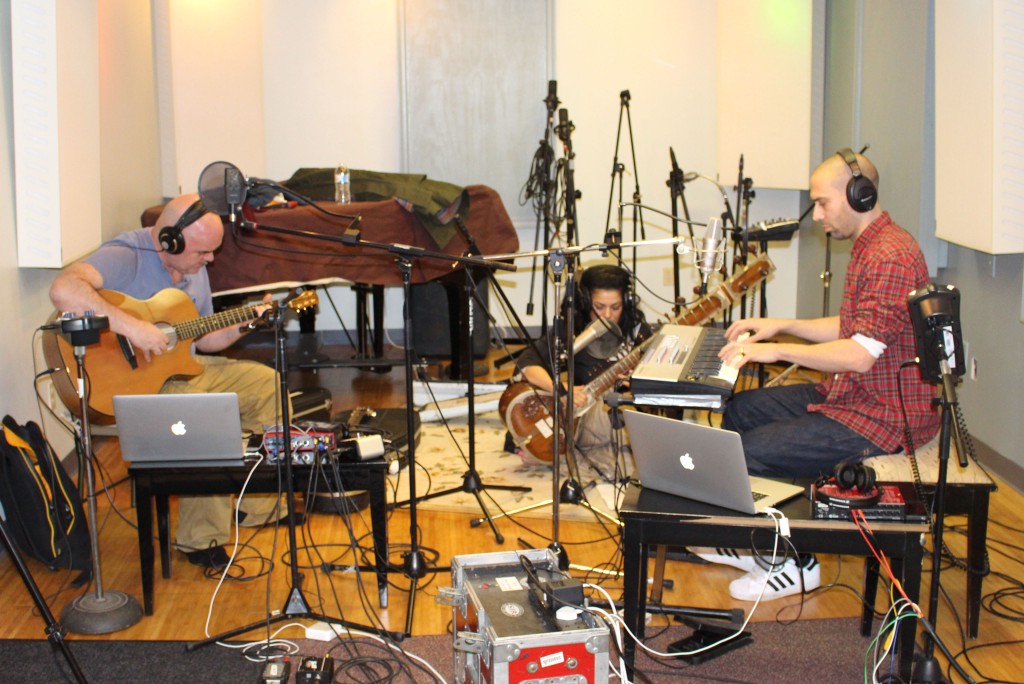 The Fresh Handmade Collective "Saraswati Morning"
This was a surprise performance from the loose collective put together by Simon Emmerson, co-founder of Afro Celt Sound System. He's been creating music for Lush Cosmetics and happened to be in Philadelphia for a Lush Spa grand opening, playing there with a mobile edition of the Fresh Handmade Collective with sitarist Sheema Mukherjee and keyboardist Simon Richmond. I spontaneously asked them to record a live Echoes set and they rearranged their travel plans to be in the studio the next morning, where they performed their world fusion music. They played a few Beatles covers, but this is an original song from Mukherjee, actually two songs combined, that are from her album, Sheema (ECC100).
"Saraswati Morning"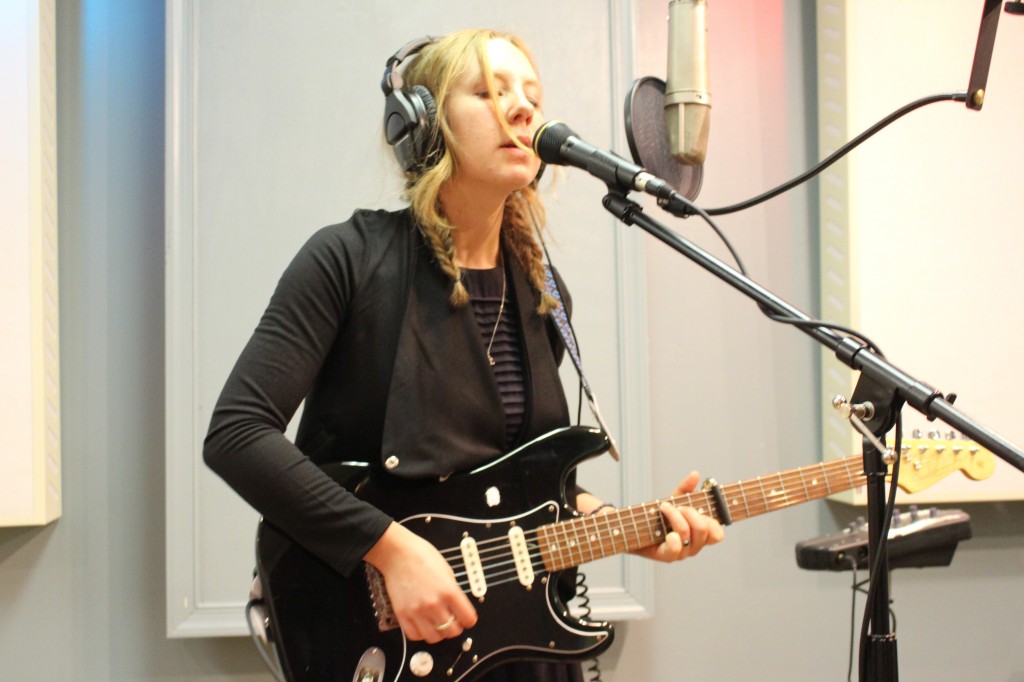 Lyla Foy "Honeymoon"
We were seduced by Lyla Foy when she recorded as Wall and loved her more when she released her debut album, Mirrors the Sky under her own name. It was an Echoes CD of the Month. This English singer-songwriter makes a haunting, ethereal brand of dream pop which she brought to us live with her trio including co-writer and guitarist Oli Deakin. Standing barefoot and playing a black Stratocaster guitar, she made her already intimate songs even more personal on this beautiful song about the end of a relationship. I frequently quote Lyla's line to me about her songs. "I don't think there's anything that inspirational about being content and happy," she said. "So, I think that's probably why you get a lot of heartache." That's all you need to know to understand "Honeymoon."
"Honeymoon"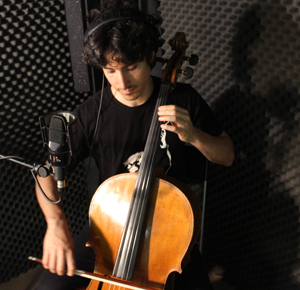 Yoed Nir "No Chance Survival"
Yoed Nir is a classically-trained cellist from Israel who fell in with the wrong crowd, playing rock with singers like Regina Spektor and Rufus Wainwright. But on his own, he creates an ambient chamber music, looping his cello into string orchestras. He used no backing tracks: every note you hear on this piece originated on his fingers when he played live in the Echoes Black Box. The original piece is on his album, The Next Dream, which was an Echoes CD of the Month.
"No Chance Survival"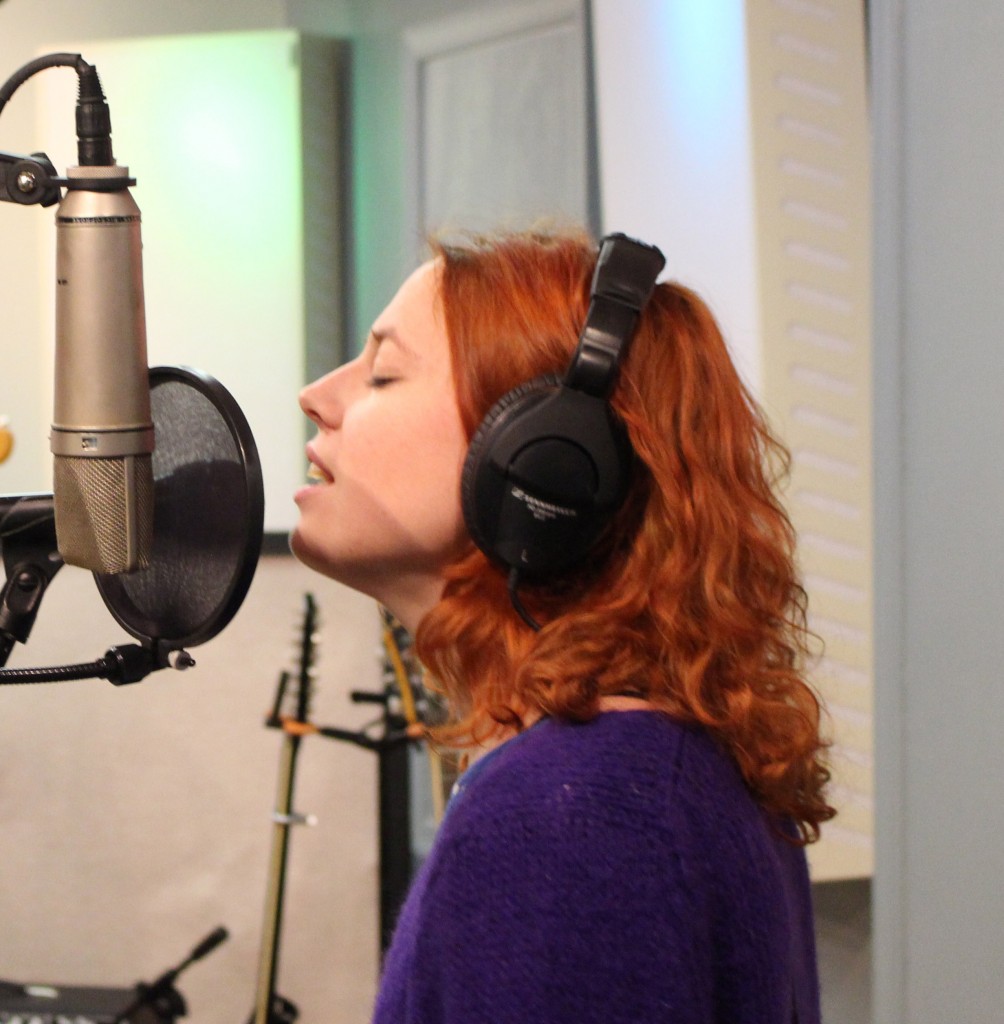 Thus Owls "Turning Rocks"
This band was the Echoes discovery of 2014, even though they'd already released a couple of albums before their Turning Rocks CD. Thus Owls is fronted by the husband and wife team of singer Erika Angell from Sweden and guitarist Simon Angell from Canada. Their sound is theatrically dramatic, with Erika's yearning voice sitting atop arrangements both modern and retro, including Simon's 60s-style guitar and the retro keyboards of Parker Shper, who co-wrote this song with the Angells. The album, Turning Rocks, is based around stories from Erika's childhood home on a small Swedish Island, and you can hear all that mystery in this song.
"Turning Rock"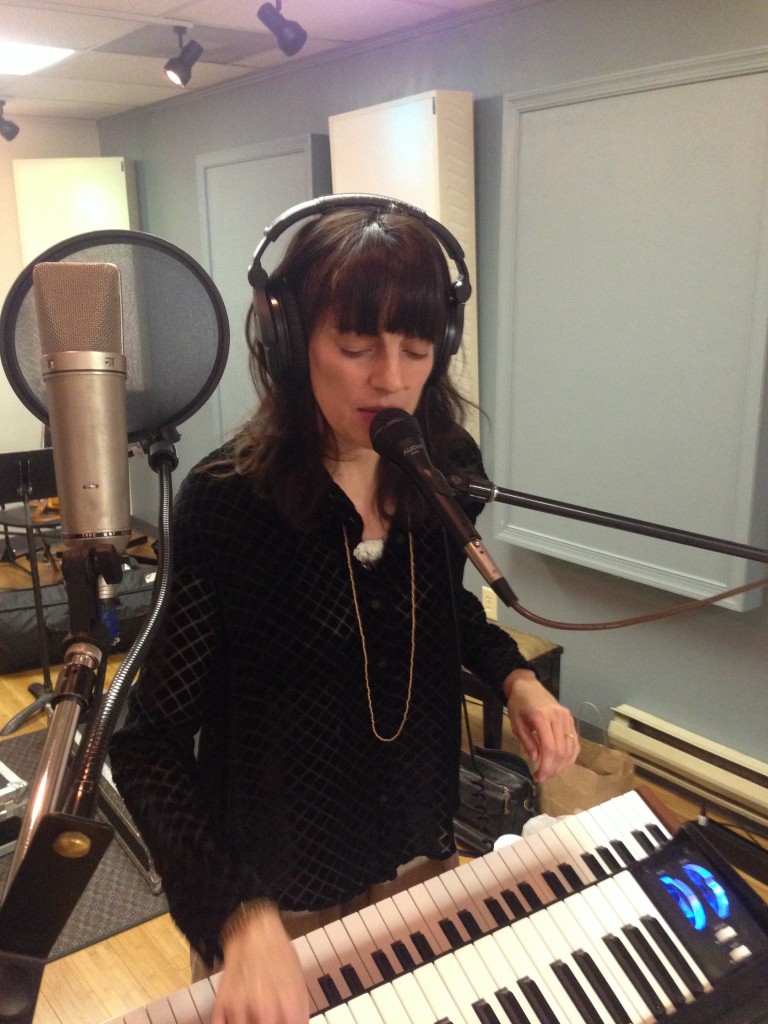 Juliette Commagere "19th Century Girl"
I fell in love with Juliette Commagere's voice when I heard her sing on Ry Cooder's "El UFO Cayo." In 2013 she released her fourth solo album, Human, a CD of dynamic, electro-plated songs coupled with her husband and co-writer, Joachim Cooder's percussive grooves. We had previously played their work together from the Love on A Real Train project. Juliette came to Echoes with Joachim and bassist Wendy Wang, to unfold the moods and melodies of her music.  We took this propulsive track from that session.
Shambhu "Revelation"
Shambhu is the recording persona of Neil Vineberg, a guitarist very much in the Windham Hill tradition. In fact, his latest album, Dreaming of Now, was produced by Windham Hill founder Will Ackerman. For his Echoes session, Shambhu came in with an all-star trio that included cellist Eugene Friesen from the Paul Winter Consort and wind player Russell Premik Tubbs. This song originally appeared on Shambhu's previous album, Sacred Love, and takes a different approach to the original, with Tubbs playing the lead melody on an electronic wind instrument emulating pan-pipes.
"Revelation"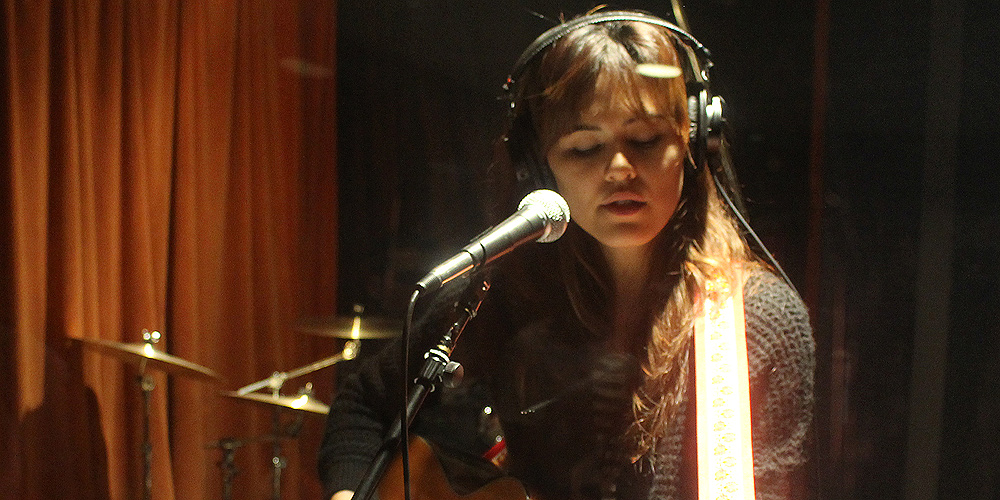 Priscilla Ahn "Remember How I Broke Your Heart"
Remember what Lyla Foy said, that there's nothing inspirational about being content and happy? Priscilla Ahn tries to disprove that on her album, This is Where We Are. Much of the album consists of odes to her happy marriage, and this song refers to that as well, except there's a broken heart along the way. Priscilla Ahn grew up outside of Philadelphia and actually listened to Echoes in her early years. But we caught her in her new hometown of Los Angeles, where she played a beautiful set of music including this track with just her and an acoustic guitar.
"Remember How I Broke Your Heart"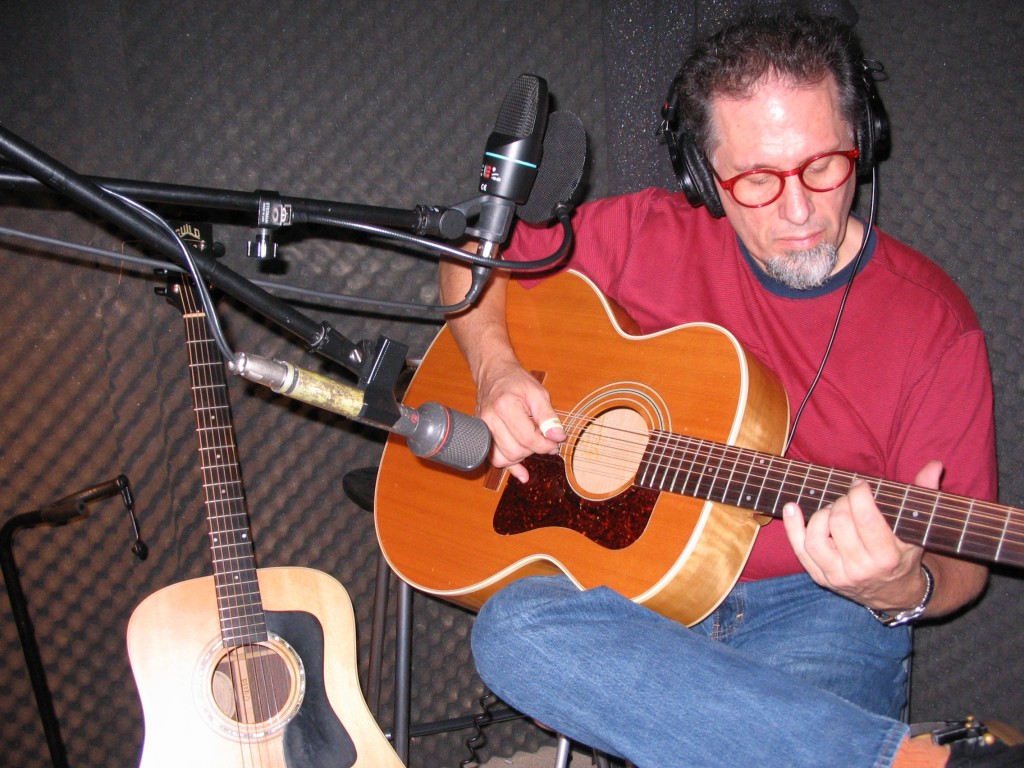 Glenn Jones "Bergen County Farewell"
This is Glenn Jones' second Echoes CD appearance. He was a founding member of the progressive group, Cul de Sac and was a disciple of acoustic guitar icon, John Fahey. He became a caretaker for the late guitarist and continues to oversee his legacy. But on his own, Jones expands on Fahey's American Primitive guitar aesthetic. "Bergen County Farewell" originally appeared on his homage to his childhood home, My Garden State. It's the kind of guitar playing that makes would-be virtuosos question their own abilities.
"Bergen County Farewell"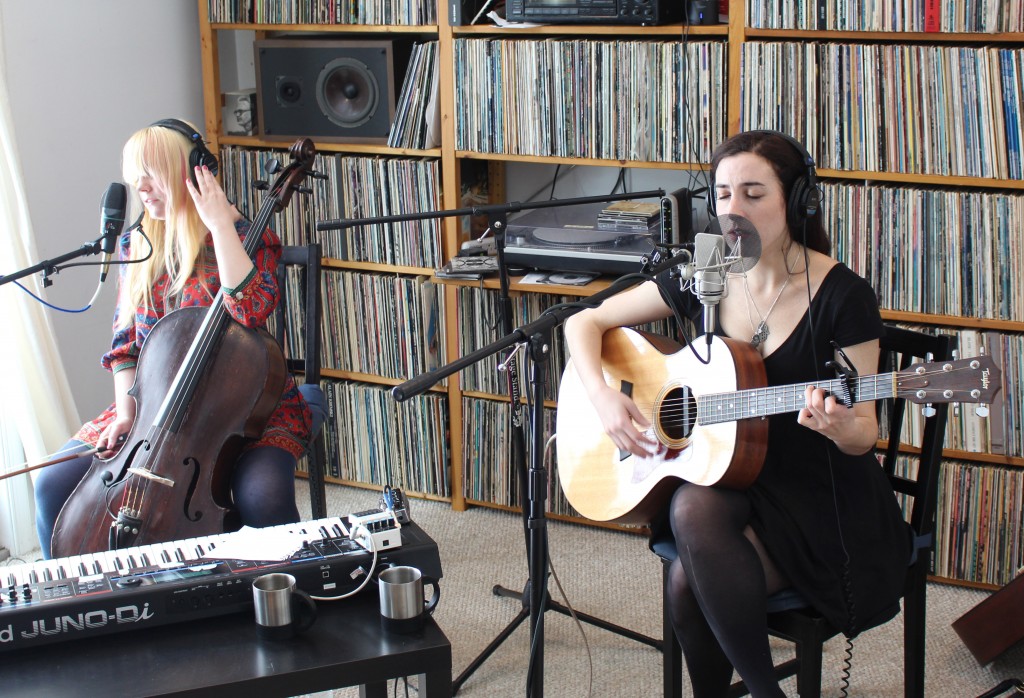 Marissa Nadler "Drive"
Rarely has essentially acoustic music sounded so gothic and ethereal. Marissa Nadler is a singer-songwriter out of Boston who specializes in slow motion melodies and reverb-drenched whispers. She brought that sound into the original Echoes living room, aided by cellist Janel Lepin. Listen for the beautiful vocal harmonies and Nadler's intricate finger-picking guitar style. This song originally appeared on Nadler's album, July, a year in the life of a romance from break-up to reunion. Remember that Lyla Foy line?
"Drive"


Don Ross "The Thing That Came from Somewhere"
This song originally appeared on an album also called The Thing That Came from Somewhere that Don Ross recorded with another guitar monster, Andy McKee. But Ross is more than capable of tackling its knotty theme on his own. The Canadian artist has several recordings, going back to the days of Narada Records. His latest is PS 15. He's a post-Michael Hedges guitarist with a two-handed approach to his instrument which he employs to subtle effect on this piece recorded in the Echoes Black Box.
Some of you may find a reference in this album title to Tangerine Dream's classic Ricochet album from the mid-70s. That would be ironic because this is the first Echoes CD ever without a real electronic or space music piece on it. That wasn't a conscious decision. It's just that no electronic musicians passed by our microphones or inputs this past year.
But what you do find on Ricochets are musicians who plugged into the moment on Echoes, giving us their virtuosity, their songs and their souls. Be careful when you listen to this music. It ricochets.
You can get Ricochet's right here.
John Diliberto