A Veteran French Synthesist Launches the Echoes April CD of the Month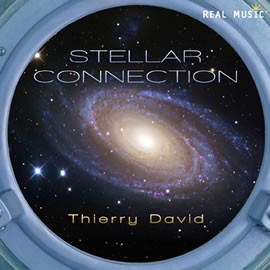 Hear an interview with Thierry David tonight July 18, on Echoes.
It takes a lot of discipline for a skilled, classically trained keyboardist to put his technique on hold and instead, give in to the mood and atmosphere the music requires. On his latest album, Stellar Connection, any one of Thierry David's musical lines would be simple to the point of boredom on its own.  But when interlocked with other lines and cast over gently pulsing rhythms and undulating textures, the result is as vast as the imagery that guides this album. It's a different kind of minimalism, one that isn't cyclical or repetitive, but that uses simple melodic and rhythmic material to create expansive and sometimes opulent spacescapes.
The French synthesist has been on the scene for over a quarter century, releasing music on his own K-Vox label in Europe before signing on with California's Real Music.  He used to be a "chops" player, whipping out post-Miami Vice, Jan Hammer-style keyboard orchestrations and world music amalgams.  But on his latest album, he engages space age imagery without resorting to retro-space music clichés.  Instead, he builds his sound out of inventive designs, dark textures and shimmering melodies.
"Portal Quest"  sets the scene with slowly arching sounds floating like gas clouds in space, gradually coalescing as a tribal rhythm echoes and  tremulous guitar and keyboard do a slow motion ballet.
David has been a world music explorer for years and you can hear that influence in his timbral palette.   On "A Long Crossing," a morphing duduk opens with a  mournful wail before moving towards an elegant, time-stepping cycle of synthesizer and piano echoing each other.  That duduk sound returns, hybridized into a yearning violin timbre on "Breathing the Harmonic Mandala."
Global percussion also works its way into David's work, whether electronic or acoustic. "Surfing the Blue Orbit" is a seductive piece of percolating electronic rhythms, cast against echoes of Balinese gongs. He kicks the percussion into high gear with longtime associate and global percussion master Steve Shehan on "Feeling a Stellar Pulse."  When he hits these grooves, like the ritual groove of "Magnetic Spiral," you can hear the influence of Robert Rich's techno-tribal moods.
Over the course of an hour, Thierry David carries you on a journey that sometimes dips into the luxurious Pink Floyd-in-a-lounge trance of "A Familiar Blue Stranger" or drops into the magnificent void of "A Silent Voice Answers" with growling harmonics worthy of Karlheinz Stockhausen or Steve Roach.
Stellar Connection is a defining work that comes late in the career of a musician who balances accessibility and experimentation.
~© 2012 John Diliberto ((( echoes )))

Hear Thierry David's  Stellar Connection featured on Echoes  Sunday, April 8.
You get great CDs like Thierry David's  Stellar Connection  by becoming a member of the Echoes CD of the Month Club.  Follow the link and see what you've been missing.
Join us on Facebook where you'll get all the Echoes news.